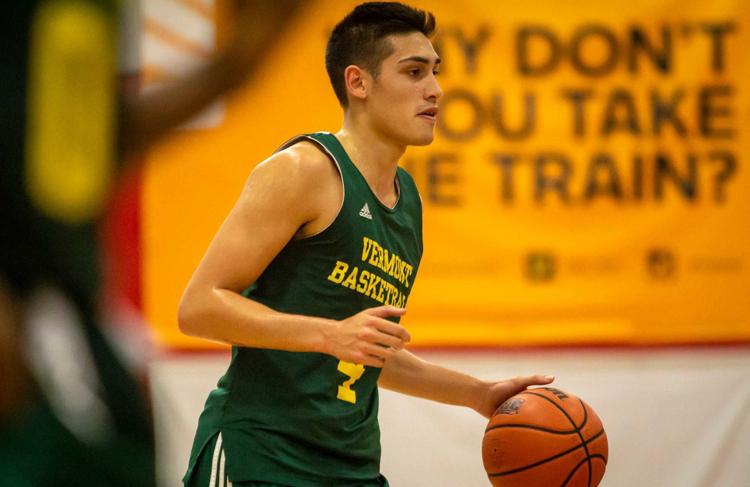 BOSTON — The University of Vermont men's basketball team kicked off the season with Friday's come-from-behind 78-72 victory over Boston University.
Stef Smith was 6 of 6 from the foul line and finished with 22 points and four rebounds for the Catamounts. Teammate Anthony Lamb also had a huge night, piling up 19 points, 14 rebounds and three steals. Ernie Duncan made four 3-pointers and wound up with 18 points and five assists for UVM. Isaiah Moll (12 points) also reached double figures in the victory. Ra Kpedi pulled down six rebounds for the Cats, who trailed 39-33 at halftime.
Smith scored the game-tying layup with 1:55 left to play and Lamb followed with back-to-back jumpers. The Cats iced the game when Lamb and Smith both went 2 of 2 from the foul line in the final 14 seconds.
The Catamounts feature two Vermonters on the roster with former Burlington star Kevin Garrison suiting up alongside former Rice standout Ben Shungu. Both players won state titles at their respective schools. The Duncan siblings — Ernie, Everett and Robin — are only the fifth trio of brothers to play on the same Division I basketball team in the same season.
The top scorers for Boston University were Max Mahoney (18 points, six rebounds), Javanta McCoy (10 points, four assists), Tyler Scanlon (17 points, seven rebounds, three assists) and Fletcer Tynen (eight points). Vermont went 27 of 60 from the field, while BU was 27 of 61. The Cats made 8 of 29 attempts from 3-point range, with BU going 5 of 17. The game featured four lead changes and five ties.
Vermont will travel to play No. 1 Kansas at 9 p.m. Monday in a game that will be broadcast on ESPN2. The Catamounts will host Lyndon at 7 p.m. Wednesday before visiting Louisville on Friday. Vermont's schedule features seven teams that earned a postseason berth last year, including NCAA Tournament teams Bucknell, Kansas, Lipscomb, St. Bonaventure and UMBC.