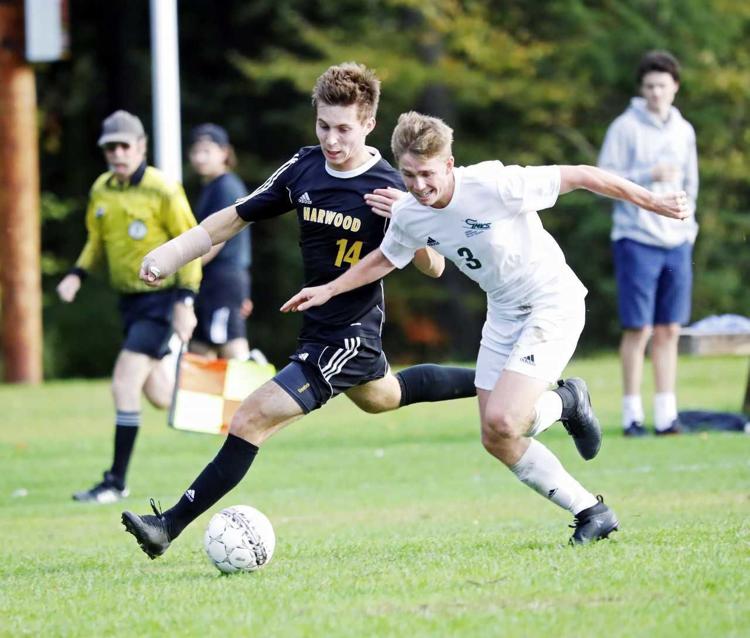 The boys soccer talent in Central Vermont may have been at an all-time high this year, and both Stowe and Harwood have state championships to prove it.
Times Argus Boys Soccer Player of the Year Sam Schoepke was honored last week after leading Stowe to its seventh straight Division II title. Now it's time to recognize the rest of the TA All-Stars, including a record number of Harwood selections:
TIMES ARGUS
BOYS SOCCER
FIRST TEAM
Will Lapointe
Harwood Senior
The gritty attacker operated as a solo target player and made diamonds under pressure, tallying 22 goals and six assists for the Highlanders (14-0-1). He scored the game-winning goal in overtime during the Division II quarterfinals before contributing one goal and one assist in the championship. Lapointe constantly looked for ways to improve and was voted by coaches and players as the team MVP.
"Versus Lake Region in the regular season he hadn't been playing particularly well, so Eric (Mackey) and I had been trying to give him things to think about," Harwood coach Joe Yalicki said. "And he went back in, made a 60-yard run and beat two guys and scored. Even on his off day, he could still do something amazing like that. He has blazing speed and one of the most impressive things this year was the different types of goals he scored. He's always dangerous in the box and he had a few goals with his head where it's not often that I've seen guys around here do that. And he didn't always get set up completely — he had to work to make things happen. As the season went on, he played in a way that allowed people around him to be better. He wasn't leading our team in assists, but he was moving in a way that let other people be really effective."
Wyatt Adams
Harwood Senior
The four-year varsity member was an attacking winger his freshman season before developing into central midfield distributor as a sophomore. Last year he shined as an offensive-minded midfielder, guiding Harwood to the D-II title game. He was all about defense in 2018, finishing with two goals, four assists and a state championship. Harwood earned 10 shutouts and outscored opponents 53-5, burying 13 playoff goals and conceding one.
"His goals and stats were down, but his play was way up. He got better as the year went on, defining his own role and playing his position his own way. And that meant defending really hard," Yalicki said. "In the right moments he got in the attack on the weak side or at the top of the 18, and he's a dangerous passer as well. If you won the ball in the 18 there was a good chance he was the one who played the through ball. He's the guy with the size in the middle and he did great with the physical advantage in the middle. Against Stowe we moved him forward to play another No. 10 or a false No. 9. We told him to go forward and let Duncan (Weinman) handle the back. It was nice to have his versatility."
Manny Mercado
Northfield Senior
The four-year starter made his name as a silky-smooth playmaker and transformed into a burly striker who could take on any defender in 1-on-1 situations. He scored most of his goals as a freshman and was happy to play any position, taking on multiple duties in many matches. The Marauders earned a 2-1 victory over D-I Lyndon, tied D-III semifinalist Peoples, beat Lake Region and upset Lamoille in the playdowns. Mercado finished his career with nearly 40 goals and his durability was vital for a team that was plagued by injures this year.
"He really stood out with that strength he possesses and how much he plays. And Manny's vision sets him apart, Northfield coach Chris Amell said. "Early in the season we played a 4-5-1, and he was our one guy up top. As the season progressed we moved more toward a traditional 4-4-2. He'd play up top and also come back to the midfield spot. If we had a lead and didn't need another goal, he'd be a strong midfield presence. It depended on the team need. He can be the creative playmaker who keeps possession. If we needed him to take people on, his speed and him being a lefty provided a mismatch up there. His elusiveness combined with his strength is really what sets him apart."
Max Carr
Peoples Senior
The scoring machine contributed limited minutes his freshman season before locking up a starting position his sophomore year. He had a breakthrough season last year with 16 goals and five assists before tallying 18 goals and seven assists this year. He finished his career with 44 goals and 16 assists, leading Peoples (11-5-1) to a semifinal run this past fall. He was on fire in the quarterfinals, recording a hat trick in a 6-2 victory against Leland & Gray.
"Max has been a pleasure to coach the last couple years," PA coach Angie Faraci said. "He is so smart about thinking about what to do — he's such a calculated player. He knows what he's going to do, he knows when he's going to do it and he knows how. He will carry the whole team on his back with his efforts. And one of his greatest strengths is his ability to control the ball and dribble. He did all of his scoring from a center midfield position and he had a lot of power behind his shot. You couldn't stop some of them if he placed them well. But he also has this knack for timing runs and he would score lot of goals off corner kicks. He'd shoot it in or head it in — he was just in the right spot."
Dylan Haskins
Peoples Sophomore
There were a lot of solid keepers this year in Central Vermont but Haskins stole the show with his sharp reflexes, leaping ability and daring moves during 1-on-1 threats. He registered six shutouts, held opponents to one goal in five matches and finished the regular season with 117 saves. Haskins entered the season as a backup goalie, but he quickly earned the starting spot. His gift for making big-time stops helped the Wolves defeat D-II powers Lake Region and U-32 in addition to forcing overtime against D-II champ Harwood.
"Joe Buonanno had played for me the past two years and was literally one of the best goalies in the league," Faraci said. "It came down to what personnel I needed on the field, and Joe is such a high-caliber player. So Dylan wound up in goal and it worked out great. Technically he is a very sound goalkeeper. He knows what to do and where he needs to go. For his first year on this team, to carry a team that's older than him, was great. His timing, his ability to read the ball and the players — I can't count the number of fast breaks he shut down. He's everywhere. He'll come out and play a ball, and that's why he was so successful on breakaways. He will come out and shut you down — he won't wait."
Haris Dzonbic
Montpelier Junior
Defenders stuck to Dzonbic like glue, especially in the second half of the season, but the bold striker still found a way to make opponents nervous from start to finish. He punished Randolph with two goals and two assists during an 8-1 victory and scored a second-half goal to salvage a 2-2 draw with Lamoille. Dzonbic ended the regular season with one goal and one assist in a 3-1 victory over Northfield-Williamstown.
"Haris has the ability to score at any time," Montpelier coach Eric Bagley said. "He has speed, but he didn't rely on speed. He relied more on his individual abilities. He has that ability to dribble at speed and keep the ball close to his feet. He is able to change direction and go by players without slowing down or losing the ball. And he can take the ball past multiple defenders, which is a big skill to have. He was man-marked in our playoff game, but he's such a good player that it didn't really affect him. He was still able to get on the ball and make things happen. And it wasn't the easiest job that he had. We did a lot of defending this year and he was up top on his own a lot of the time. He was asked to carry the load for us through the majority of the season. He was that player we looked to get the ball to in order to get us out of our own end."
Hayden Ellms
Montpelier Senior
The box-to-box midfielder provided a key offensive spark for a rebuilding MHS team that featured lots of first-time varsity players. Ellms and teammate Kaleth Torrens-Martin gave the Solons some size around the center circle, leading to a 1-0 victory over D-I Lyndon. Ellms registered a hat trick against Randolph and recorded two goals and one assist at GMVS. He kept MHS competitive during a 2-0 loss to D-I Burlington, and the Solons forced overtime versus Stowe before going to penalty kicks against U-32.
"Hayden is a really intelligent player and he's very good at making decision on the field, especially with where to move and when to move into those spaces," Bagley said. "He was always available for us to get him the ball. And when he got the ball, he was very dangerous with it. He's an attacking player and he's very good in the attacking third and the middle third, creating chances for us. He was either moving and receiving a pass or playing balls to other players in those areas. I think Hayden was most dangerous for us around the goal and his technical ability is very good. He receives the ball out of the air instead of just playing it away one-time. Most high schools players don't have that ability to control the ball on punts from the goalie and goal kicks. Hayden has that ability to hold off defenders, take it out of the air and keep possession for us."
Max Sabo
U-32 Senior
Sabo played every position except keeper during his four-year career as a varsity starter. The Raiders entered the season with some offensive question marks, but they wound up scoring at least three goals in seven matches to overpower opponents. Sabo racked up a team-high 13 goals and dished out three assists, leading U-32 (10-5-2) to victories over Peoples and Lake Region. The veteran scored early in the D-II quarterfinals, setting the tone for a 4-0 win over Northfield-Williamstown.
"Max's technical ability and quickness were his biggest assets," U-32 coach Mike Noyes said. "We had him floating in the midfield and he was our go-to guy — he was our playmaker. We didn't ask him to come up with the scoring — he just had a knack for it. He scored 40 percent of our goals this year. He was finding gaps in the back line and finishing. He had a few pokes that were from distance, but he did a lot of damage by getting behind that back line with his quickness. And he's a completely unselfish player: He didn't care if he was on the scoresheet or not. He's a great teammate and a great guy to be around."
Rowan Williams
U-32 Senior
The Raiders' back line underwent a massive face-lift following the departure of Dane Lieberman and Josh Farber, but Williams stepped into the leadership role with confidence and composure. After earning nine shutouts and five one-goal victories last year, the Raiders featured a less-experienced defense this season and allowed more shots. At times Williams was doing the work of two players, demonstrating a high level of anticipation while refusing to get shoved off the ball. His clearances helped U-32 escape a lot of jams and his dead-ball services were some of the best in the Capital Division.
"Rowan showed real leadership on the back line," Noyes said. "He brings a toughness and intensity back there. He's a good communicator and he's a physical player. He did not shy away from 1-on-1 battles or 50-50 balls — he embraced it. He was a key part of the defense and the rest of those players weren't starters back there last year, so Rowan brought them all together. And he played outside mid and other places last year. We asked him to hold that back line for us this year and he did a great job. He wasn't on the scoresheet with a ton of goals or assists, but he was distributing the ball from a midfield position when he brought it up. And we were dangerous whenever he would bring the ball out of the back."
Alex Pelletier
Stowe Senior
Pelletier gave the seven-time defending D-III champs a tall, sturdy presence in the middle of the pitch. He contributed 10 goals and seven assists for the Raiders, who tied D-II champ Harwood and beat perennial Capital Division powers U-32, Peoples and Lake Region. It's impossible to ignore the pressure Pelletier and his classmates felt as seniors, and of course no Stowe player wants to be on the team when the dynasty ends. But this year's squad exceeded the lofty expectations, outscoring opponents 72-7.
"We handed Alex a ton of responsibility," Stowe coach Brian Buczek said. "He was a little taller and a little more physical than some of the other players. If it was that type of game, we put Al in the midfield. He's a very versatile player and he got better as the season progressed. As a central midfielder, to have 10 goals was impressive. There were a couple times where he put us on his shoulders and came up with a goal. We didn't have much size or physicality this year, so he was the guy who would match up in the center of the park. He did a bunch of dirty work. He did such a good job of getting the ball settled and playing it forward. There was a race with him and Jace (Boerger) for most goals on the team, but there was so much unselfishness with them passing the ball and great movement and finishing."
Jack Seivwright
Stowe Junior
The defensive midfielder bounced around the field like an electron, shutting down opponents and setting up teammates without getting a rest. He helped the Raiders close out last year with 11 straight shutouts, and this year Stowe finished with 12 clean sheets. Seivwright registered six goals and 11 assists for the 15-1-1 Raiders, who secured a 1-0 victory over Twin Valley in the D-III title match. During the 33rd minute of the championship, Seivwright used his first touch to play a through ball for Jace Boerger, who scored the game-winning goal on the breakaway.
"Jack never really got subbed for," Buczek said. "I took him out with three minutes left in the Montpelier game, and I took him out at home once or twice. By the end of the season he was physically run down a little bit. But he had a huge engine and an unbelievable work rate in practice. He just doesn't ever have an off day. He takes up a lot of ground and he's a very active player. He does so well between the 18s. Jack is an old-school defensive central midfielder. He's just a pest. You have to beat the kid twice. His main objective was to pressure the ball and slow down the other team's attack. And once he won the ball, he'd play it early and then try to join in the attack. He was like a pressure-relief valve."
SECOND TEAM
Charlie Zschau, Harwood Hayden Adams, Harwood Duncan Weinman, Harwood Markus Baird, Harwood Noah Lepikko, Stowe Jace Boerger, Stowe Parker Spaulding, Spaulding Aaron Vetere, Peoples Dylan Clayton, U-32 Nolan Bean, Northfield-Williamstown Kaleth Torrens-Martin, Montpelier
HONORABLE MENTION
Nick Holbrook, Peoples; Joe Buonano, Peoples; Jasper Koliba, Harwood; Max Hill, Harwood; Ben Bazis, U-32; Max Kissner, U-32; Alex Reichelt, Stowe; Rai Bleda, Stowe; Taylor D'Agostino, Spaulding; Leo Riby-Williams, Montpelier; Garrett Metcalf, Northfield-Williamstown; Liam Connolly, Randolph; Jordyn Holt, Twinfield; Freddy Larson, Hazen; Cristian Riis, GMVS.