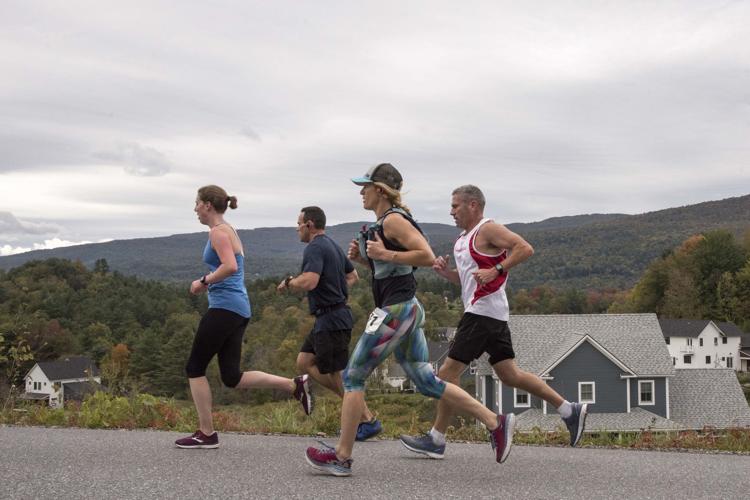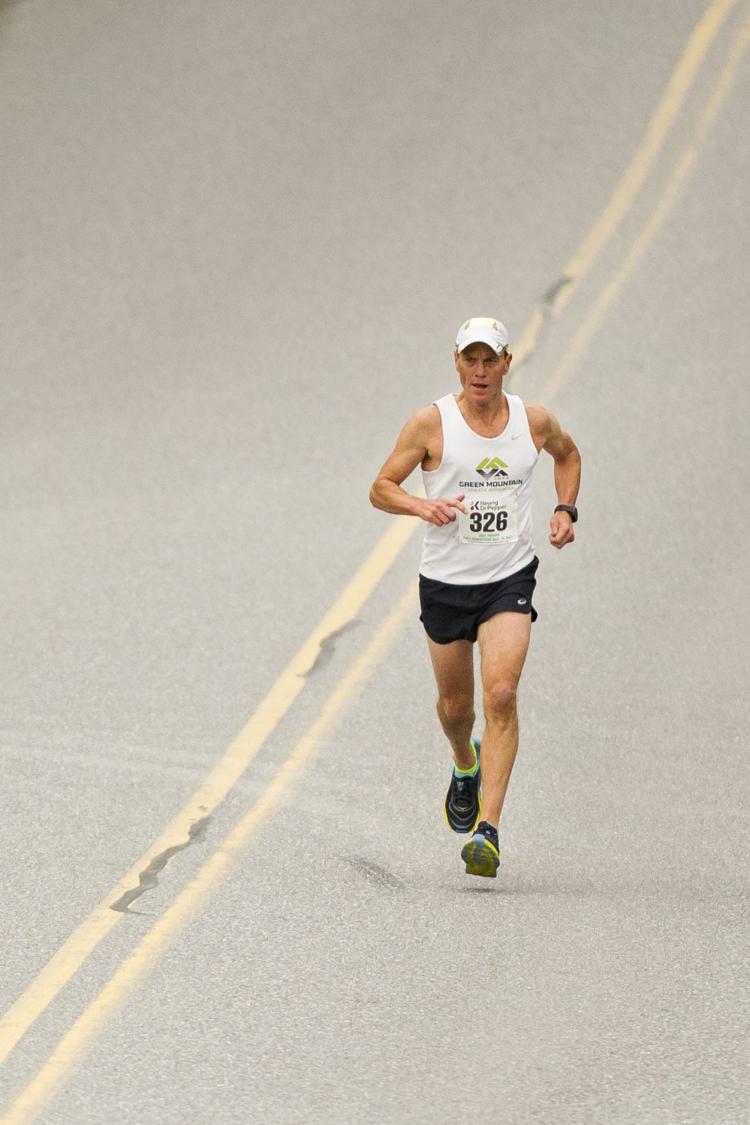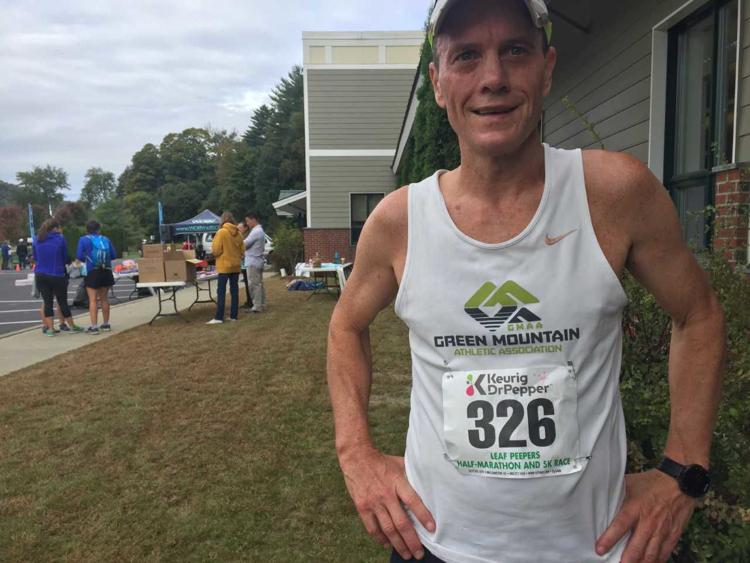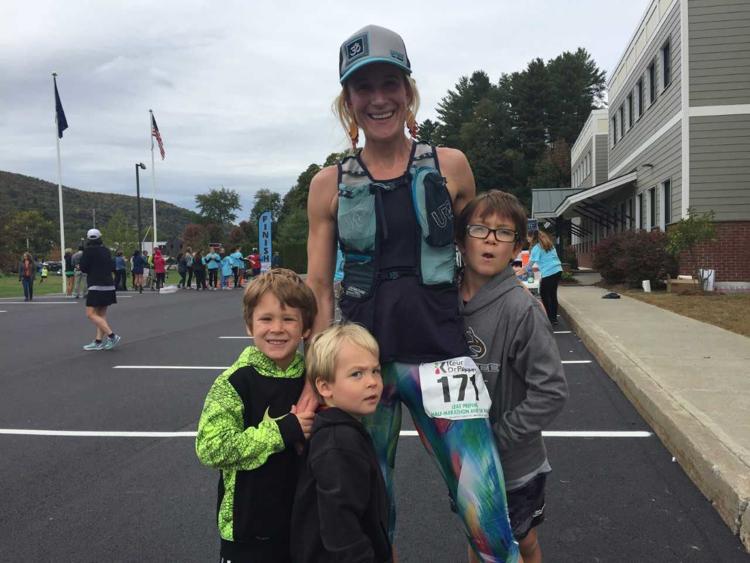 WATERBURY — It took 35 years but local runners Tom Thurston and Madaileine Kingsbury finally recorded a hometown sweep of the Leaf Peepers Half Marathon.
Thurston had previously finished runner-up twice ad placed third on two occasions. Last fall the 54-year-old broke his ankle while descending Camel's Hump on the Long Trail, but that injury was a distant memory as he built an early lead Sunday. Competing on a course with over 1,000 feet of climbing, Thurston surged to the front during the opening 2.5 miles After reaching the top of Perry Hill, he flew back down before increasing his lead on the flatter sections.
Even though some of Thurston's main competitors were less than half his age, the veteran showed off his top gear while proving that he's still getting faster. He crossed the line in 1 hours, 21 minutes, 13 seconds to easily hold off second-place finisher Laurence Merling (1:23:26).
"At the starting line it looked like pretty much anybody could win it, so I went out pretty hard," he said. "I hit the first mile at 5 minutes, 45 seconds and then I knew I just had to get over that hill. The hill is tough and I was pretty maxed going over it. But after that I just settled in and my heart rate came down. I was able to hit most of my miles right around 6:00 or better. I came back and hit a couple at 5:40 or 5:50. When I got to the turnaround at 8 miles I checked my watch on (Merling) and I had two minutes. And I figured the guy can't run 30 seconds a mile faster than me coming back. But I still just wanted to keep the wheels going and keep myself out there. I would have liked to have gone a little faster, but a win's a win."
Thurston is a teacher right in town at the Thatcher Brook Primary School and he trains with the "Waterbury Wulfpack", named after brothers John and Jason Wulf. Thurston's training partner Neal Graves was the two-time defending Leaf Peepers champion, but he opted to compete in the Vermont 50-Mile Ultra Run on Sunday instead of seeking a three-peat.
"I've been really trying to win this race for a long time — I've been second too many times," Thurston said. "I'm just glad that some of the other Waterbury guys weren't here today."
Thurston took extra pride in having two locals take home the top prizes, and he was followed by a handful of other Central Vermonters. Finishing fourth was 43-year-old Montpelier runner Arthur Foelsche (1:31:19), 38-year-old Waitsfield athlete Todd Walk placed sixth (1:33:38) and 33-year-old Montpelier racer Colin Clifford was ninth (1:36:56).
Two years ago Thurston finished slightly faster in 1:19:08, but he lost to Graves by 51 seconds. Thurston lost by 62 seconds in 2015 after finishing in 1:18:13, and he wound up third in 2012 and 2013. The former elite cyclist also placed sixth in 2008 and 2011. Almost all of his times have been within a few minutes of each other.
While Thurston does some workouts with the Waterbury Wulfpack, he also runs up to 100 miles a week with his 6-year-old dog Diesel. Thurston will occasionally go on 10-mile trail runs with his oldest daughter Ava, who's a freshman at Harwood. Thurston's younger daughter, Julia, is a seventh-grade runner who also loves to train.
"My three previous weeks were all over 100 miles," Thurston said. "I had a down week, and then the three weeks before that were all over 100. I do 7-9 miles before school and then I get out in the afternoon and run again. It goes in cycles. Some days you feel great and other days you feel horrible. And you just get up and go at it again. I've got a marathon next Sunday in Albany, N.Y., and my goal is to be close to 2:40."
Kingsbury's training consisted of running an average of 15 miles a week. Her approach was basically the polar opposite of Thurston's, but the end result was similar as she crossed the line with a winning time of 1:36:07. The 36-year-old placed seventh overall for men and women, with female runner-up Allie Gratton not far back in 1:40:04.
"I don't calculate anything – I just go and run and do whatever feels good," Kingsbury said. "I've just been running when I have time And I'll run, I'll bike, I'll do cross-fit – I'll do anything. I think it helps me just doing all kinds of different things."
Last year Kingsbury was fifth in 1:40:22, while in 2016 she was 13th in 1:40:51. A former UVM Alpine standout, she still skis with her husband and their three young boys in the winter. The family hikes Camel's Hump to get outside in the spring and summer, and this past July Kingsbury ran 16.5 miles as part of a six-person team for the 100 on 100 relay.
"If something comes up and I can do it, that's great," she said. "I just fly by the seat of my pants. Any time they're all in school, I run – and that's only two days a week. And I have neighbor who likes to run just as much as I do. So when both of our families' kids are in school, we'll go together. She's my motivation."
Kingsbury entered Sunday's race hoping to at least win her age category. This summer she practiced running up Perry Hill a few times and that dedication paid off early in the race.
"It was straight uphill and I'm good on the hills, so I knew that was my strength," she said. "And I knew that if I wanted to do well I had to get past the hill in front of everyone. So I just hammered up the hill."
The leader opened up a four-minute lead over Gratton, who was followed by a big chase group. The final outcome was all but assured during the final mile, but Kingsbury never felt as comfortable as her victory.
"I was constantly looking behind me," she said. "And then on the out-and-back I wanted to see where the first woman was. She was pretty close, so I couldn't relax until I crossed the line. The last part was terrible. I didn't have anything left and I just needed to make it through. It was not pleasant at all – just trudging along."
A big group of local athletes rounded out the women's top 10, led by 27-year-old Montpelier runner Kassandra Reid (fourth, 1:43:16). She was trailed by 35-year-old Barre competitor Jacqueline Jancaitis (fifth, 1:43:52), 50-year-old Montpelier runner Sandy Colvin (sixth, 1:43:59) and 43-year-old Waterbury racer Karissa McDonough (seventh, 1:45:42). Winooski runner Sean Flynn won the 5-kilometer race in 18:28. The women's 5K winner was Jericho's Lori Howe, who was second overall in 19:33.