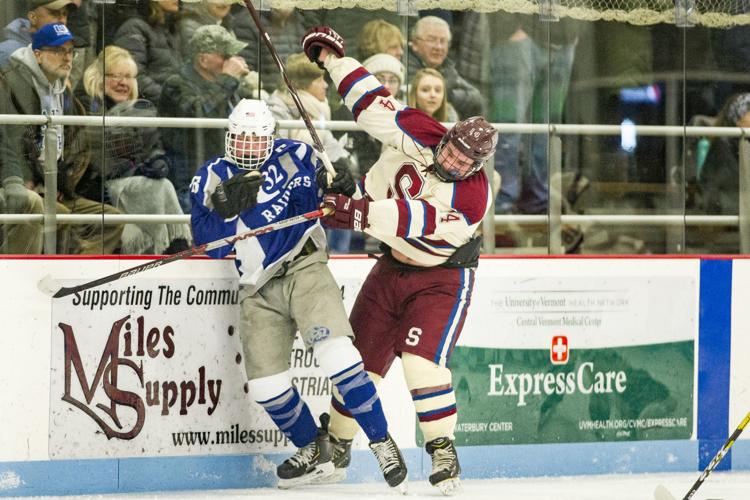 BARRE — It's always exciting when the Spaulding and U-32 boys hockey teams meet on the ice.
Saturday was no exception.
This year's cross-town boys hockey showdown at the BOR between the Crimson Tide and the Raiders was not a league game, but the action was as intense as ever during Spaulding's 5-3 victory. The Raiders moved back to Division II this season, so it was their only crack against the D-I Crimson Tide.
In spite of playing with just two forward lines, the Raiders created better scoring opportunities in the first period and jumped out to a two-goal lead. U-32's top line of Malone Bruce, Brady Hill and Neil Rohan were in mid-season form early in the game, using crisp passing and slick moves to jump on Spaulding.
Bruce got the Raiders on the board midway through the first period on a goal assisted by Rohan. Late in the period, Bruce collected a pass from Maxx Perry and used his speed to break in on Spaulding goalie Kyle May (15 saves). He buried the puck into the back of the net to make it 2-0 at the first intermission.
"Our players were fired up to play at the BOR," U-32 coach Shane Locke said. "We went out hard and made sure we had two guys on the puck at all times. We got both goals by working hard."
Spaulding coach Chad Burke wasn't impressed with his team's effort in the first period.
"We came out flat, U-32 pops in a couple of goals and it puts us back on our heels," Burke said. "We need to attack the puck — we were letting U-32 control the puck. I talked between periods about keeping the energy level up like we did last week at BFA."
The game got physical in the second period, with a couple of open-ice hits forcing both teams to spend time in the penalty box. Owen Kresco finally got the Spaulding goal horn to sound halfway through the period with an assist from Myles Aja. Spaulding continued to pepper U-32 goalie Kolby Tanner (29 saves) with 17 shots in the period, but Tanner made a number of great glove saves to keep the Raiders' lead at 2-1.
Spaulding opened the third period with a bang and tallied the equalizer three minutes in when Cam Gosselin scored on an unassisted effort. Just minutes later a scramble in front of the net led to freshmen Jamison Mast's first varsity goal. Mast followed that up with his second goal on a pass from Evan Parent for a 4-2.
"My second goal was prettier, but my first goal was more memorable since it was my first high school goal," Mast said.
The Raiders didn't pack it in, and Bruce made sure nobody left the game early when he scored his third goal on assists from Logan Carbo and Sina Fallahi.
"Malone's got good speed, good hands and good eyes," Locke said. "Spaulding knew it. They were trying but didn't have an answer to keep him off the scoreboard."
The Crimson Tide finished it off with Jesse King's empty-net goal, giving Spaulding (1-3) its first win of the season.
"We're a young team and we've got some skill," Burke said. "We have some smart hockey players, but we need to figure some things out. We still struggle to get the puck out of our zone. The growing pains are going to happen, but we need to learn from every game."
Spaulding will host Stowe at 5:30 p.m. Wednesday, while U-32 (1-3-1) will travel to play Burr & Burton the same day.