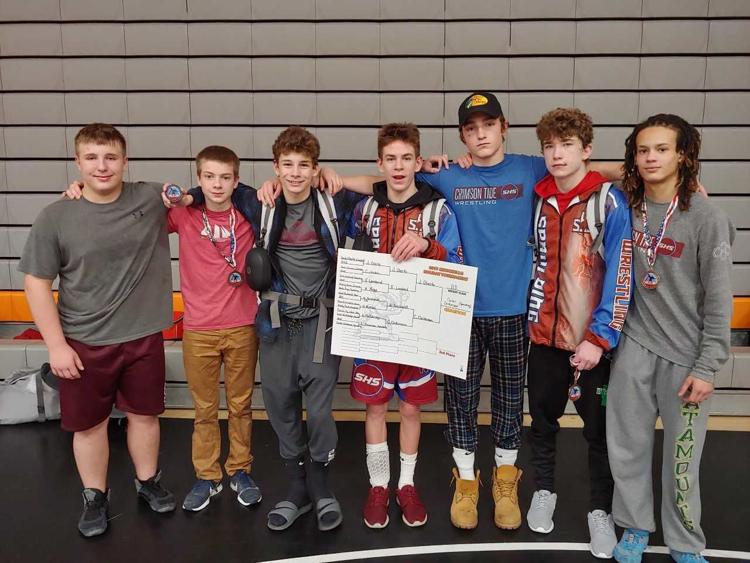 KEENE, N.H. — Junior Carter Dickinson claimed top honors in the 113-pound weight class Saturday and the Spaulding wrestling team placed fifth at the 2019 Minickiello Holiday Tournament.
The Tide brought 21 athletes to the event, a figure that stands in stark contrast to Spaulding's four-man squad from last year. The tournament featured 18 teams, many of which were Division I schools. Dickinson followed up his runner-up result from 2018 with a thorough drubbing of his competition.
"It was a dominant performance," Spaulding coach Darren O'Meara said. "Carter didn't have a close match all day."
Tide senior Hunter Quero reached the finals of the 152-pound division, placing second to a multi-time champ from the Granite State. Spaulding freshman Nick Pierce reached the finals in the 106-pound class, while classmate Hunter Roya took home third place in the 113-pound division.
"(Roya) had the performance of his career," O'Meara said. "It was like his coming-out party."
Fellow freshman Colton Perkins, who wrestles in the 220-pound weight class, placed fifth. Perkins was forced to battle more experienced upperclassmen but held his own.
"Colton continues to look better and better," O'Meara said. "I think he will be a threat for the state title."
Spaulding's Ryan Glassford, a freshman who got a late start to the season, earned his first varsity by placing sixth in the 132-pound division. Another freshman, Levi Hilton VanOsdall, earned his first varsity win with an inspired effort late in the third period of his match. Teammate Elijah Laramore wound up fourth at 120 pounds and Caleb Huntington took home fourth place at 106 pounds.
Spaulding (3-1) will host Vergennes at 6 p.m. on Thursday.
BOYS BASKETBALL
Rice 67, Spaulding 59
BARRE — The Tide gained confidence during Saturday's loss against the Green Knights, walking away with the knowledge that they can run with the elite teams of Division I.
Rice led 19-17 after one quarter and pulled in front 35-27 before halftime. Spaulding came out on fire at the start of the third quarter, mounting a 12-5 run to trim the deficit to 40-39. The Tide entered the final quarter trailing 52-48.
"We started this game off not sure if we could play with these guys," Spaulding coach Jesse Willard said. "But as the game went on we started to believe more and more. So the loss hurt more than we anticipated."
Taylor D'Agostino (16 points), Alex Coyle (13 points) and Sam Bigglestone (eight points) paced the Tide, who shot 13 of 18 from the foul line. Leo Chaikin poured in 36 points for Rice and teammate John Rousseau added 18 points. Spaulding will host Colchester at 7 p.m. Monday.
Oxbow 85, Richford 55
RICHFORD — Matt Emerson (16 points), Seth Carson (12 points) and Bryce Ilsley (11 points) guided the undefeated Olympians past the Falcons on Saturday.
"It's pressure defense and believing in each other," Oxbow coach Steven Carson said. "Every game we have a different player come off the bench to add a spark. Tonight it was Cooper Simmons with eight points, great communication and good rebounding on defense."
GIRLS BASKETBALL
Thetford 56, Hazen 48
THETFORD — Former Chelsea standout Kiana Johnson scored a team-high 14 points Saturday for the Panthers, sparking a victory over the Wildcats in a rematch of last year's Division III semifinal.
Grace Davis (12 points) and Casey Macveigh (10 points) also reached double-figures for Thetford. Hazen's top scorers were Alleigh Gabaree (15 points), Lizzie Brown (13 points) and Kiley Currier (12 points). Thetford trailed 11-4 after one quarter before rallying. The Panthers carried a 22-18 lead into the break and entered the final quarter in front 39-28.
"The second quarter is what killed us," Hazen coach Tonya MacAuley said. "I only had seven players today and we were gassed."
Hazen (5-1) will host Danville at 7 p.m. Tuesday.
Harwood 63,
Montpelier 24
DUXBURY — Highlanders forward Mia Cooper was unstoppable in the paint Saturday, piling up 13 points and 11 rebounds to lift her team past the Solons.
Harwood's Ashley Proteau contributed 11 points, six steals and five rebounds, while teammates Cam Ravelin and Ashlyn Carst added nine points apiece. Ten players scored for the Highlanders, who struggled to pull away early and led 15-13 after the second quarter. The Solons went cold offensively before the break, allowing HU to build a 35-17 advantage. The Highlanders were in front 41-21 heading into the final quarter and easily sealed the deal. Kaitlyn O'Reilly and Elizabeth Cossett scored six points apiece for Montpelier.
"We'd never beat these guys as long as I've been coaching," Harwood coach Tom Young said. "It was a total team effort and we had good, unselfish play. Everybody played hard and we achieved some defensive goals by holding them to 24 points."
Harwood (5-2) will face Lyndon at 7 p.m. Tuesday.
Randolph 36,
Williamstown 27
RANDOLPH — The Galloping Ghosts weathered some foul trouble Saturday to keep their perfect record intact.
Randolph established a 10-4 lead in the first quarter but Williamstown trimmed the deficit to 17-13 before halftime.
"By the end of the first quarter and early in the second all of our starters had picked up their second foul," Randolph coach Scott Lafreniere said. "So I was very pleased with how our bench was able to keep us in the game."
The third-quarter scoring was even and the fourth quarter started with Randolph leading 29-25. Rielle Brassard (12 points) helped the Ghosts pull away at the end, while teammate Sara Rea (10 rebounds) set the tempo down low. Abby Perusse (eight points, seven rebounds) paced the Blue Devils.
"We played some really good D, but they killed us on the boards," Williamstown coach Sid Sweet said.
Williamstown (2-3) will host Oxbow at 7 p.m. Monday. Randolph (8-0) will travel to play Oxbow at 7 p.m. Thursday.
GIRLS HOCKEY
Essex 6, Harwood 0
ESSEX — The Highlanders could not contain the high-powered Essex offense during their most lopsided loss of the season Saturday.
After a scoreless first period, Essex found the back of the net twice in the second period. Olivia Miller-Johnson and Abby Robbins both tallied two goals and one assist for the Hornets. Maddy Young and Sage Amaliksen also scored in the victory. Goalie Sophie Forcier made five saves for Essex, while Kaylee Thayer stopped 31 shots for the Highlanders.
"I thought Kaylee did great and the team put in a great effort," Harwood coach Mike Vasseur said. "But Essex has a really good first line that we were up against all night."
Harwood (3-3) will travel return to action against Rutland at 4 p.m. Saturday.
BOYS HOCKEY
CVU 5, Stowe 5
STOWE — Jake Schaefer netted a hat trick and tied the game for CVU on a power play late in the third period, leading to Saturday's tie.
Stowe was comfortable on its home ice in the first period, building a 2-0 advantage. CVU tied it up at the 5:49 mark of the second period, but Stowe regained the lead 14 seconds later and carried a 3-2 lead into the third period. CVU knotted the score 26 seconds into the third period and took a 4-3 advantage at the 3:49 mark. Stowe responded with a pair of goals 1:13 apart midway through the period, only to give up the equalizer at 11:35 mark with a player in the penalty box after a hooking infraction.
Schaefer (three goals, one assist) and Charlie Averill powered CVU's offense, while teammate Logan Cody stopped 33 shots between the pipes. Alex Tilgner (two goals), Max Carr (two goals, one assist) and Atticus Eiden (one goal) led the Stowe offense. The Raiders will host Rice at 6:30 p.m. Saturday.
Lyndon 9, U-32 7
MONTPELIER — The Raiders came up short during Saturday's high-scoring affair and each team accumulated almost as many penalties as goals.
"What it came down to was penalties," U-32 coach Shane Locke said. "There was a fair number of power-play goals tonight."
The Raiders held a 5-4 edge after the first period. U-32's Nolan Hudson scored his second goal of the evening 4:26 into the second period, but the score was tied at 6 by the second intermission. In the third period Lyndon went up by two, and then Malone Bruce made it a one-goal game for U-32.
Martin Rudolf (five goals, two assists) netted the insurance goal for Lyndon. Neil Rohan (two goals) and Logan Carbo (one goal) were two of the top offensive players for the Raiders, who fired 23 shots on goal. Kolby Tanner made 31 saves in front of the net for U-32, which falls to 2-4-1. The Raiders will travel to play Milton at 6:30 p.m. Wednesday.
Harwood 4,
Brattleboro 1
WATERBURY — Goalie Liam Guyette made 43 saves while helping the Highlanders kill off eight penalties during Saturday's victory.
Finn O'Hara got Harwood on the scoreboard late in the first period and his team's 1-0 lead held up through the second period. Teammate Jake Cantwell scored 2:30 into the third period to give the Highlanders a two-goal advantage, but Jake Pettison responded for Brattleboro one minute later. With two minutes left Brattleboro pulled goalie Austin Wood (39 saves). Harwood's Skylar Platt and Ollie Hammond notched empty-net goals to cap the scoring. Harwood (3-1-3) will host Burlington on Wednesday at 6 p.m.
NORDIC SKIING
U-32 boys win again
BOLTON — Four U-32 boys secured top-8 individual finishes to help the Raiders hold off runner-up Middlebury by four points during Saturday's 5-kilometer race at the Bolton Valley Nordic Center.
Waylon Kurts was U-32's fastest finisher, placing fourth in 18 minutes, 45.53 seconds. Trevor Patterson (sixth, 18:51.39), Jed Kurts (seventh, 18:59.59) and Sam Clark (eighth, 19:23.53) also scored points for the Raiders. U-32's depth was essential in holding off Middlebury, which was led by Jack Christner (first, 17:48.6), Elvis McIntosh (second, 18:11.94), Lucas Palscik (13th, 19:58.3) and Owen Palscik (15th, 20:10.26). The top Harwood skiers were Carlton Cummiskey (26th, 20:49.46), Jesse McDougall (41st, 21:31.61), Hale Boyden (55th, 22:23.63) and Vincent Spina (78th, 23:53.39).
Brattleboro's Sarah Gallagher won the girls race in 21:30.64. The CVU girls edged Middlebury in the team competition, while U-32 placed a close third. Leading the charge for the Raiders were Jesse Colnes (11th, 23:32.07), Shams Ferver (15th, 24:23.15), Ginger Knight (24:33.53) and Ayla Bodach-Turner (25th, 25:08.23).
The seventh-place Peoples Academy girls were led by Linden Osborne (10th, 23:08.85), Sofie Carlson (12th, 23:36.39), Weslie Carlson (44th, 28:43.32) and Lexy Dambach (59th, 30:29.56). Harwood's top athletes were Mackenzie Greenberg (14th, 24:16.8), Sydney Kulis (39th, 27:54.66), Caelyn McDonough (48th, 29:15.61) and Julianne Young (62nd, 30:53.24).
BOYS TEAM SCORES
1. U-32 25; 2. Middlebury 29; 3. Brattleboro 52; 4. CVU 89; 5. Mt. Mansfield 97; 6. Lamoille 113; 7. BFA-St. Albans 115; 8. Colchester 165; 9. Harwood 173; 10. Burlington 177; 11. Essex 223; 12. BFA-Fairfax 230.
GIRLS TEAM SCORES
1, CVU 48; 2. Mt. Mansfield 56; 3. U-32 60; 4. Brattleboro 93; 5. Colchester 105; 6. Middlebury 113; 7. Peoples 121; 8. Burlington 122; 9. BFA-St. Albans 143; 10. Harwood 161; 11. Essex 183; 12. BFA-Fairfax 264.
WOMEN'S BASKETBALL
Norwich 68, Newbury 48
BROOKLINE, Mass. — The Cadets never trailed during Saturday's rout.
Norwich opened the game with a 28-8 burst and built a 42-23 lead at the break. Newbury cut the Cadets' lead to 52-37 but NU had no trouble closing out the victory.
Norwich outpaced Newbury in turnovers (22-13), points in the paint (24-12) and assists (20-10). Senior Emily Oliver led the way for Norwich with 17 points, eight rebounds, nine assists and four steals. Riley Bennett (13 points) went 3 of 6 from 3-point range for Norwich, while Kailynne Frederick provided nine points and three rebounds from off the bench.
The Cadets (5-6) will start conference play on Tuesday when they travel to play Johnson & Wales at 5:30 p.m.