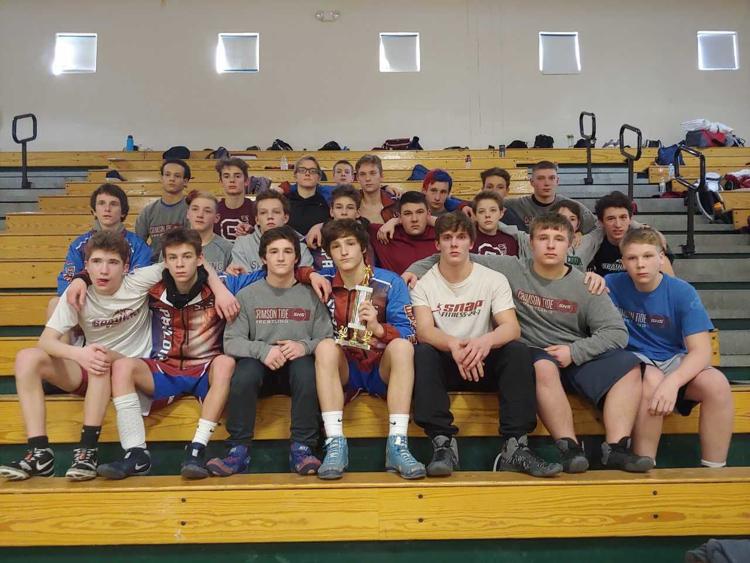 ST. JOHNsBURY — The Spaulding wrestling placed second Saturday at the NVAC Championships after losing to Essex, 41-40.
The Crimson Tide cruised past Vergennes in the first round, 72-10. Spaulding won its semifinal matchup against CVU, 57-24. The championship match was a back-and-forth struggle between the tournament's top two seeds.
Tide standout Carter Dickinson started things off in the final by bumping up a weight class and pinning his opponent from Essex. Spaulding's Ryan Glassford moved up to 138 pounds and took down a tough opponent with a 13-5 victory.
Spaulding's Hunter Chase and Daniel Durgin came away with pins to give their team the lead. Essex rallied by earning a few wins in the upper weight classes. But Spaulding's Colton Perkins stopped the bleeding by throwing an Essex heavyweight opponent to his back and winning the match in dramatic fashion.
Nick Pierce took care of business at 106 pounds for the Tide, pinning his opponent in the first period to give Spaulding a 40-36 lead over Essex. The meet came down to the final match of the night, with Essex securing the five points needed to take the lead for good.
"It was good because we weren't really supposed to be in the match, and it was close," Spaulding coach Darren O'Meara said. "The boys wrestled really well. It's stinging pretty good right now, mostly because the boys did everything they could do. And had I made the right decision at the coin toss, the boys would have walked away winners. But last year we went 0-2 (at NVAC's) and lost to Williamstown, so it was a bit of a jump up in performance."
Spaulding will host the Junior Varsity and Junior High State Championships on Feb. 16 at 10 a.m. The Tide's varsity squad will travel to Essex on Feb. 23 for the 50th Vermont State Wrestling Championships.
BOYS HOCKEY
Woodstock 3, U-32 0
WOODSTOCK — The Raiders had trouble putting their shots on net when they had opportunities Saturday against the top team in Division II.
The game was scoreless after one period and the Wasps took a 1-0 lead into the third period. Kolby Tanner made 33 saves for U-32 and Henry Greene stopped six shots for Woodstock.
"Overall it was more of a defensive game that we were having to play," U-32 coach Shane Locke said. "We tried to take our opportunities in the neutral zone as much as possible, and we had a few chances. We hit the post a few times, but we couldn't quite get it between the posts on the best opportunities that we had."
U-32 (2-9-2) will host Northfield at 5 p.m. Wednesday.
GIRLS HOCKEY
Missisquoi 4, Harwood 0
HIGHGATE — The Thunderbirds used a no-nonsense attitude defensively to shut out the Highlanders on Saturday.
Savannah Fellows opened the scoring and Breezy Parent added another goal to give Missisquoi a 2-0 leading going into the first intermission. After a scoreless second period, Haley Stefaniak and Parent found the back of the net. Madison Conley made 28 saves for Missisquoi and Kaylee Thayer stopped 23 shots for the Highlanders.
"I never thought we really got up to speed," Harwood coach Mike Vasseur said. "It was just one of those games — the puck just didn't seem to bounce our way. But (Missisquoi) played very well and they were very aggressive,"
ALPINE SKIING
Rubinstein, Kugut lead HU
FAYSTON — For the first time in three years the Harwood downhill ski team was forced to relinquish its home event's top prize as Stowe combined for the best girls and boys team scores at Mad River Glen.
Organizers pulled off the event despite tricky conditions following a mid-winter warm spell.
"We heavily salted before setting gates and then we salted again after setting," Harwood coach Kate Westhelle said. "I had a tremendous amount of help from parents, raking and slipping. So it held up well."
The Highlanders won on the girls' side and the HU boys placed third despite racing without a couple of top skiers. Harwood's Rex Rubinstein claimed top individual honors with a blistering first run in the dual-paneled slalom event. After being the only skier to cross te line in less than 29 seconds during the first run, Rubinstein gave back a little time to Stowe's Rai Bleda (second place) and South Burlington's Camden Chiari during the second run. But Rubinstein's combined time of 58.91 seconds was good enough to prevail. Adrian Clapp (10th, 1:05.16) was the only other HU skier in the top 10. Teammates Sawyer Belongia (12th place) and Jake Flynn (15th place) also scored points for Harwood. Carter Little (18th, 1:08.64) was the top finisher for U-32, which co-hosted the event. Evan Elliot (22nd) and Brad Benedict (39th) rounded out the U-32 effort.
Six Harwood girls earned top-10 results, with Gretchen Kogut (1:03.50) placing first and Aliza Jernigan (1:04.46) securing third. Stowe's Shayson Lyden placed second. Kogut was the fastest skier for both runs and won by 0.43 seconds. Kelly Tynan (fifth), Laila Iskanarova (eighth), Siena Mazer (ninth place) and Alanya Morelli (10th) were also strong for Harwood.
"If everybody can put down runs, we are good contenders for districts — especially the girls," Westhelle said. "It's going to be pretty tight this year. I don't think anybody is going to run away with winning it. It's just going to be up to people skiing their best and finishing both runs successfully. And I think we have a really great chance for girls if they can do that."
Harwood will host a GS race at Sugarbush's Mt. Ellen at 10 a.m. Monday. Jay Peak will host the NVAC Districts from Feb. 25-26. Racers will compete in giant slalom the opening day before racing slalom the second day.
Selecting the lineup for districts will be difficult for Westhelle because of the depth on the girls' side. She will use the results from Monday's race to help make the decision and will give upperclassmen the benefit if there are close results. Six skiers from each team will compete at districts and states, with the top four scoring points. Harwood's boys team has showcased four strong results most races, but any hiccups at districts could be costly for the top-heavy Highlanders.
"Rex is ranked first overall," Westhelle said. "There are kids who aren't far behind him, but every race he is out to win. The top seven teams from districts move on to states, and I'm not worried about that at all."