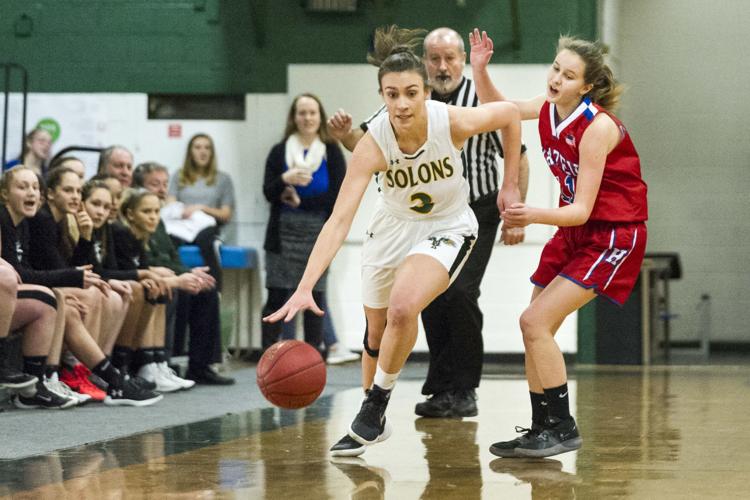 MONTPELIER — The Solons were sharp in the fourth quarter Saturday, but the Wildcats were ready from the opening tip.
Hazen pulled ahead early and remained in front throughout, easily recording a 36-24 girls basketball victory over Montpelier. Hazen grabbed a 16-3 advantage in the first quarter and extended its lead to 25-9 entering halftime.
"We just came off a good game with Williamstown, and we knew we had to start off this game with that same intensity," Hazen coach Tanya MacAuley said. "Our goal was to play both halves strong." Hazen cruised to a 32-13 lead at the end of the third quarter before the Solons started to assert themselves.
"Aaliyah Shannon was really instrumental in our fourth-quarter spark," Montpelier coach Kylie Blodgett said. "And a couple of juniors, Lily Gingold and Lillian Winters, came in during the fourth and did their jobs really well. They gave us a boost on our pressure and halfcourt defense as well as on offense."
Mikaela Luke-Currier led MHS with six points, while Aaliyah Shannon added seven steals and four points. Kiley Currier (13 points), Abby Ewen (eight points) and Lettie Hill (six points) paced Hazen. Montpelier (2-6) will travel to Oxbow on Thursday for a 7 p.m. game.
GIRLS BASKETBALL
Danville 56, Twinfield 35
MARSHFIELD — Precise shooting in Saturday's fourth quarter helped the Indians seal the deal against the Trojans. Twinfield trailed 11-10 after the first quarter and pulled ahead 24-20 at the end of the second quarter. In the third quarter, Danville flipped the script, building its own four-point lead at 37-33. The Indians ran away with it in the fourth quarter.
"That final quarter they were kind of flawless," Twinfield coach Danielle Laperle said. "I don't think they made a mistake, and we definitely did. The first half we were smart with our passes and on point defensively. And we kept the hustle up, which is good. But mistakes were made."
Olivia Hogan (15 points) and Allison Mill (eight points) paced Twinfield. Colleen Flinn (20 points) and Halie Tillotson (13 points) led the way for Danville. Twinfield (4-6) will host White River at 6 p.m. Thursday.
White River 42,
Williamstown 40
SOUTH ROYALTON — The Blue Devils nearly avenged a lopsided defeat in their rematch with White River on Saturday.
White River led 10-7 after the first quarter and the game was tied at 21 going into halftime. White River regained the lead by the end of the third quarter, enjoying a 34-27 advantage. The Blue Devils worked their way back into contention and were up 40-39 with a minute remaining. But Williamstown committed back-to-back fouls on the defensive end, allowing White River to go 2 of 4 from the foul line at a key time. The Blue Devils were whistled for a loose-ball foul late, sending White River back to the line to close out the victory.
"Last time we lost to them by 23, so we're definitely going in the right direction," Williamstown coach Sid Sweet said.
Free-throw shooting was a noticeable disparity. White River went 8 of 11 from the stripe, while Williamstown was 2 of 4.
"They're driving the lane, but they're just not drawing the fouls," Sweet said of his players. "I've got to coach them better."
White River's Hannah White scored 16 points after making a trio of 3-pointers and going 7 of 8 from the free-throw line. Sarah Howe added 12 points for the Wildcats. Ciera Sweet (12 points, eight rebounds) and Eliza Dwinell (10 points) paced the Blue Devils. Williamstown (2-5) will host Oxbow at 7 p.m. on Monday.
BOYS BASKETBALL
Hazen 64, Milton 55
MILTON — The undefeated Wildcats poured in 30 points from 3-point land Saturday.
Five 3-pointers in the first quarter allowed Hazen to open up a 19-5 advantage. The Wildcats led 31-18 at the half and were up 47-33 going into the fourth quarter.
"It got close in the fourth, but we hit our free throws and a couple of 3-pointers and we were able to hang on from there," Hazen coach Aaron Hill said.
Freddy Larson (23 points, seven rebounds) and Isaiah Baker (21 points) paced Hazen. Devin Creamer (19 points), Ian Jennings (16 points) and Sam Patterson (11 points) powered Milton.
Hazen (8-0) will travel to play Peoples Academy at 7 p.m. Thursday.
GIRLS HOCKEY
South Burlington 6, Harwood-Northfield 1
WATERBURY — The Highlanders did not click as a unit during Saturday's lopsided loss.
South Burlington jumped out to a 2-0 lead in the first period. During the second period, Kate Hall netted her second goal for South Burlington. Harwood-Northfield's Hailey Brickey scored a power-play goal to make it 3-1 heading into the third period.
"As a team we did not play well, and that falls on me as the coach," Harwood's Mike Vasseur said. "We just never got out of first gear."
Goalie Kaylee Thayer made 31 saves for Harwood-Northfield, while teammate Kaylee Cameron made five stops during six minutes of late-game action. Lyssa Tan stopped 25 shots in goal for South Burlington. Mia Angwin, Sofia Richland, Emma Havvers and Lilly Truchon added single goals in the victory. Harwood (3-4) will travel to play Rutland at 5:15 p.m. Monday.
BOYS HOCKEY
CVU 3, Spaulding 1
SOUTH BURLINGTON — The Crimson Tide couldn't shake off a slow start during Saturday's loss.
After a scoreless first period, CVU grabbed a 1-0 lead in the second period while limiting the Tide to five shots on goal during that time. Mason Otis' third-period goal on an assist from Brian Crowningshield closed the gap to 2-1. Spaulding pulled its goalie late in search of an equalizer, but it resulted in an empty-net insurance goal by CVU.
"We showed up two periods too late," Tide coach Chad Burke said.
Goalie Grant Otis made 25 saves for Spaulding, while Logan Cody stopped 12 shots for CVU. The Tide (1-6) will travel to play Rutland at 1 p.m. Saturday.
Woodstock 3,
Harwood 2
WOODSTOCK — Lucas Piconi tallied the game-winning goal on a power play 11 minutes into the third period Saturday.
Jake Cantwell scored the first goal for Harwood five minutes into the first period. Woodstock's Evan Kurash scored four minutes later, assisted by Riley Shepherd. Trevor White scored 4:30 into the second assisted by Owen Coates to give Woodstock the lead. Harwood scored 10 minutes later on the goal by Skylar Platt, assisted by Jake Wells, to tie the game at 2. Charles Green and Shepherd set up the final goal. Goalie Henry Green made nine saves for Woodstock, while HU goalie Sean Russell stopped 19 shots.
WRESTLING
Tide place second
PELHAM, N.H. — Massachusetts power Pentucket Regional edged Spaulding by a single point to place first out of 17 teams Saturday at a meet also featuring elite teams from Rhode Island and New Hampshire.
Crimson Tide standout Carter Dickinson earned his third first-place finish of the season while wrestling in the 113-pound division. Teammates Nick Pierce (106 pounds) and Hunter Quero (145 pounds) were each finalists in their divisions. Matthew Durgin secured a third-place finish in the 182-pound division, and freshman Ryan Glassford continued to impress in his young career by placing fourth at 132 pounds.