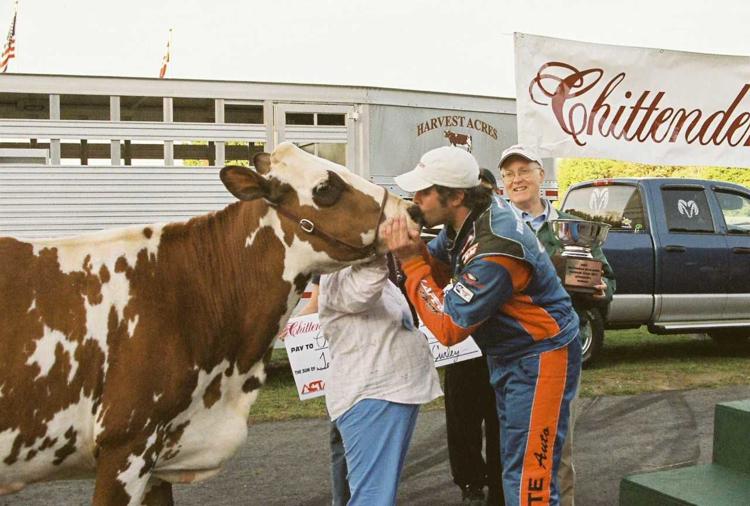 Eight drivers from Quebec will help make the Commonwealth Classic 65 an international showcase when the green flag drops at Virginia's Richmond Raceway on March 30.
Thirty-two drivers have already entered the inaugural $5,000-to-win American-Canadian Tour event, and many of those top talents hail from the Canadian province bordering Vermont. Their dedication to auto racing can't be questioned, with some competitors set to travel as many as 14 hours each way to compete at the historic track.
The list of Quebec standouts heading to Richmond includes former ACT champions, weekly competitors at the Autodrome Chaudiere, rising Canadian racing stars and even track owners. What they all have in common is that they are ready to take on the unique challenge of the D-shaped oval, where many stock car racing legends have visited Victory Lane.
A pair of ACT's most distinguished Quebec competitors of the 21st century are on the list of early favorites. Former Série ACT champions Patrick Laperle and Jonathan Bouvrette have filed entries and are prepared to add another chapter to their storied racing careers.
Laperle, whose entry arrived a few days ago, is an ACT champion on both sides of the border. He is tied with Brian Hoar for the most victories in ACT Late Model events. Bouvrette was the 2017 Série ACT Champion and has several big wins on his résumé, including the inaugural Bacon Bowl 200 at Autodrome Chaudiere last August.
"This is a great opportunity offered by the American-Canadian Tour to give racers the chance to race a well-known U.S. track at a reasonable cost," Bouvrette said. "Since this is the first ACT appearance at Richmond, we'll all be on the same level for this race. At all races I go to, my goal is to win. And I'll have the same philosophy for this race."
Bouvrette added that auto racing still had a passionate fan base in Canada.
"I think the presence of so many Quebec drivers for this event shows they have the ACT series at heart," he said. "It shows they would welcome the return of the series with a Canadian touring championship for the 2020 season."
Several other Quebec drivers with touring experience are going to Virginia. Second-generation racer Martin Goulet Jr. finished in the top-10 in Série ACT points every year from 2013 to 2016. He also placed third in Canadian Stock Car Championship points in 2018. Mathieu Kingsbury finished fifth in CSCC points last year and regularly travels to ACT events in the United States.
Jean-Phillippe Bergeron was right behind Kingsbury in the CSCC standings and was also the top rookie, making him another potential Richmond contender. Meanwhile, former NASCAR Pinty's Series standout Alex Guenette of Terrebonne will climb behind the wheel for Larue Motorsports, a team that won three Série ACT owner's championships.
Weekly Quebec racers will also be represented as Autodrome Chaudiere is sending a pair of drivers to Richmond. They are led by Marc Begin, who is a member of the track's Board of Directors. Begin also finished second in NASCAR Late Model points at Chaudiere in 2018. He plans to chase the track championship after returning from Virginia.
"I decided to go to this race because it's a NASCAR track and I want to live this memorable experience," Begin said. "I also want to support the American-Canadian Tour because we have a good relationship with its managing partner Cris Michaud. I'd be happy to get to Victory Lane in the inaugural race, but the most important thing is to bring the car back in good condition. Since this is my first race of the season, it will be a great opportunity to test our car — especially since it's been ready for a month."
"ACT is a well-known and respected series in Quebec," Begin said. "The series will be racing a few times in Quebec this summer and I want to support them in return by racing at Richmond."
Alexandre Tardif is also ready to go to Richmond. Tardif moved up to the Late Models in 2018 from the Slingshot class. He improved throughout the season and now will race on a track that has held more than 200 events for NASCAR's top three series.
The Commonwealth Classic 65 is part of a huge day at Richmond Raceway. The Pro All Stars Series Super Late Models, Tour-type Modifieds, MASS 8-cylinder Street Stocks and North East Mini Stock Tour will also be on the card. Almost $165,000 in total awards have been posted for nearly 400 laps of racing. The action will kick off at 1 p.m. An open practice for all divisions is scheduled for March 29.