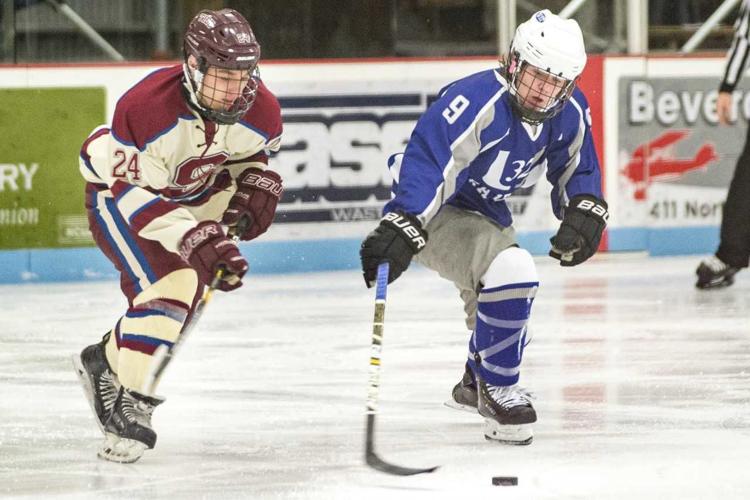 NORTHFIELD — U-32's Maxx Perry and Northfield's Bryce MacDougall each scored a goal for their respective teams, but in the end even overtime wasn't enough to break the deadlock as they settled for the 1-1 tie.
"We had a tough first period with U-32 getting out of the gate well," Northfield coach Doug MacDougall. "We fought back and offense has been our trouble this year – getting shots on net. Tonight we started getting it together a little bit after a tough first period but tonight wasn't too bad once we got our feet under us. Dylan (Marauder goalie Dylan Partlow) kept us in it until then and then I thought we played pretty well."
Partlow finished the game with 20 shots saved, half of which came in the first period as the Marauders withstood a furious opening period from the Raiders. Perry's goal game came on a power play at 11:29 assisted by Malone Bruce.
"We were able to take advantage in the offensive zone and playing the umbrella well on the power plays but had trouble connecting the shots through the zone," U-32's Greg Golonka said. "Their goalie had a really good glove."
The Raiders were unable to sustain the offensive pressure in the second period and the Marauders took advantage. Skating on the power play, Bryce MacDougall took a pass from Caden Hurley and flipped it up off the back of Raider goalie Kolby Tanner (16 saves) to knot the game at 1-1.
"The scoreboard said 1-1 but overall I think we controlled things a bit more," U-32 coach Shane Locke said. "I think the team has come a long ways, and while I don't think we have what I would call a young team, and we're starting to gel a little bit more, have more fun and it shows."
In the third period both teams missed opportunities to put the game away. Once they hit the ice in the overtime frame adrenaline had kicked in for one final rush. Bryce MacDougal had his chance sliding in on Tanner as the puck went loose as the U-32 netminder had a slight misplay, but Golonka and Owen Guthrie both dove to the puck in order to prevent a tap in from the Marauder offense.
"It's a rivalry game for us," Northfield's Nolan Bean said. "We came out slow but the boys started to get some pucks deep and we got better on the forecheck. When we can get in there it causes turnovers and we can organize our breakout better and get stuff going to the net. We're right there and I think we're only going to get better as the season progresses. We're definitely better than our record indicates and hopefully that will show towards the end of the season when the playoffs roll in."