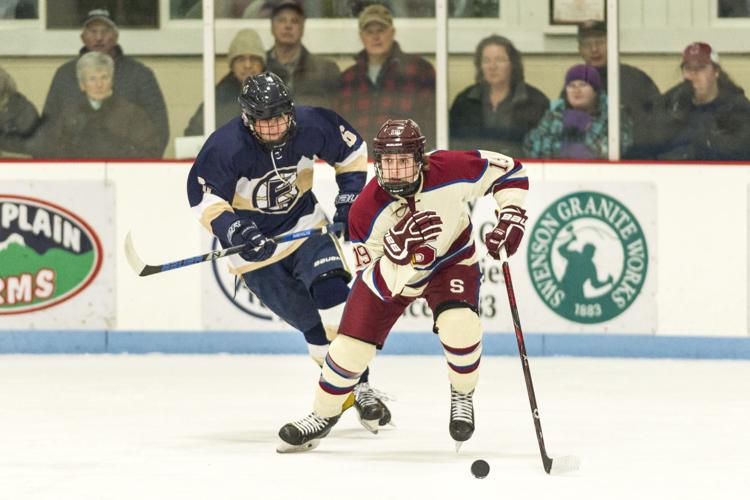 BARRE — Evan Parent tallied a pair of goals for Spaulding but it wasn't nearly enough to overcome Essex on Saturday evening as the Hornets cleaned up with a 6-2 victory.
Grady Cram notched two goals and one assist for the Hornets, with teammates Max Line, Ryan Clark, Gordon Schmalz and Justin Prim also scoring. Prim and Jonah Janaro had assists as well.
Prim's goal was particularly proved to be a powerful turning point in the game. With Essex up 1-0, he crept in and make it 2-0 early in the second period. When the puck dropped for next face-off Prim was hit by Spaulding's Owen Kresco, which left the freshman forward face down on the ice and resulted in a five-minute major penalty to Kresco and the home team. After being helped from the ice, Prim and his Hornets squad exacted their revenge on the ensuing power play with a pair of goals that put the game out of reach.
"We battled through adversity and overcame a little rough patch," Prim said. "I was pleased with the effort and the way my teammates responded, particularly Grady (Cram) and Jonah (Janaro). They lead by example. I think when I took that hit they really got fired up and the rest of the team followed."
Essex coach Chris Line is well aware that in both Cram and Janaro he has a pair of players at the top of the high school hockey heap in Vermont. He also has a lot of respect for the Tide.
"I think they have a good, solid team with very little drop off between lines," Line said. "They did a good job of keeping us moving and we were unable to find free space. Obviously, we had to wear them down a bit and with Grady and Jonah we have a couple of players that teams must account for. Unfortunately for (Spaulding), they started to get trouble with the penalties and we managed to take advantage of that. Otherwise, this would have been a very different game. You know that they're going to be physical."
Essex (4-0-1) will take on BFA St. Albans next. Spaulding (1-5) will face off with South Burlington on Wednesday.
"We had a couple of bad turnovers and they were just able to put the puck in the net," Parent said. "We have to have better hockey-sense and not make big mistakes that impact us negatively. We can always play better defense or offense and we work toward that in practice, but we also have to be smarter against these good teams."
Burke agreed with Parent.
"I think our energy level was better than in the last couple games, but we had some poor decision-making when getting the puck out of the zone," Burke said. "They have some talented players, and it's hard to mark one of them because the others will burn you. There was a big penalty called there that changed the game for us. And while I agree with the penalty, I don't know that I agree there was an intent to injure. But, then again, any time you give a team like Essex a five-minute power play, they're going to take advantage of it."