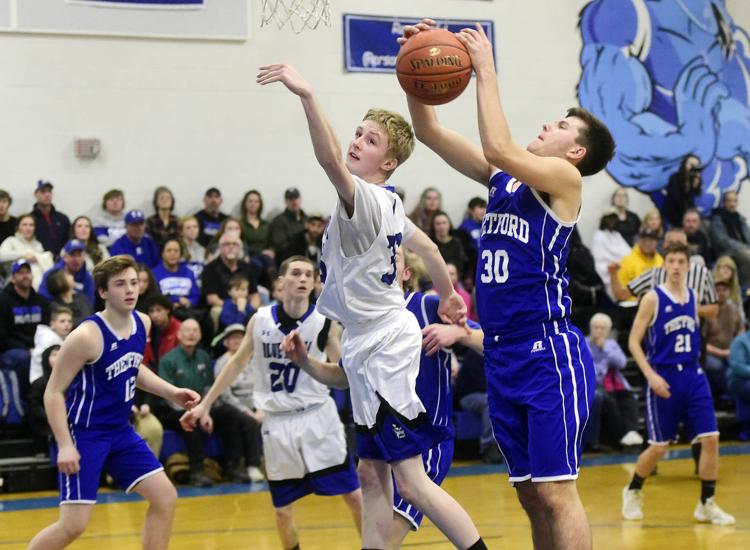 WILLIAMSTOWN — It's one thing to beat a good team, and yet another to kick their butts, but that's exactly what the Thetford Panthers did in handling Williamstown 69-38 on the Blue Devil's home court Friday evening.
"Well, first of all, you have to stick to the game plan and do everything that we've been practicing," Thetford coach Jason Gray said. "To go this far though you have to play incredibly tough defense. Fortunately we were able to get a lot of offensive boards, and we kept boxing them out, rebounding on both ends, switching well defensively and playing hard-nosed man to man defense. The kids really understood and took to heart what we preached about this game tonight."
It's fair to say that it's been quite some time that a Blue Devil squad had been convincingly beaten in such thorough fashion, particularly on their home court. One thing is for sure; this year's Panther squad possesses the firepower, length, athleticism and experience to beat plenty of good teams as they move forward.
Sophomore Eli Dunnet poured in a game-high 23 for the Panthers with Alex Emerson (12 points), Carter Blain (11 points) and Owen Deffner (10 points) all joining him in double figures. Deffner's ability to hit from the high post early in the game opened up the paint for Dunnet, whose coming out party couldn't have come at a better time.
"It was a great team effort with everybody contributing, especially on the boards," Dunnet said. "We knew we had to work inside and our guards really helped Owen (Deffner) and myself out immensely. We put the work in down low and they kept feeding us. I like to work inside and in the mid-range because I feel like I'm strongest there and can contribute my best."
Tyler Orton who had 17 points in the loss led the Blue Devils. Orton provided the lone bright spot for Williamstown connecting with a four-point play after being fouled while attempting a three-pointer that went in, and then on the next possession hitting from deep once more. The Blue Devils managed to put up just four points in a pivotal second quarter in which Thetford was able to build a 43-16 lead by halftime. The frustration showed fully when Williamstown's Garrett Metcalf was hit with a technical foul at the end of the first quarter with just 0.2 seconds left on the clock.
Yeah, it was a long night for the home team.
"We just haven't been ready for the starts of games," Williamstown coach Jack Carrier said. "When you give up 26 points in the first quarter it's a hard thing to dig out of. We gave up 28 earlier this week to Lamoille. We're just talking about bringing energy from the start and we just haven't found it yet. After Dunnet scored his first couple of hoops inside we should have caught on to that. I was impressed with his play tonight, but we just have to start better."
Unable to overcome the Panther's overwhelming lead, Carrier emptied his bench in the fourth quarter as Thetford continued to feast to the final buzzer.
Thetford (4-2) will face Woodstock on Monday. Williamstown (5-2) will also get Woodstock next, but the Blue Devils will wait until Thursday.
"Williamstown is one of our big rivals," Dunnet said. "To be able to come in here and beat them on their own court is huge for us. Hopefully we can use this and continue to get even better."