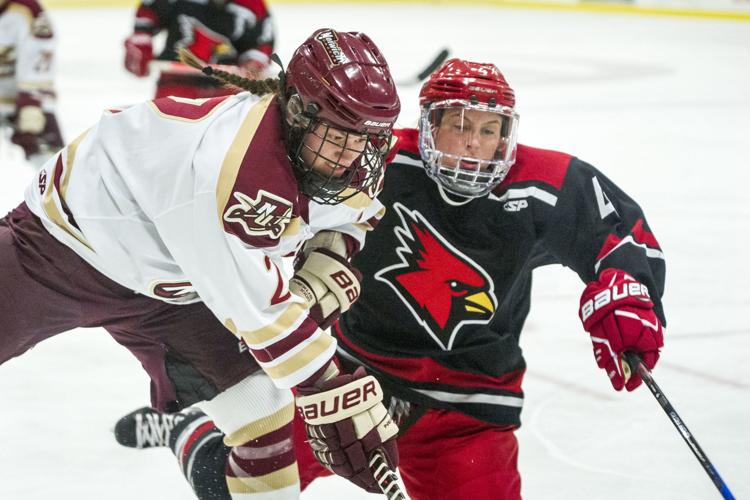 PLATTSBURGH, N.Y. — Plattsburgh State relied on a shorthanded goal from Mackenzie Millen and a third-period goal from Annie Katonka while skating to a 2-0 women's college hockey victory over Norwich.
The Cardinals (3-0) featured 32 saves from goalie Kassi Abbott to shut out the Cadets.
Despite a career-high 40 saves from sophomore goalie Emily Lambert, Norwich was unable to keep pace during the showdown between top-five teams.
Special teams dominated the game, with Norwich going 0 of 8 on the power play while surrendering a shorthanded goal and giving up a Plattsburgh State power play goal to account for all the scoring.
After a scoreless first period, Plattsburgh State took the lead with a goal by Millen. Courtney Moriarty created a neutral zone turnover and sprung Millen in on goal. Millen skated past a NU defenseman in the high slot and made a slick move before sliding the puck over to her left and poking it past Lambert with one hand.
Plattsburgh State scored again in the third period after Norwich controlled the play for the first three minutes but then took a penalty. Erin McArdle sent a wrist shot in from the right that was saved by Lambert but Katonka was first to the rebound and shoved the puck past the NU goalie for a two-goal advantage.
Norwich (2-2) created plenty of power-play opportunities all night, but the Cadets were never able to capitalize on their chances — including 46 seconds of 5-on-3 action just past the midway part of the third period.
Junior forward Sophie McGovern had tough luck while ringing the puck off the post twice, including once on the 5-on-3 advantage. She also dinged the left post in the second period while the game was still scoreless.
Norwich will host Southern Maine at 7 p.m. Friday. The Cadets will raise their 2018 NCAA Division III National Championship banner to the rafters in a special pre-game ceremony.