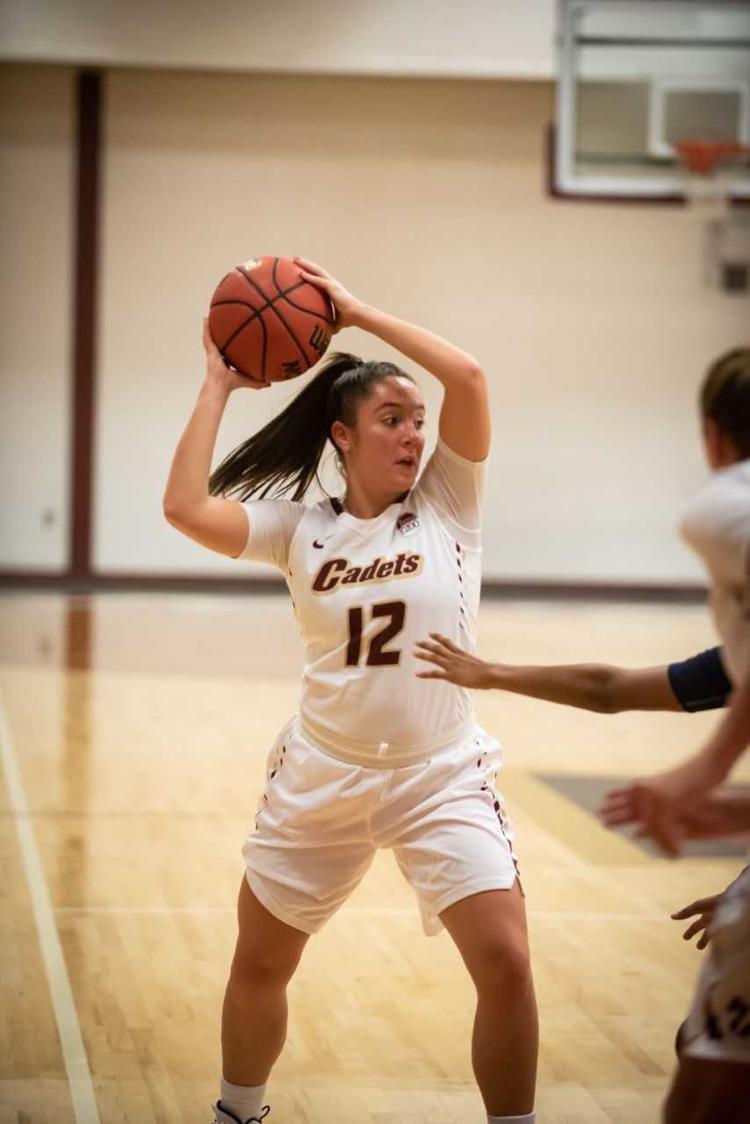 NORTHFIELD — Eight players scored for the Norwich women's basketball team and the Cadets used a big fourth quarter to close out Tuesday's 63-50 victory over NVU-Lyndon.
Norwich carried a 20-18 lead into the second quarter and entered halftime with a 34-32 advantage. The Cadets led 48-45 entering the final quarter before limiting the Hornets to five points down the stretch.
Mary Casamassa (26 points, six rebounds) paced the Cadets. She was 11 of 17 from the field and added two steals and two assists. Teammate Vanessa Fleury was also on fire, piling up 12 points, eight rebounds and four assists. Emily Oliver grabbed five rebounds, dished out four assists and grabbed three steals, while Naomi Rinaldo recorded eight points and five rebounds for NU. Riley Bennett (six points), Caileigh Travers (four points) and KristieAnn DeSilvio (four rebounds) helped keep Norwich in the driver's seat.
The top scorer for Lyndon was Alissa Mitchell (18 points, eight rebounds). The Hornets also showcased depth with Faith Poirier (seven points, three rebounds), Lea Crompton (six points, three rebounds), Ella Harrington (six points) and Victoria Carlson (six rebounds).
The Cadets went 26 of 46 from the field, while Lyndon made 19 of 62 attempts. The Hornets coughed up the ball 10 times, compared to 12 turnovers by Norwich. The Cadets went 9 of 12 from the foul line, enjoyed a 32-25 rebounding advantage and outscored Lyndon in the paint by a 36-14 margin.
Lyndon features four Vermonters: Danville's Lauren Young, Lyndonville's Jade Berry, Wilmington's Tayler Courchesne and Cabot's Alisha Celley. The Cadets have two homegrown talents on the roster: Stowe's Hattie Moriarty and Castleton's Jenna Alexander.
Norwich (3-5) will host Castleton at 1 p.m. Saturday. The Cadets will wrap up their first-semester schedule Dec. 11 with a 5 p.m. home game against Northern Vermont University-Johnson.
MEN'S BASKETBALL
Colby-Sawyer 82, Norwich 68
NEW LONDON, N.H. — Patrick Coffey (27 points) and Jourdain Bell (22 points) led the Chargers past the Cadets on Tuesday.
Spaulding High School graduate Matt Allen came off the bench to score a team-high 16 points for Norwich. Teammates Jesse Davis (three assists) and Donovan Lewis Jr. (six rebounds, three steals) added 15 points apiece. Northfield product Kyle Booth finished with 14 points and six rebounds for the Cadets.
Norwich (3-4) will travel to play Rivier at 3 p.m. Saturday.
WOMEN'S HOCKEY
Norwich 2,
Connecticut College 0
NEW LONDON, Conn. — The Camels outshot the Cadets on Tuesday but Norwich star Amanda Conway took matters into her own hands.
Conway's unassisted effort gave NU a 1-0 lead at 17:02 of the opening period. She doubled the lead in the third period on assists by Alyssa Hulst and Sophie McGovern.
Norwich goalie Emily Lambert made 24 saves in the shutout. Connecticut College goalie Carly Denora stopped 13 shots and her team played the final 45 seconds with an empty net. Norwich accumulated 12 penalty minutes on six infractions, while Connecticut College players spent eight minutes in the box after four infractions.
The Cadets (8-2) will host Suffolk at 7 p.m. Friday.