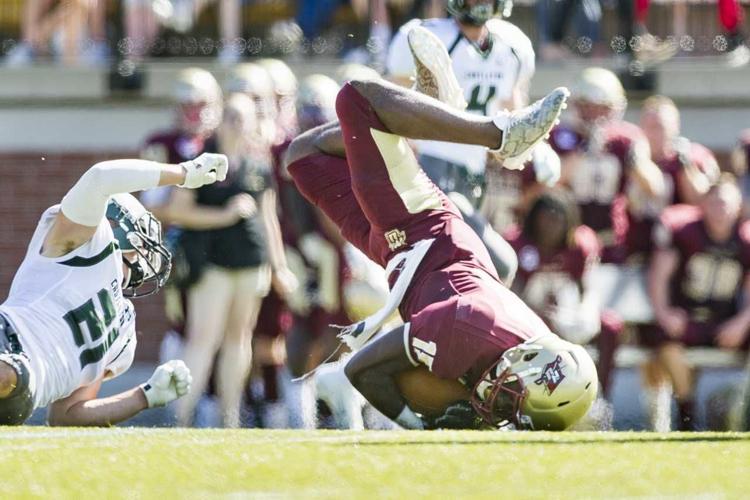 CASTINE, Maine — The Norwich University football team hit the road Saturday to take on Maine Maritime and took home a 15-7 victory.
The Cadets improve to 2-5 overall and 1-3 in the New England Women's and Men's Athletic Conference. Norwich will host Catholic University at noon Saturday.
Maine Maritime was locked in a scoreless battle with the Cadets throughout the first quarter, with both teams trading punts and turnovers for the first 15 minutes.
Norwich's first drive of the second quarter ended in a punt, which Owen McKenna pinned inside the Mariners' 10-yard line. Two plays later, the Norwich defense forced the quarterback to retreat toward the end zone for a safety. The Cadets earned two points and possession of the football.
The ensuing Norwich drive stalled just outside the end zone, as the Mariners made a big stand on fourth-and-goal to contain the Cadets. But during the first play of the next drive, Michael Corinna pulled down an interception to set Norwich up on the doorstep again. Eight plays later, Clyde Tamburro kicked a 24-yard field goal to make it 5-0 midway through the second quarter.
After a Maine Maritime three-and-out on the next series, Norwich set up Tamburro again. This time he converted a 26-yard attempt, giving Norwich an 8-0 lead entering halftime.
The action stayed the same in the third quarter, with both defensive units putting up zeros. Norwich's offense broke through again on its first drive of the fourth quarter. Matt Dunn connected to Taj-Calvin Johnson in the end zone for an 8-yard scoring play. Tamburro's extra point gave NU a 15-0 cushion.
Maine Maritime responded with its best offensive effort of the day. The Mariners pieced together an 11-play, 75-yard drive that was capped by a 33-yard touchdown reception, cutting the gap to 15-7.
Norwich's offense ran 10 plays during a span of 5:02 at the end, sealing the victory. Connor Bourque recorded a career-high 162 rushing yards on 30 carries for the Cadets. McKenna led the defense with 10 tackles (five solo). Christopher Ward recorded 2.5 tackles for a loss, while Tamburro kicked seven punts and was perfect on extra-point and field-goal attempts.