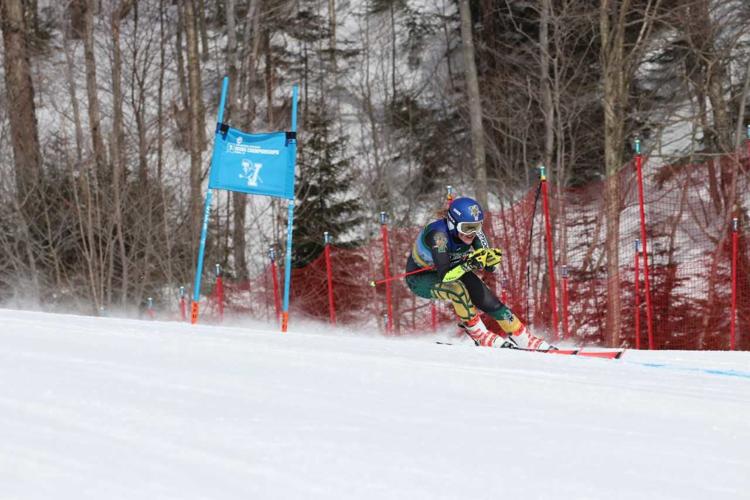 The University of Vermont ski season ended last month with a runner-up finish at NCAA Championships in Stowe.
The post-season celebration continued into April, with Patrick Weaver named Nordic Coach of the Year and Lauren St. Germain selected as Women's Alpine Skier of the Year. The United States Collegiate Ski Coaches Association made the announcement Thursday after final votes were tallied.
Weaver finished his ninth season as UVM's Nordic coach. Five members of the cross-country squad combined to earn seven All-America honors at the NCAA Championship. The Catamounts won 18 of the 24 Nordic events this year on the EISA circuit. Weaver was also named EISA Nordic Coach of the Year for the second time in his career.
St. Germain, a senior, became the seventh skier in NCAA history to sweep the women's slalom and giant slalom at NCAA Championships. She was especially dominant in slalom, winning by the largest margin in NCAA history (2.58 seconds). She was also named First Team All-East after winning three slalom races on the EISA circuit this season.
Outside of the collegiate circuit, St. Germain reached new heights on the FIS circuit. At the 2019 FIS Alpine World Championships in Sweden, she finished sixth overall in the slalom, marking her best finish in a top-level event. She and her UVM teammate Paula Moltzan were routinely in the top 20 at FIS World Cup events all season.
Landgrove native Katharine Ogden claimed Women's Nordic Skier of the Year honors after an All-American season for Dartmouth. The sophomore defended her NCAA classical crown at Trapp Family Lodge, besting the field by 23.4 seconds in the 15K race. She became the first Dartmouth skier in 56 years to win three titles in a career.
2019 National Skiers & Coaches of the Year
Women's Alpine Skier of the Year
Laurence St. Germain, Vermont
Men's Alpine Skier of the Year
Tanguy Nef, Dartmouth
Women's Nordic Skier of the Year
Katharine Ogden, Dartmouth
Men's Nordic Skier of the Year
Ricardo Izquierdo-Bernier, New Mexico
Alpine Coach of the Year
Joe Downing, New Mexico
Nordic Coach of the Year
Patrick Weaver, Vermont