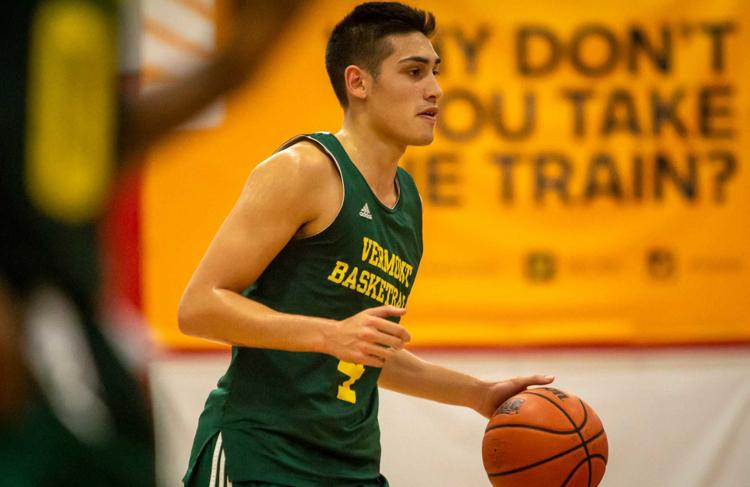 ORONO, Maine — The University of Vermont lived up to its Road Warrior reputation during Wednesday's 73-49 men's college basketball victory.
The Catamounts (12-4) drove 300 miles through a snow storm and sent the Maine Black Bears back into hibernation during America East action. Anthony Lamb (six rebounds, four assists) and Robin Duncan (five rebounds, five assists) scored 11 points apiece for UVM. Vermont's 29 road victories since the start of the 2016-17 season are the most in Division I.
Ernie Duncan scored nine points for Vermont and teammate Stef Smith made a pair of 3-pointers and finished with eight points. Samuel Dingba was another huge contributor in the victory with six points, three rebounds, three blocks and two steals. Isaiah Moll tallied eight points, both Ra Kpedi and Everett Duncan contributed seven points apiece and Bailey Patella finished with six points and two steals for UVM. Maine's top scorers were Sergio El Darwich (16 points), Isaiah White (10 points) and Andrew Fleming (nine points).
The Catamounts improve to 2-0 in America East action after notching their third straight victory. Maine falls to 2-15 overall and 0-2 in conference play. Vermont has used a 15-game winning streak, its longest active streak against a conference opponent, to pull ahead of the Black Bears in the all-time series at 71-70. Since the 2005-06 conference season, Vermont has dominated the series with a 27-3 mark. The league foes have met in the America East Tournament in each of the last three seasons.
Lamb was named America East Player of the Week for the fourth time this season on Monday after averaging 18.5 points, nine rebounds and 3.5 blocks during victories over Dartmouth and Albany. The Catamounts (12-4) will host Hartford at 7 p.m. Saturday before traveling to play New Hampshire on Jan. 16.
Vermont will host Binghamton for the annual Rally Against Cancer game at 7 p.m. on Jan. 19. The Catamounts will wear special edition lavender jerseys this year — the color that represents the fight against all cancers. Jerseys will be auctioned off following the game and the proceeds will benefit the UVM Cancer Center.