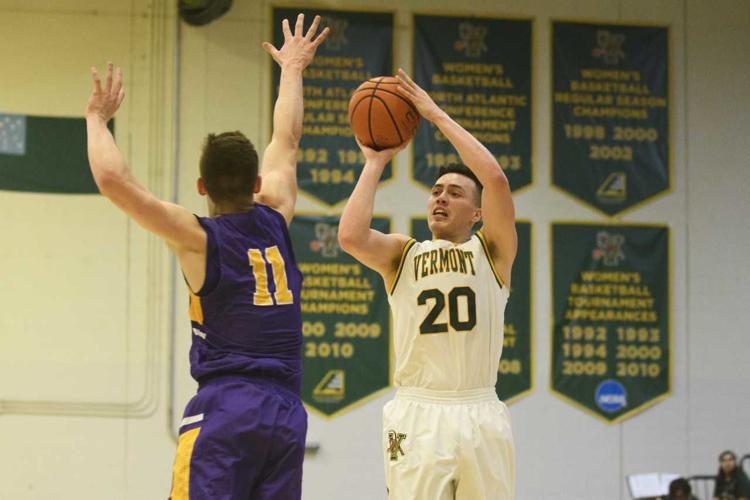 BURLINGTON — The University of Vermont recovered from a mediocre start and coasted during the second half of Wednesday's 73-44 men's basketball victory over New Hampshire.
The Catamounts entered the game as big favorites, but the Wildcats only committed four turnovers in the first half to keep things close.
A 3-pointer by Marque Maultsby gave UNH a 10-9 lead with 12:38 left in the first half, leaving UVM's players scrambling for an answer. Junior forward Anthony Lamb quickly retaliated with back-to-back baskets and the Cats headed into the break with a 38-26 advantage.
Vermont kicked off the second half with an 8-0 run, capped by two foul shots from Lamb. The Wildcats stopped the bleeding by making a foul shot with 16:20 remaining, but UVM's Ernie Duncan scored five quick points at the other end. The Cats wound up extending their lead to 30 points and easily defeated UNH for the 11th straight meeting.
The game featured another double-digit performance by Lamb, who contributed 20 points and six rebounds. Lamb was been named America East Player of the Week for the sixth time Monday after averaging a double-double last week. The Rochester, New York, native is the first Catamount to collect six Player of the Week nods since Taylor Coppenrath accomplished the feat in 2005. Lamb leads the America East with 21 points per game and he ranks second in rebounds per game (eight), field goal percentage (52) and total blocks (50).
During Wednesday's battle, Lamb received crucial assistance from Stef Smith (eight points, eight rebounds, three assists), Robin Duncan (four points, three rebounds) and Everett Duncan (five points, six rebounds). Vermont's balance was on full display from start to finish, with Ben Shungu and Samuel Dingba adding eight points apiece. Teammate Ernie Duncan added seven points and Ryan Davis finished with six points.
The leading scorers for UNH were Maultsby (11 points, four rebounds, three assists), Nick Guadarrama (11 points, six rebounds) and Josh Hopkins (nine points).
Vermont improves to 20-5 overall and 10-1 in the America East after securing its fifth straight victory and New Hampshire falls to 3-21 overall and 1-10 in league play. Vermont holds a 105-48 edge over UNH in the all-time series. The Cats have not lost a home game against the Wildcats since 2000.
The Catamounts secured their 11th consecutive 20-victory season and will travel to play Hartford at 5 p.m. Saturday. The other teams with at least 10 straight 20-win campaigns are BYU, Duke, Gonzaga, Kansas, Kentucky, Louisville, North Carolina and St. Mary's.