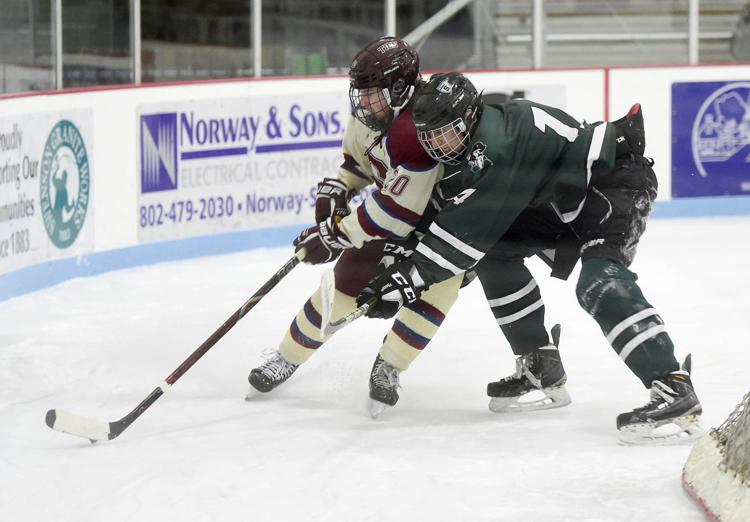 BARRE — The Stowe boys hockey team scored three goals in the final five minutes to break open a tie game en route to Wednesday's 6-3 victory over Spaulding.
Spaulding started slowly and fell behind on its home ice. Stowe got on the board halfway through the first period when Jace Boerger fed a quick pass from in back of the Spaulding net to Max Carr in the slot. Carr fired the puck past Tide goalie Grant Otis (18 saves) for a 1-0 lead. The Raiders continued to pressure and jumped out to a 2-0 lead when Camden Anderson snuck behind the Spaulding defense and received a pass from Atticus Eiden (two goals). Anderson buried a quick shot to double the lead.
"We've had some fast starts and slow starts to games this year," Stowe coach Peter Duncan said. "It was good to see us move the puck and get the lead. We've got some guys that can really move. And we do enjoy and play better in a fast-paced game."
It was their second straight game when the Crimson Tide were forced to play from behind.
"We've got to figure out how to start a game and play three periods ready to play hockey," Spaulding coach Chad Burke said.
The Tide got on the board early in the second period when a shot by Christian Gagne trickled out of the glove of Stowe goalie Jackson Seivwright (14 saves), allowing Evan Dudley to tap in the loose puck for his first high school goal. After the goal, Spaulding picked up the pace and created a scoring chance when Mason Otis had a breakaway but fired the shot into Seivwright's pads. Jessie King tied it up moments later when he received a backhand pass from Myles Aja.
Spaulding proceeded to pick up two quick penalties, giving Stowe a brief 5-3 advantage. But it was the Crimson Tide who took advantage when Evan Parent found King coming out of the penalty box with a perfect breakaway pass. King delivered his second goal of the night to give Spaulding its first lead.
"Jesse is one of the hardest working guys we have, and he's being rewarded by scoring some goals," said Burke. "We need to bottle that somehow and get the hard-working effort from all the guys."
Just when Spaulding started to take control, Stowe came right back when Eiden redirected a pass from Carr. After two periods the game was tied at 3.
The first 10 minutes of the third period was scoreless, with Stowe enjoying a slight territorial advantage. It all changed at 10:50 when Stowe's Nathan Rice broke the tie on a rebound.
"Our team had a lot of chances, and I had a couple in front of the net," Rice said. "It was great we finally got one in to take the lead."
Once Stowe took the lead, Duncan observed that his team began playing with more confidence.
"That lifted the guys up," he said. "They had been working hard and throwing a lot of pucks at the net. I think that gave everybody a good jump in their step, knowing the hard work was paying off."
Stowe added two more goals on a shot from the point by Carr (two goals, one assist) and an empty-netter by Alex Tilgner.
"Stowe did a great job," Burke said. "Their top line was always moving their feet, saying open, making it difficult for our forwards and defensemen to keep track of them. And eventually in the third period it cost us."
Spaulding (1-4) will host Essex at 5:30 p.m. Saturday. Stowe (5-1) will host CVU the same day.