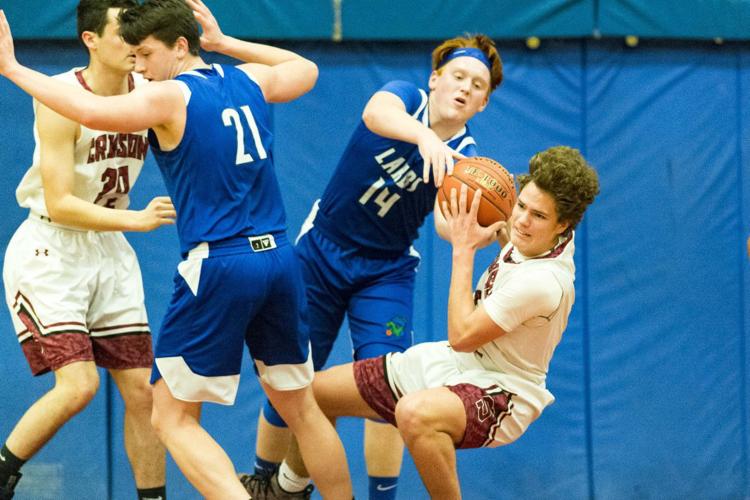 BARRE — Spaulding and Colchester entered Monday's boys basketball game with identical records but the Crimson Tide proved they're a cut above during a 70-34 victory.
Sam Bigglestone scored 20 points for the Crimson Tide, who outscored the Lakers 23-0 in the third quarter. Bigglestone piled up 11 points during that key stretch and teammate Taylor D'Agostino scored six of his 11 points during the third quarter.
Alex Coyle (12 points), Aiden Gilwee (nine points) and Matt Tacey (eight points) were also sharp for Spaulding. Seth Poirier, Dylan Estivill, Camden Boucher, Steven Corbett and Brandon Brunner rounded out the Tide's scorers. Colchester's top contributors were Carson Corrigan (15 points) and Isaiah Freeman (13 points).
Spaulding steadily pulled ahead in the first quarter, building a 14-8 lead. Coyle and Bigglestone were hot early, Tacey drained a 3-pointer from the corner and Gilwee scored four straight points before the second quarter. The Tide extended their lead to 21-14 but a few minutes later they got back-to-back shots on uncontested layups, allowing the Lakers to rally. A 3-pointer by Freeman before the first-half buzzer gave his team 27-26 cushion heading into the break.
The Tide used their defensive intensity to build a 49-27 lead entering the fourth quarter. Gilwee made a 3-pointer for a 54-29 lead and D'Agostino followed with another basket to deny any thoughts of a Colchester comeback.
"I don't think we were really aware that our defense was that good until about a minute left in the third quarter," Spaulding coach Jesse Willard said. "Al (Coyle) and Aiden really controlled the paint offensively and defensively, and they both probably had three or four blocks."
According to the Tide coach, Saturday's 67-59 loss against undefeated Rice boosted his players' confidence.
"Anytime you can compete with Rice, it lets you know that you're heading in the right direction," Willard said. "Even though we had a little mental lapse tonight at the end of the second quarter, we knew it was just a matter of time before we went on another run. I just didn't expect it to be quite so quick."
Spaulding (3-4) will travel to play Middlebury on Jan. 16 at 7 p.m.
GIRLS BASKETBALL
Twinfield 52, Sharon 17
MARSHFIELD — Freshman Olivia Hogan (21 points, 13 rebounds) lifted the Trojans to their third straight victory in convincing fashion Monday.
Allyson Mill scored seven points for Twinfield, while teammates Eva Hebert, Ivy Quintin and Kylie Martin added six points apiece.
Kaitlyn Andress dished out five assists for the Trojans, who jumped in front 16-2 during the opening quarter. The Phoenix trailed 28-6 at halftime and faced a 41-12 deficit entering the final quarter.
"Even though we won our last game, our tempo wasn't the same," Twinfield coach Danielle Laperle said. "Before we even started tonight's game, I told the girls we need to be running no matter the situation. We needed to have that real grit mentality of no-quit, and they came out and played hard right from the get-go. And they never let up. Everybody played well and most of the team scored tonight."
Twinfield (4-4) will travel to play Blue Mountain at 7 p.m. Friday.