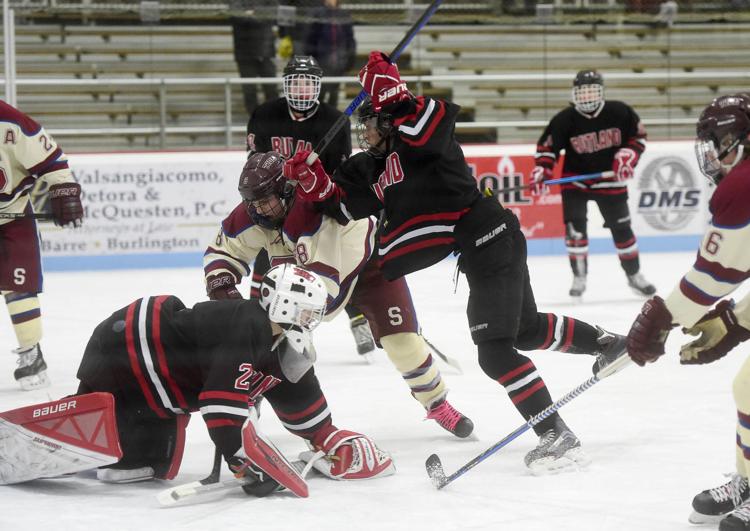 BARRE — The Rutland boys hockey team outplayed Spaulding for two periods on Wednesday and withstood a late charge by the Crimson Tide to earn a 3-2 victory.
Both teams were attempting to improve their seeding for the Division I playoffs with the regular season winding down in the next few weeks. The teams are battling for home ice for a potential playdown, and Wednesday's result allowed Rutland (4-11-2) to surge ahead of Spaulding (3-9-1) for the No. 8 spot.
The Raiders came out with more energy and controlled play in the first period. Toby Jakubowski got Rutland on the board when Matt Creed sent him a pass from behind the net. Jakubowski fired a low shot past Spaulding goalie Grant Otis (19 saves) for an early lead.
"I felt great about our play early in the game," Rutland coach Chris Adams said. "We've been playing much better lately. We've had some games where we just haven't gotten a bounce. It was nice to get out to a lead on Spaulding."
The Raiders created more opportunities in the first period, but Spaulding pulled even in the final minute when Evan Parent won a faceoff in the Raiders zone and put the puck on Cam Gosselin's stick. Gosselin, who just returned to the lineup after missing a few games, ripped a shot past Rutland goalie Augie Louras (21 saves) with 48 seconds on the clock.
"I think we started slowly in the first period," Spaulding coach Chad Burke said. "We didn't have the energy that we were looking for. We seemed a little hesitant. Then we caught one at the end of the period to even things out. We tried to build on that. We're looking at the standings and realize we could have another game coming up with Rutland. If we do, we would rather have it on our home ice. So we need to compete more."
Spaulding committed a penalty at the start of the second period, and just as the penalty expired, Dillon Moore let a shot go that bounced off Otis' pads. The puck was sitting near the goal line when Ethan Course tapped it in for a 2-1 lead. The Raiders took advantage of another Spaulding penalty moments later when Ben Simpson (one assist) scored a power-play goal to extend the lead to 3-1.
The Raiders threatened to open up a bigger lead, forcing Otis to stop some excellent scoring opportunities (including an open shot by Simpson). Spaulding tallied a late goal for the second straight period when Evan Parent jammed home a loose puck in front of Louras with 51 seconds remaining
Spaulding finally kicked things into high gear during the third period and controlled play. Parent got the crowd on its feet when he had a chance to tie it on a breakaway, but Louras stopped the shot with his right pad. The Crimson Tide outshot Rutland 12-3 in the third but couldn't get another puck past Louras.
"I'm proud of the way the kids played in the third period," Burke said. "They threw everything they could at the net. We controlled the play and dominated the zone with our forecheck. We just couldn't put the puck into the net. If we can compete three periods like that, we're gonna be a tough team to play against every night."
Despite Rutland's slight letdown in the third period, Adams was pleased with the team's overall effort.
"The forecheck was great; the D-zone coverage was great and Augie Louras was great," he said. "We've got some experienced guys like Ethan Course, Joe Gides, Eren Cetin, Ben Simpson and Ryan Melen that have been in close games. And it's good to see them help out to close out a win."
Spaulding (3-9-1) will travel to play South Burlington at 1:45 p.m. Saturday. Rutland will travel to play Essex on Feb. 20 at 4 p.m.