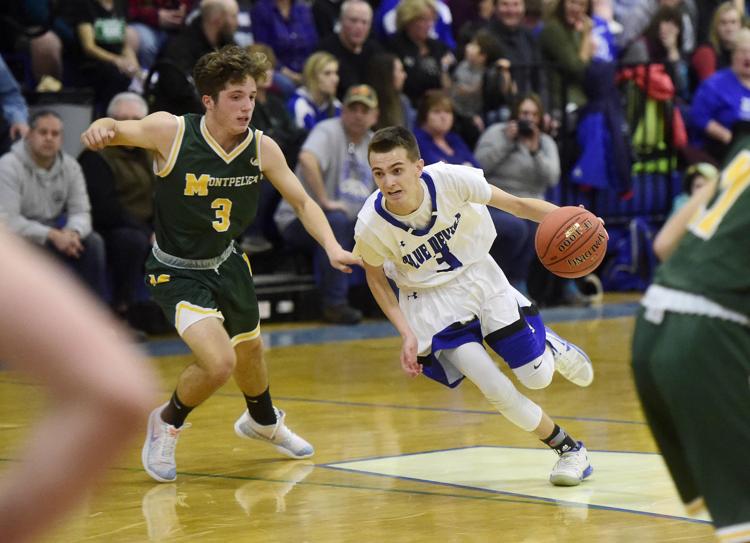 WOODSTOCK — Tyler Orton scored 29 points for the Williamstown boys basketball team Thursday and three teammates also reached double-figures during a 76-46 victory over Woodstock.
Garrett Metcalf (15 points), Cole Banks (11 points) and Ryan O'Neill (10 points) provided lots of balance for Williamstown. Teammate Jacob Tassie scored eight points after hitting a pair of 3-pointers in the opening quarter. Harrison Mears (22 points) paced the Wasps, who fell behind 19-10 in the opening quarter. Williamstown was in front 35-20 at halftime and headed into the final quarter with a 53-41 lead.
"We tried to move the basketball tonight and get up and down the floor more," Williamstown coach Jack Carrier said. "And we got more ball movement at times as well as getting the ball up and down the floor better. Ryan O'Neill sparked us by scoring the first seven points of the game. And Jake (Tassie) following with eight and Cole Banks with four — they jumped out and got a quick lead."
Williamstown (6-2) will travel to play Twinfield at 7 p.m. Friday.
GIRLS BASKETBALL
Montpelier 52, Stowe 32
STOWE — The Solons turned Thursday's back-and-forth game into a 20-point rout with a powerful final-quarter surge.
"It was close for the first three quarters and we had a big fourth quarter with 18 points," MHS coach Kylie Blodgett said. "I told them, 'Let's stick just to running the ball.' And I subbed every 2-3 minutes — five in and five out. We've been having a hard time running and we just tried it out. We didn't get a lot of transition baskets, but we got a lot of transition opportunities that we were able to turn into baskets with offensive rebounds."
Bella Luhr (11 points), Mikaela Luke-Currier (seven) and Azwayla Taylor (six points) led the way for MHS. Abby Lehmann (11 points) and Rachel Cunningham (seven points) paced Stowe. Montpelier helped its cause in the fourth quarter by limiting turnovers and going 3 of 3 from the foul line.
"We've been having a consistent conversation that we need to learn how to play as a team," Blodgett said. "Today was really the first time that we had a team effort, No. 1-13, the entire game. We had everyone from the bench in the game and everyone played hard. It was a big confidence-booster, and it built confidence in their team rapport."
Montpelier (2-4) will host Hazen at 2:30 p.m. Saturday.
GIRLS BASKETBALL
Hazen 58,
Williamstown 35
WILLIAMSTOWN — The Blue Devils stayed within striking distance during Thursday's first half before the Wildcats used their depth to pull away after the break.
Hazen entered the break with a 23-20 lead before owning the third and fourth quarters. Alleigh Gabaree (16 points), Kiley Currier (14 points) and Lizzie Brown (11 points) powered the Wildcats (7-1).
"We came off a win over Danville the other night and it wasn't a great win for us," Hazen coach Tanya McAuley said. "We knew we had to pick up the intensity quite a bit. The first half we were a little slow. And we took control in the second half and we pressed them."
Twinfield's Ciera Sweet scored nine points and grabbed nine rebounds. The Wildcats capitalized on 26 Williamstown turnovers to close out the victory.
"We struggled getting back in transition and didn't handle their press very well," Blue Devils coach Sid Sweet said. "We showed we can play at their level for spurts. As the season progresses, I believe we will be tough to deal with. We dress nine, with three freshmen and three sophomores. So growing pains are to be expected."
Williamstown will travel to play White River Valley at 2:30 p.m. Saturday. Hazen will travel to play Montpelier at 2:30 p.m. Saturday.
Randolph 41, Oxbow 35
BRADFORD — Galloping Ghosts standout Rielle Brassard (22 points) dropped in four 3-pointers and made life miserable for the Olympians on Thursday.
Sara Rea scored eight points for Randolph, which trailed 12-6 after one quarter. The Ghosts bounced back to knot the score at 18 entering halftime. Brassard and her teammates opened up a 31-25 advantage at the end of the third quarter and both teams traded baskets at the end.
"In the third they outscored us by six and they ended up winning by six," Oxbow coach Barry Emerson said. "So that's where the fault lies. And a couple of my quick kids that were playing Rielle Brassard were in foul trouble, so we had to switch to a zone for a little while."
Emma Parkin paced the Olympians with 12 points. Madison Fornwalt and Kaysea Neal added six points for Oxbow and teammate Mariah Shumway scored five points. Oxbow (4-3) will travel to play Williamstown at 7 p.m. Monday.
WRESTLING
Spaulding 66,
Vergennes 18
BARRE — The Crimson Tide won a handful of Thursday's victories by forfeit, making the final score lopsided during a battle that was heated from start to finish.
Daniel Durgin kicked off the match with a showdown against Barrett Barrows at 182 pounds. Even though Durgin normally wrestles at a lighter weight class, he had no trouble pinning his opponent at 1:19 of the opening period.
"Daniel is a first-year senior and he bumped up to wrestle at 182, so that presents a challenge," Spaulding coach Darren O'Meara said. "But obviously he is a strong athlete. He wrestled well, we wrestled hard and he put on a show for the fans."
The Commodores claimed the second contested match of the day when senior Brady Gebo defeated freshman Colton Perkins at 220 pounds.
"It was pretty one-sided," O'Meara said. "Gebo came out after us and dictated the match right from the beginning. It's not a match we expect to lose, but Colton got caught off-guard. Tonight he learned that you have to be ready to go hard off the first whistle every time."
Freshman Jonathon Maurice typically wrestles at 220 for the Crimson Tide but he made the leap to 285 and lost to senior Brandon Tierney.
"Jonathon was been working hard and he made the opponent earn it," O'Meara said. "It was his first time out this year in a match, but Jonathon is really strong and he's going to be good. He's only been wrestling for six weeks, so once he gets a year under his belt he's going to be very good." At 126 pounds Spaulding's Logan Bailey held his own at the start before being pinned in the second period by Aiden Gebo.
"Logan fought off his back three or four times," O'Meara said. "It was pretty impressive for a freshman to fight that hard. By the end of the year, that's a winnable match. That's a big deal for a freshman to have a light at the end of the tunnel that first year."
Ryan Glassford kept Spaulding in the driver's seat at 132 pounds, pinning Jeremiah Moulton during the first period in 1:11.
"Glassford is a freshman who wrestled a long time ago for us in BYSA and he's just coming back to the sport," O'Meara said. "He's tearing it up already and he's a guy who will place at the state tournament as a freshman, so that's huge for us."
During the final clash, Spaulding captain Hunter Chase (138 pounds) only needed 1:52 to defeat Jack Chaput. "Hunter got a nice takedown early on, put him on is back and got a pin," O'Meara said.
Spaulding will return to action Saturday during a 10 a.m. tournament at Pelham (N.H.).