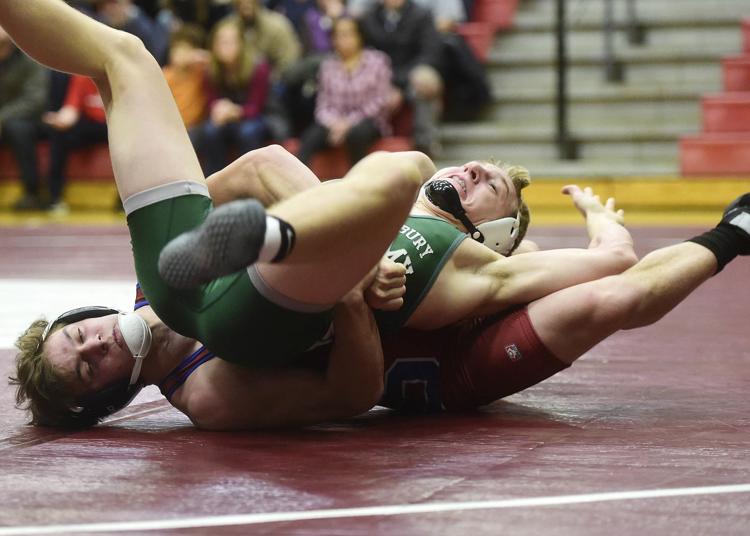 BARRE — The Spaulding wrestling team proved that it's a legitimate runner-up challenger for this year's state championship while defeating St. Johnsbury and Otter Valley on Thursday.
The Crimson Tide walked away with a 47-33 victory over the Hilltoppers and easily defeated the Otters, 60-24. Spaulding improves to 3-1 in dual meets after suffering its only loss to Essex. Mount Anthony is the 30-time defending state champion and will be tough to beat again, but the Tide could be in a position to vie for second place in Vermont.
"St. Johnsbury is probably the third best team in the state and this is our second win over them," Spaulding coach Darren O'Meara said. "I knew they were going to come back with some fire and they did wrestle a little better in this match than they did two weeks ago when we saw them in St. J. They were able to move some guys around and get some wins. We didn't have our best performance tonight, but we did have some key wins and guys stepped up. And that's why we won that dual."
During the Tide's battle against the Hilltoppers, Spaulding standout Carter Dickinson wrestled up a weight class and suffered a loss against two-time defending state champion Hunter Verge in one of the premier matchups. Ryan Glassford triumphed with a pin at 135 pounds to give the Tide a boost and teammate Hunter Chase bumped up to 145 pounds and prevailed 5-2 against his Hilltopper foe. Hunter Quero (152 pounds), Zane Arthur (160 pounds) and Matthew Durgin (195 pounds) earned first-period pins for the Tide. Spaulding's Colton Perkins put up a strong fight after making a big jump from 220 to 285 pounds to wrestle St. Johnsbury's Zeb Winot.
"(Winot) is the No. 2 kid in the state and that was a big test for (Perkins)," Spaulding coach Darren O'Meara said. "It was a really close match for awhile and it ended up 13-6 because we got in some positions that we shouldn't have been in. But (Perkins) realized tonight that he could go with anyone in the state. It was a loss, but it was a big effort. And we should be seeing big things out of him going forward in the season."
Nick Pierce (106 pounds) gave the Tide an early cushion against Otter Valley. Hunter Roya (113 pounds), Hunter Chase (145) and Hunter Quero (152) all pinned their opponents in the second round against the Otters. Perkins bumped up from 220 to 285 again and earned a second-period pin.
BOYS BASKETBALL
Oxbow 76, Springfield 46
BRADFORD — Three players reached double figures for the undefeated Olympians during Thursday's 30-point victory. Jace Page scored 13 points for Oxbow (5-0), while teammates Seth Carson and Trevor Moore added 11 points apiece. Noah Zierfus (18 points) paced the Cosmos.
West Rutland 57, WBCS 41
CHELSEA — West Rutland boys basketball, a 1-20 team last winter, is 5-0.
"We're pretty happy about it," said coach Jordan Tolar after Thursday's victory over Websterville in Chelsea. "The guys are playing team ball and playing good hard defense."
Kyle Laughlin had four 3-pointers and 24 points and Tim Blanchard added 11 points and 10-plus rebounds against 5-3 Websterville.
"They gave us a good game and played us physically so we had to get physical with them and put forth the extra effort to get back in transition," Tolar said. "Once we keyed in on those things ... we started to pull away."
Tyler Serrani added seven points for Westside.
Porter Pelloquin had nine points and Dalton Cody eight for Websterville.
West Rutland faces another stern road test on Saturday when the Division IV Horde plays up a division at Green Mountain.
Windsor 51, Hartford 39
WINDSOR — Robert Slocum popped in a game-high 26 points and Windsor climbed within a game of the .500 mark with a 51-39 victory over Hartford in MVL basketball Thursday.
The Jacks jumped out to an early lead, lost their intensity for a while but then finished strong to go to 3-4.
"We've good defensively but we need more people to score. We've been in every game," said coach Harry Ladue.
Hunter Grela added 13 points while Danny Bushway had 12 for the 'Canes.
Windsor will host Newport next Thursday in search of a season's sweep of the Tigers.
GIRLS BASKETBALL
Fair Haven 55, MAU 38
BENNINGTON — The 'R' in Slaters stands for resiliency and it was screaming loud and clear in Fair Haven's 55-38 victory over Mount Anthony on Thursday night at Kates Gym.
Mount Anthony came out of the gate on fire, whisking to a 10-0 lead.
"We got punched in the mouth," Fair Haven coach Kyle Wilson said.
But the Slaters overcame it all thanks to a career-high 32 points by Ryleigh Coloutti and 14 more from Kerigan Disorda. Coloutti nailed six 3-point field goals and also went 12 of 16 from the foul line. Disorda was also dialing long distance. She had four 3s.
"We played tough tonight," Wilson said. "We played a complete game except for those first few minutes."
Coloutti grabbed 11 rebounds to go with those 32 points.
Grace Mahar led the Patriots with 16 points largely on her performance at the line where she was 11 of 12.
The Slaters take a 5-2 record into Saturday's home game against Windsor.