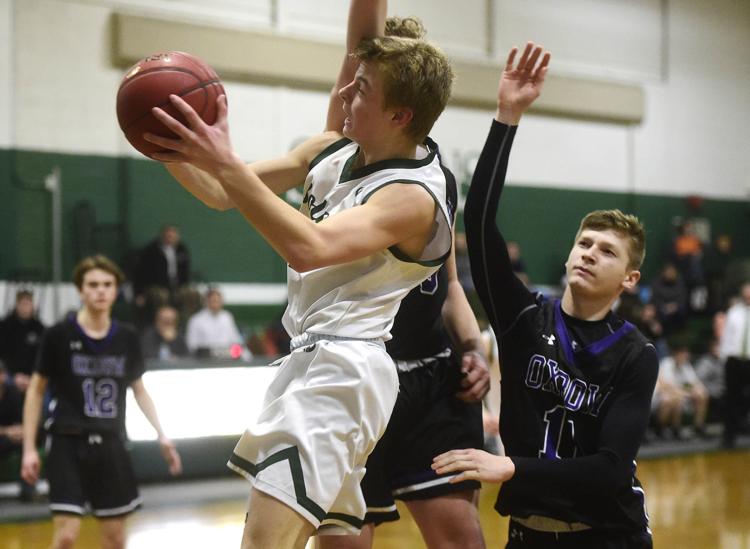 MONTPELIER — Nine players scored at least five points for the Montpelier boys basketball team during Friday's 83-58 victory over Oxbow.
The Solons led 20-15 after one quarter and pulled ahead 53-25 at the break. Montpelier didn't mess around in the third quarter, extending its lead to 70-43.
"Oxbow opened up an 8-1 lead," MHS coach Nick Foster said. "We called a timeout, talked about effort and the boys took it from there. We asked them to play really fast and to sprint both ends of the floor. And they did a great job of that."
Leo Riby-Williams (21 points, 14 rebounds) paced the Solons and teammate Ben Gambill scored a career-high 12 points. Tyler Ricker (11 points, eight rebounds), Will Bruzzese (nine points) and David Ackerson (eight points) were close behind in the scoring department. Nathan LaRosa, Jonah Cattaneo and Bobby Cody scored six points apiece in the victory and teammate Isaac Donahue added five points. Bryce Ilsley (28 points) led the way for Oxbow.
The Solons (4-4) will host Vergennes at 7:30 p.m. Tuesday. The Olympians (6-1) will travel to play Randolph at 7 p.m. Wednesday.
BOYS' BASKETBALL
U-32 47, Lake Region 40
EAST MONTPELIER — The Raiders rose to the occasion Friday against the Rangers to make some noise in the conversation about Division II powers.
Jordan Hawkins (16 points, three rebounds) was the top scorer for U-32, which inched ahead at the start and led the rest of the way. Bryson Richards (10 points, three rebounds, two assists) and Carter Pelzel (eight points, five rebounds) were also key contributors for U-32. Drew Drageset (18 points) and Brayden Leach (seven points) paced the 6-2 Rangers, who trailed 18-12 after the first quarter. U-32 led 28-21 at the break and enjoyed a 38-29 advantage after three quarters.
"It was back and forth to start," U-32 coach Dan Gauthier said. "We found a way to win a couple of possessions to give us some breathing room toward the end of the first quarter, but we never stretched it out much. Drageset was cleaning up a lot of the rebounds, but Noah McLane gave us a big spark off the bench and he led us with seven rebounds. And we kept them at bay for most of the night. They hit a couple timely shots and Dylan Gagnon hit a 3-pointer to cut it to 46-40. But we were able to break their full-court pressure at the end and we went to the free-throw line."
U-32 (5-1) will host Enosburg at 7 p.m. Tuesday.
Lamoille 59, Harwood 58
DUXBURY — Hunter Wells (13 points) scored the game-winning shot in the paint with five seconds remaining Friday.
Kolby Picard (21 points) paced the Lancers. The Highlanders' top scorers were Charlie Zschau (15 points), Andrew Proteau (10 points, four assists, four rebounds) and Max Hill (nine points, four rebounds). Lamoille led 17-15 after the first quarter, the game was tied at 29 entering the break and the Lancers pulled in front 45-44 going into the final quarter.
With 12 seconds remaining, Harwood held a one-point lead and was fouled, but the Highlanders missed the front end of a 1-and-1 situation. Harwood ran an out-of-bounds play on its final possession but missed a last-second shot.
"Lamoille played really good defense at the end to contest anything," Harwood coach Mike Woods said. "But I'm real proud of the way my team has rebounded after the loss to U-32. We came back together as a team and played with heart."
Williamstown 61, Twinfield 35
MARSHFIELD — Colby Gingras made six 3-pointers and wound up scoring 22 points Friday, guiding the Blue Devils to a runaway victory over the Trojans.
Tyler Orton (14 points), Jacob Tassie (nine points) and Garrett Metcalf (eight points) also had big nights for Williamstown. The Blue Devils entered the second quarter in front 18-10 and extended their lead to 44-16 heading into halftime.
"We were able to deny them any easy looks at the basket," Williamstown coach Jack Carrier said. "We stayed tight in our defense and we made it really tough on Twinfield. We'd both played back-to-back games, so nobody had an advantage there. And we had four freshmen who finished out the game and got quality minutes tonight."
The Trojans (3-3) will host Blue Mountain at 7 p.m. Wednesday. Twinfield suffered a 70-58 loss against Peoples Academy on Thursday. The Blue Devils (7-2) will travel to play Thetford at 7 p.m. Thursday.
GIRLS' BASKETBALL
Essex 44, Spaulding 39
BARRE — The Hornets made their free-throw attempts when they counted during Friday's Division I thriller.
Spaulding's Natalie Folland went 6 of 7 from the foul line and finished with 14 points and 10 rebounds. Teammates Samantha Gill-Owen (eight points) and Emily Poulin (seven points) added balance for the Tide, while Sara Coulter paced Essex with 14 points
"This was the best we've played all year," Spaulding coach James Carpenter said. "We played straight-up man-to-man defense and we were really strong. We were completely outsized but they stuck with it and fought."
Spaulding, seeking its first victory since the 2015-16 season, put up quite a fight against Essex. Poulin, Gill-Owen and Raven Premont made early 3-pointers, leading the Tide to a 21-17 halftime advantage. Spaulding's defense was especially sharp during the second quarter, limiting Essex to five points that were all scored from the foul line. The Hornets found their shooting rhythm again in the third quarter and held Spaulding to three points, setting up a 31-24 Essex lead at the start of the fourth.
Spaulding closed the gap to 38-36 midway through the final quarter and trailed 40-39 heading into the final minute. The Hornets missed the front end of a 1-and-1 situation from the foul line, giving Spaulding a chance to pull ahead, but the Tide missed their attempt at a go-ahead basket. The Hornets made a pair of foul shots at the other end for a 42-39 cushion with 26 seconds remaining. Essex served up another defensive stop before icing the game from the free-throw line.
The Hornets improve to 5-3, while the Crimson Tide fall to 0-8. Spaulding will host Burlington at 7 p.m. Monday.