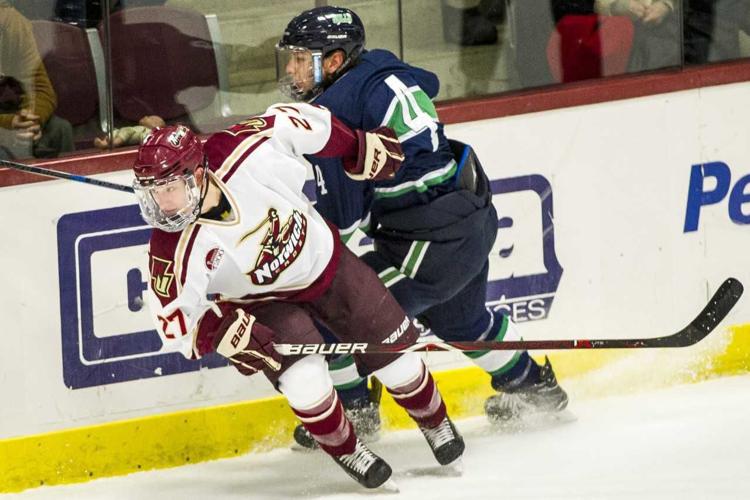 NORTHFIELD — The Norwich men's hockey team will begin its quest for its 13th New England Hockey Conference Tournament title at 7 p.m. Saturday when the Cadets host Suffolk in quarterfinal action.
Norwich (18-4-3, 13-4-1 NEHC) earned the No. 2 seed for the NEHC Tournament after sweeping New England College and Southern Maine during the last weekend of the regular season. The Cadets pulled ahead of Babson after both teams entered the final stretch tied in the standings. Suffolk (8-16-0, 5-13-0 NEHC) earned the No. 7 seed during its first year in the league.
Norwich has enjoyed a red-hot run after starting the season at 6-4-1. The Cadets are riding a 14-game unbeaten streak heading into playoffs, while Suffolk is attempting to bounce back from recent losses against Hobart and Skidmore.
Saturday's contest will mark Norwich's third all-time meeting against the Rams, who previously played in the Commonwealth Coast Conference. Suffolk beat Norwich, 1-0, earlier this season at Kreitzberg Arena. Norwich responded with an 8-1 win in Boston two weeks ago.
Norwich is led offensively by sophomore forward Felix Brassard, who has nine goals and 17 assists this season. Freshman Brett Ouderkirk leads the team with 13 goals to go along with 11 assists. Sophomore Coby Downs has five goals and a team-leading 18 assists for the Cadets. Freshmen defenseman Gabriel Chicoine (five goals, 14 assists) and forward Maxime Borduas (seven goal, 11 assists) round out NU's offensive leaders. Cadets goalie Tom Aubrun has compiled a 15-3-3 record with five shutouts, a 1.74 goals-against average and a .926 save percentage.
Senior captain Mikhail Bryan is Suffolk's top threat. The defenseman has tallied nine goals and 15 assists. Sophomore teammate Jack Kelly leads the team with 12 goals and also has 11 assists. Junior Brian Brooks has five goals and 10 assists, while senior Tommy Bishop has six goals and six assists. Senior LJ Fellows has four goals and eight assists, while classmate Michael Levine is 6-14 in goal with a 3.57 goals-against average and a .898 save percentage.
First-year Norwich coach Cam Ellsworth served as an assistant and associate head coach at UMass Lowell for seven seasons prior arriving in Northfield. He replaced the legendary coach Mike McShane last summer. Suffolk coach Chris Glionna is in his 15th season at the helm of his alma mater. He has compiled a 124-214-33 record and is the winningest coach in program history.
Norwich will attempt to make its 10th straight league tournament semifinal appearance, while Suffolk is eyeing its first NEHC playoff victory. Norwich's last loss in the NEHC quarterfinal round was in 2009, 1-0 in overtime to UMass Boston.
In the other three quarterfinal matchups, No. 1 UMass Boston will host No. 8 Southern Maine. Third-seeded Babson will host No. 6 Skidmore, while No. 5 New England College will travel to play No. 4 Hobart.