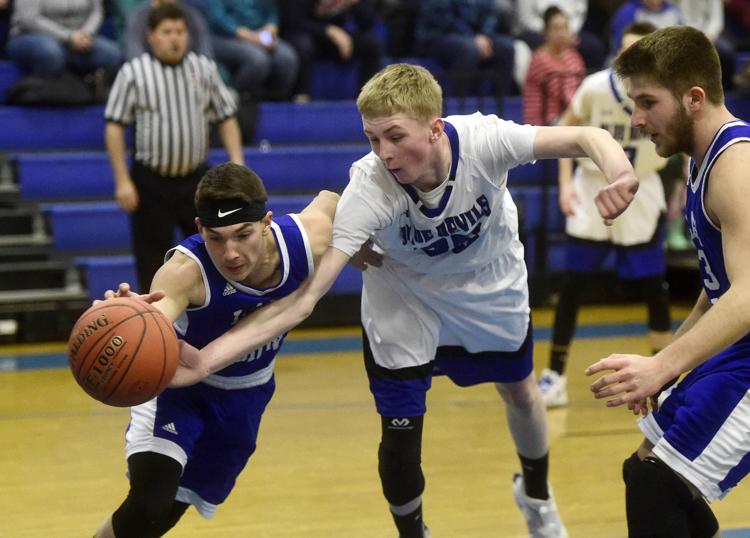 WILLIAMSTOWN — Drew Drageset poured in 29 points and teammate Braydon Leach dropped in 21 as Lake Region defeated Williamstown, 59-49, during Wednesday's boys basketball action.
After opening the game with a barrage of 3-pointers, Drageset closed the game out for the Rangers from the baseline and the charity stripe. Drageset and Leach went a combined 21 of 25 at the free-throw line.
"We came out pretty hot, but Williamstown broke out into a press and flustered us a little bit," Drageset said. "But we came through. We missed a couple foul shots at the end but we finished. I just try to do what the team expects of me and my teammates do a good job of finding me when I'm open. I just do what I can."
Jacob Tassie was the high scorer for Williamstown with 17 points. Colby Gingras and Cole Banks added eight points apiece in the loss.
Lake Region jumped out to an 11-4 lead in the first quarter, but the Blue Devils used a 9-2 run to pull ahead entering the second quarter. After that, Williamstown's players struggled from the field, as if there was a lid on the rim. As Lake Region carried some momentum from the first quarter, Williamstown fell off a cliff offensively. A 3-pointer from Isaiah Braithwaite (six points) helped to open a 28-15 halftime lead. The only basket the Blue Devils could muster during the second quarter came from Garrett Metcalf (six points).
Williamstown's dismal offensive output in the second quarter was mostly due to poor choices with the ball and an even worse shot selection. That frustration was evident when Williamstown coach Jack Carrier implored his players to stop leaving their feet in order to pass the ball.
"Lake Region got that jump and separation during that second quarter," Carrier said. "And with a team like this that is going to control the basketball and have solid possessions, it made it tough. The shots were off for us, and we're kind of a rhythm team. And with the snow day yesterday and not having practice, it seems like it takes us an extra day to get back into the swing of things. Lake Region definitely outplayed us inside. And then at the free throw line they were pretty stout."
Williamstown attempted to make a game of it late, but Drageset and his teammates had other plans. A tough basket in the paint and a foul set up a three-point play from Drageset. Moments later, he collected a nice pass from Braithwaite for two more points and a 44-34 lead.
Drageset continued to plow the road for the Rangers with two more baskets from the baseline coupled with a handful of free throws. With the Rangers in the double-bonus, Williamstown chose to foul with the hope of crawling back into contention. But as Drageset and Leach each made their foul shots down the stretch, Williamstown ran out of time.
"The guys came ready to play tonight and we've had a long layoff due to the recent weather trouble," Lake Region coach James Ingalls said. "Drew has been a workhorse for us inside all season. He's a tough match for most teams inside. He's strong, does his work on the boards and gets us a lot of second looks that we need. Williamstown played solid defense and proved to be a class act. You know coming in here it's not going to be easy."
Lake Region (11-4) will host Harwood at 7 p.m. Friday. Williamstown (12-3) will travel to play Harwood at 7 p.m. Monday.