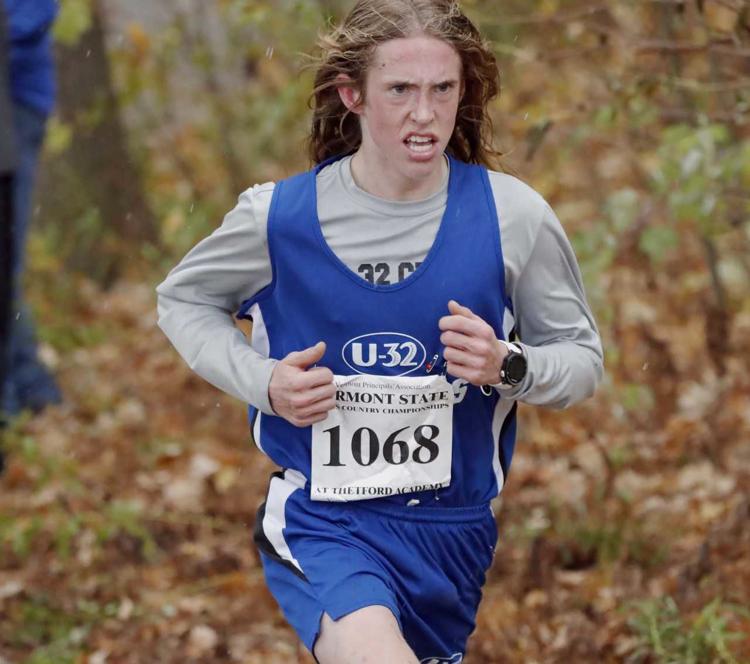 Waylon Kurts forgot to bring his shorts to this year's New England Cross-Country Running Championships, but he remembered his lunch pail.
The U-32 junior scrambled to find some extra clothing and placed 25th to earn All-Region honors, crossing the line in 16 minutes, 32.7 seconds. Although Raiders cross-country coach Andrew Tripp jokes about how Kurts can be a space cadet, his times are no laughing matter. Kurts was one of the state's most improved racers in 2018, surging midway through the season to earn the Times Argus Runner of the Year award along with teammate Andrew Crompton.
"It is an honor to be recognized as an individual for busting my butt and doing a lot of work for the past couple of years," Kurts said. "I'm really stoked about that."
Kurts grew up in a running family and traveled to Central Asia when he was a seventh-grader to spend a year in Kyrgyzstan. During physical education class, Kurts received a crash course in no-frills fitness, and he gained a lot of athletic confidence while abroad even though he didn't run a ton.
"It was a super-old Soviet style of what children should do for exercise," he said. "One of the days was running, and all these Kyrgyz kids and Russian kids would run around this dirt square. And I remember giving it a shot, and it was pretty cool. I was passing these guys who were much older than me and definitely much more developed. They weren't too keen on it but I was like, 'This is all right.' I don't think it had much of an impact on my running because I promptly returned in eighth grade and did soccer. But it gave me a more worldly humbling perspective."
Kurts barely missed the varsity cutoff for state championships as a freshman, so he ran in the Challenge Race at Thetford and placed second out of 310 finishers (18:36.3). Last year he developed into one of the Raiders' top dogs, placing fifth at states (17:46) and finishing 86th at New Englands (16:50.5). This season there was a void at the front of the pack following the graduation of Nathan Smoller and Stephen Looke, and Kurts rose to the occasion.
"A couple years ago no one would have expected Waylon to be that far up," Tripp said. "He had a hard time getting to practice, finding his shoes, bringing his clothes, remembering what day it was. But he has this physical talent and he's a really determined racer. And he's subsequently learned how to train really hard. And I think that's, in large part, due to (Crompton). Because he's seen what happens when you show up every day, which (Crompton) has been doing from the beginning.
"Waylon made a big jump over the summer. But they were shoulder-to-shoulder all summer, so if you were with them it wasn't really a surprise."
Crompton edged Kurts by a combined two seconds during the first two meets this year, but Kurts started to excel during the big races. He finished sixth at the Essex Invitational and then placed second during a league meet at U-32 (17:53.3). He beat Crompton by 42 seconds at the Manchester (N.H.) Invitational, finishing 25th in 16:40. Kurts was second at the U-32 Invitational (16:35.36) and had a breakout race by placing fourth at the Thetford Woods Trail Run (16:53.04).
"Over the course of three years I think I have changed a lot," Kurts said. "... I have really learned what it is to be more of a team player and to be less selfish: Not to want to get out of a workout or to run less, but rather to try and do the opposite and to run more for the sake of the team. I want to make sure I'm running the race for the team rather than myself."
During the second week of October, most Central Vermont teams flocked to the Harwood Invitational, but U-32's top athletes headed to the Manhattan Invitational. During last year's event, Kurts committed a few rookie mistakes, leading to 173rd-place finish out of 183 athletes. This year he shaved over four minutes off his time at the 2.5-mile race, finishing sixth in his category in 13:01.9.
"Last year I made the error of doing a hotel breakfast and then getting out way too fast in the race," he said. "And this year I corrected both of those things. I brought food from home and then played it safe in the race and moved up over the second half, which worked out really well.
"You don't know exactly who your competition is for that race, so I was able to really dig to the well and I managed to pull up sixth place in that race and then 66th overall in the entire invitational."
Kurts completed the regular season by placing third at the NVAC Mountain Championships (17:24.5). After finishing third at states in 17:33.3, he wound up the fourth overall Vermonter at New Englands. The only in-state rivals to beat him were Essex junior Henry Farrington (16:17.9), Burlington senior Simon Kissam (16:25.5) and Essex senior Peter Alden (16:31.3).
"All those guys are slightly older than me and a little more experienced, so I was pleased with that result," Kurts said.
Kurts and Crompton are also standouts on U-32's 4x800 relay team, which qualified for track and field nationals last spring. It's possible that Kurts could graduate in 2020 with four cross-country titles and four track championships.
"Our program has gotten to a level now where we do the work to be worthy of competitions like New Englands," he said. "That's really exciting. As long as we can sustain our performance and our work ethic, we're kind of at that regional level of competition."
Kurts will return to the big stage Saturday, joining Crompton and nearly 300 other runners at Nike Cross Regionals in Wappingers Falls, New York. The U-32 teammates may appear like an odd training duo, but they've cemented their bond the past two weeks while working out in snowy, muddy conditions.
"Waylon and AC are totally different people: everything from hair length to forgetfulness," Tripp said. "AC is on top of everything down to the T and he remembers things for his teammates. Waylon is very laid back — to the point of being goofy. ... The two guys are a contrast in style, but they can both run."
Kurts may have struggled to make varsity two years ago, but his progress in the last 24 months shows that dedication can be the ultimate equalizer. He loves the team aspect of U-32 cross-country and knows to always respect an underdog.
"One thing our coach says — and I have total faith in it — is that we've done more work than anyone else," Kurts said. "Someone may have more talent than me but they have done less work. And if I have that motivation, if I can get a little bit angry almost, anger is a huge motivator for me.
"We have some guys on our team who have a particular amount of talent, but they have worked their butts off. The anger at the unfairness of genetics is a real strong motivator for me. I like to run for the guys who would be fighting — and have worked much harder than I have — to get to my spot."