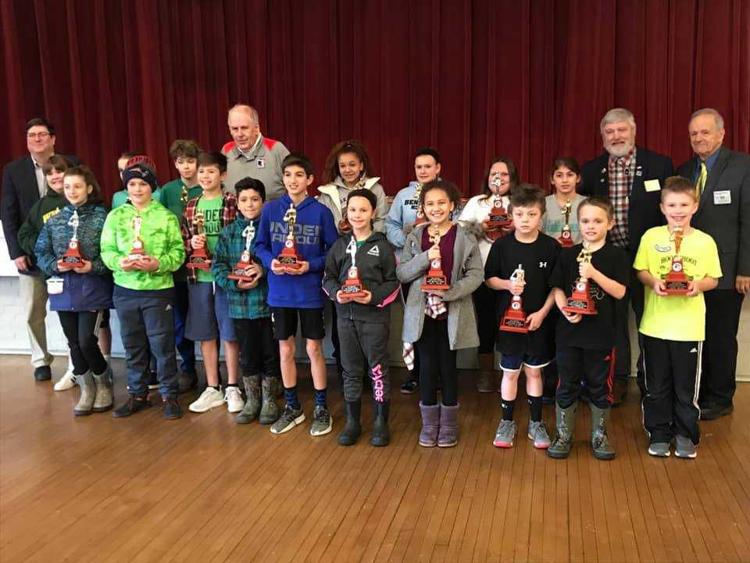 BARRE — Three boys and three girls in each age division recently competed for top Vermont honors during the Hoop Shoot Championships.
Athletes representing Vermont Elks North, Central and South Lodges took part in the event. The winners will represent their state at the Region 1 Hoop Shoot from March 22-24 in Portland, Maine. Winners at the Region 1 competition will advance to the National Championships on April 27 in Chicago. Regional winners and their families will be the guests of Elks National Foundation and all expenses will be paid. The national winners will have their names inscribed on the Elks National Hoop Shoot Trophy at the Basketball Hall of Fame.
Boys and girls in the 8-to-9-year-old age group shoot 4 feet in front of the foul line under the rules of competition, while all other participants shoot regulation free throws. Contestants may have up to five warm-up shots and they cannot take more than four controlled bounces between attempts. Each free throw attempt must be made within 10 seconds after the ball has been placed at the disposal of the contestant.
Ellie Whalen, representing the Rutland Lodge, won the girls division for 8- and 9-year-olds by making 21 of 25 attempts. On the boys side, St. Albans Lodge competitor Brody Toof claimed top honors in the same age division by making 18 of 25 attempts.
Ethan Whalen, competing for the Rutland Lodge, made 24 of 25 attempts and was the Southern winner for participants ages 10 and 11. In the same division, Meghan Thompson drained 22 of 25 shots to claim first place while representing the Burlington Lodge.
The oldest participants were all 12-year-olds and 13-year-olds, with Jacobi Lafferty and Alicea Coon prevailing. Lafferty made 24 of 25 attempts while competing for the Burlington Lodge. Coon went 18 of 25 for the Bennington Lodge.