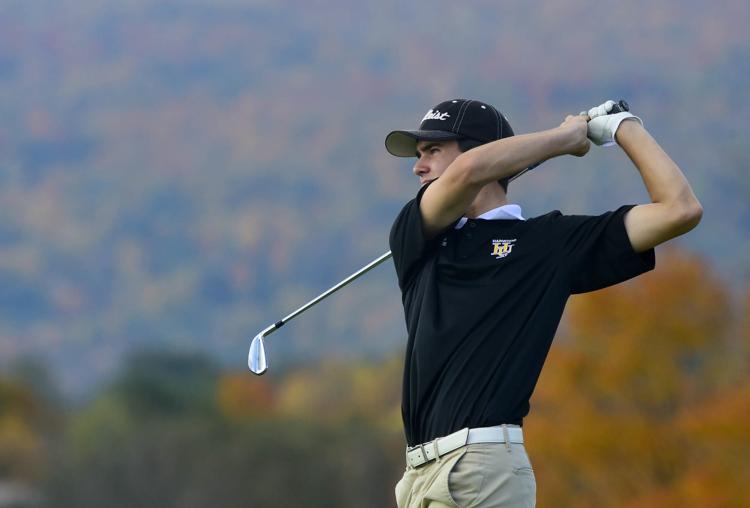 WATERBURY CENTER — Harwood flipped the script on Rice to claim its second straight golf championship.
A week ago, the Highlanders lost to the Green Knights by 19 shots during sectionals, but Wednesday's home-course advantage helped HU claim payback. The Highlanders shaved 37 strokes off their qualifying score for a four-person tally of 314 at the Country Club of Vermont. Rice was 10 shots off the winning pace in Division II, while Montpelier placed fourth (368).
"At sectionals I don't think we were there mentally compared to Rice, because at that point all you had to do was get top-six to make it and there wasn't that much pressure," Harwood's Aidan Melville said.
The Green Knights opened up a five-shot advantage over Harwood at states after the first two groups signed their scorecards. The lead didn't last long. Melville (70), Nate Honeywell (73), Jon Honeywell (77) and Liam Guyette (94) solidified the victory, with Jacob Green's non-scoring 105 providing a safety net.
"I shot a 99 last year at states," Nate Honeywell said. "So it feels really good to be back here at this time and actually contributing — maybe even leading. If you look at my first three years at states, I hadn't broken 90. And today was my lowest round in a tournament, it was my lowest round here by three shots and it ties my lowest round ever."
Rice's top golfers were Mike Walsh (67), Robbie Robinson (75), Patrick Walsh (90) and Kieran Connolly (92). When Walsh and Robinson finished at a combined 2-under, the Green Knights were in the driver's seat. But Nate Honeywell surprised everyone with his 1-over round at the team's No. 3 position, giving HU a 12-shot lead. When Guyette holed out as the No. 4 golfer, the Highlanders maintained their double-digit lead and started their party planning.
"It feels great and it was awesome to see our No. 4 and 5 step up," Melville said. "After sectionals we knew we had to do 20 (shots) better, and that's a lot. Today I was playing with Mike, who was playing spectacularly. But you have to keep it together because every stroke counts. And the last hole I stuck it and made birdie. When everyone came in after that, we were looking really nice."
Last year, Harwood won by 42 shots with a 334, thanks to a 71 from Melville. The Highlanders opened this season with a 311 at the North Country Invitational, led by Melville (66) Jon Honeywell (73), Nate Honeywell (81) and Jacob Green (91). At that point, coach Brian McCarthy knew he had the talent to repeat.
"Aidan and Nate were proven returners and I knew they were going to be solid," McCarthy said. "And Jon is just a really good golfer. ... So with those three, all we had to was convert two hockey players into playing the game — and enjoying the game. Between Liam and Jake, they did it. I'm very proud of those guys. They might deny it, but they didn't want to let the veterans down."
Harwood's sectional scores in Rutland were more than respectable, with Melville (73), Jon Honeywell (84) and Nate Honeywell (84) leading the charge. Making up a 19-shot deficit was a major endeavor for a one-week turnaround. But McCarthy was confident that Guyette and Green could deliver the goods after failing to break 100 at qualifiers.
"Rutland is a very hard golf course that my guys just didn't like, but I was fine," McCarthy said. "We were coming back here and I knew Aidan wasn't going to go far from his 73, and he picked up three strokes. I knew Jon was going to shoot better than an 84. And my fingers were crossed for Nate to do the same. And I knew (Guyette or Green) were going to get down to double figures. And then I was going to take my chances with whatever Rice shot. When (Walsh) came in with is 67, that was long overdue and I said, 'OK.' And then when (Robinson) came in with a 75, I said, 'OK.' But then I saw our first three scores and I felt comfortable enough to say, 'Three parts of my four-part plan have came through. And now I just have to wait.' And Liam and Jake didn't let me down."
Melville made 16 greens in regulation, never lost a ball and drained four of 15 birdie putts. Nate Honeywell found trouble immediately but started a day-long trend of executing damage control.
"The first few holes I was really nervous — I was shaking," he said. "I hit a really good bunker shot and it got me started. I was on the green from a fairway bunker and it was perfect. But I didn't have much going on the front nine – just barely missing birdie putts and tapping in for pars."
Nate Honeywell was 3-over at the turn after saving bogey on the ninth hole. He kicked off the back nine with two pars and drained a 12-foot uphill putt on the 12th hole. He played it safe on No. 13 and saved par after a nice chip. His iron shot on the 14th hole hit a bank on the right side of the green and rolled toward the pin, setting up a 5-foot birdie putt. He blasted out of a green-side bunker on the 15th hole and sank a 10-foot birdie putt. Following back-to-back bogeys, he exercised caution again by using a hybrid for the first two shots on the par-5 18th hole. A spectacular wedge shot gave him a chance to close out his high school career with a bang.
"Sometimes I hit uphill wedge shots and chunk it, but I hit a sand wedge from 80 yards up the hill perfectly," he said. "I had 12 feet downhill, left to right. It was very fast and on the last rotation it just went in."
Nate Honeywell's putter was hot all day, and it wasn't even his. The club belongs to CCV employee Ivan Morse, who offered a short-term loan to his former teammate.
"My putter that I have been using, it's face is defective and it was starting to peel off," Nate Honeywell said. "So Ivan Morse let me use his putter for today. I handed it to him right after the round, but I might buy one of those."
Bryson Richards fired a 74 for Montpelier and teammates Riley Richards (86), Josh Ehret (104) and Logan Carbo (104) rounded out the scoring. Richards will play golf next year for the University of Rhode Island and he never shot in the 80s during his four-year high school career. He made a 20-foot birdie putt on the first hole Wednesday and hit 15 greens in regulation.
"I was giving myself a lot of looks but the putter has let me down all fall, and this summer too," he said. "I just haven't been able to get in a groove with the putter. But overall I hit it great today and only missed one fairway. I was a couple back (of Walsh) on No. 17 and I got aggressive. I had a brain cramp and hurt my wrist pretty badly."
Richards opened his high school career with a nine-hole round of 30 at the Country Club of Barre and will graduate as the undisputed top golfer in the history of U-32 and Montpelier, which formed a cooperative team. During his unmatched run, he's also learned to respect his main rivals.
"Harwood's depth is off the charts," he said. "They have four solid, solid players. Nate played awesome today and I was happy for him. When you have a team that deep, it's hard to beat them."
BOYS GOLF STATE CHAMPIONSHIP RESULTS
Wednesday
At C.C. of Vermont
Par 72
DIVISION I
Medalist: 70 — Logan Broyles, Rutland *Champlain Valley (318): Nate Godbout 78, Ben Gramling 79, Evan Forrest 79, Andrew Wilkinson 82. BFA-St. Albans (318): Nathan Benoit 76, Andrew Dieringer 77, Owen Benoit 77, Lucas Boucher 88. Rutland (330): Logan Broyles 70, Billy Latkin 81, Colin Moore 86, Zach Bates 93, Zach Arsenault 93. Essex (354): Sam Foster 79, Brennan Moreau 80, Patrick Cooper 86, Jackson Moore 109. Burr and Burton (355): Max Brach 80, Ben Swinarton 89, Dillon Kallen 93, Chapin Eyre 93. South Burlington: Ethan Borick 96, Will Burns 107. * — CVU (19) beats BFA (20) on first playoff hole.
DIVISION II
Medalist: 67 — Mike Walsh, Rice Harwood (314): Aidan Melville 70, Nate Honeywell 73, Jon Honeywell 77, Liam Guyette 94. Rice (324): Mike Walsh 67, Robbie Robinson 75, Patrick Walsh 90, Kieran Connolly 92. Hartford (366): Brady Hathorn 77, Justin Jasmine 90, Jared Vanderpot 94, Logan Raymond 105. Montpelier (368): Bryson Richards 74, Riley Richards 86, Josh Ehret 104, Logan Carbo 104. Lake Region (402): Jackson King 79, Parker Perron 100, Braydon Leach 107, Ben Gilcris 116. Lyndon (442): Colby Langtange 92, Shea McCaffrey 101, Fernando Ferrer 122, Brodie McCaffrey 127.
DIVISION III
Medalist: 75 — Ben Salvas, Stowe Stowe (314): Ben Salvas 75, Flynn Kearney 78, Clark Brown 79, Max Gentle 82. Northfield (411): Tyler Orton 84, Adam Gerdes 107, D.J. Baroffio 110, Grey Kramer 110. Milton (449): Jackson Ehler 99, Zach Fantini 114, Andrew Harvey 117, Chris Lefebvre 119. Stratton Mountain: Harrison DiGangi 76. Black River: Josh Cohen 81. Arlington: Jack Lane 82.