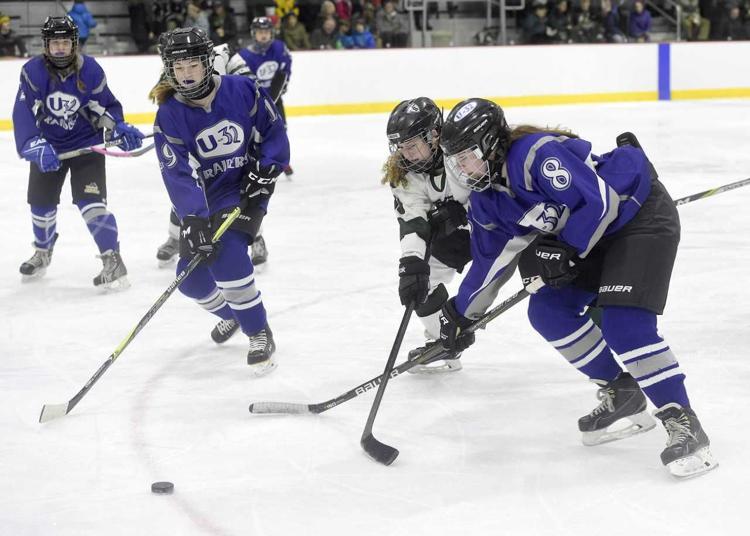 Girls hockey in Central Vermont will get a little cozier this winter with seven high schools represented by three teams. With every area squad competing in the same division, there will be a lot of familiar faces on opposing sides. Spaulding, U-32 and newly formed Harwood-Northfield are all attempting to rebuild following 17-loss seasons, and some coaches may take advantage of the new option to suit up eighth-graders.
Here is a sneak peak at the trio of local squads:
U-32
The Raiders finished at 4-17-1 last winter after eliminating Harwood in the playdowns and losing to Stowe in the quarterfinals. This year it's clear that U-32 will be skating behind captain and senior defender Payton Kurrle.
"Offensively we should be good," Raiders coach Larry Smith said. "Payton can play offense or defense. But I need her on defense to start with, so that will be our strength."
Kurrle will have support from two other key defensive players: Jenna Mekkelsen and Emily Frazier. The Raiders offense will center around Renee Roberts, Elizabeth Guthrie and lone Montpelier member Cece Curtin. Coach Smith is on the lookout for a backup goalie to develop more skills as Brianna Rich plays out her senior year in front of the pipes.
"Although we do have a few seniors, I still think we are a young team," Smith said. "So I think we are going to have to work on the fundamentals and basic hockey. We may start off a little slow. But I think once we get playing some games and really figure things out, I think we're going to come into it and be a pretty good team.
"I definitely think we will be better than last year — I'm shooting for a .500 record. And anything better than that, I'm absolutely happy."
Early signs indicate that freshmen Ali Guthrie and Morgan Ribolini could be impact forwards as the Raiders attempt to separate themselves from an increasingly competitive Central Vermont hockey scene.
"I know Spaulding moved to D-II this year, so we'll have some good local competition," Smith said. "I always like that."
Spaulding
The Tide are coming off a trying 4-17 season that ended with a D-I playdown loss to Mount Mansfield-CVU. Spaulding finished last year without All-Star goalie Amber McGinley, who was sidelined at the end of the season with an injury.
"It was tough," Spaulding coach David Lawrence said. "We were slotted in the wrong division — everybody kind of knew we should have been D-II. All the D-I games were kind of blowouts with the exception of a couple."
Spaulding graduated eight players who accounted for roughly 75 percent of the team's scoring. A few key role players remain to start the next chapter for the storied program, which made three straight championship appearances from 2009-2011. McGinley is back in the net after proving she is capable of stopping 50 shots a night. Three-sport athlete Morgan Mast, last year's second leading scorer, will be asked to produce. She will work alongside Riley McFaun, who tallied the second most points for the team last season. Times Argus Field Hockey Player of the year Amanda Gerrish is another multi-sport athlete setting the tone on defense.
"She'll be out there matched up with everybody else's best player," Lawrence said. "We are counting on her, especially for leadership. She's a fantastic kid and a great leader."
Lawrence is a Spaulding graduate who played hockey for the Tide, and he hasn't been satisfied with the level of success in the last five years. His big goal during the upcoming seasons is to help turn around the program, and win a playoff game for the first time since 2014.
"We've got the goaltending and I think there is the potential to make up the offense we graduated," Lawrence said. "There's a high ceiling there. Of the freshmen that are coming in, most of them have played offense, so they have an opportunity to make a difference. ... It seems like people are raring to go and the vibe seems really good right out of the gate. Last year was really tough, but we've got a clean slate."
Harwood-Northfield
The Harwood girls program is getting a much-needed shot in the arm in the form of players from Northfield, Randolph and Williamstown. Harwood went 3-17-1 last year, while Northfield finished at 7-10-3. It was not clear if Harwood or Northfield could fill a roster on their own this winter, but together they will face every team in the state with the possibility of earning a D-I playoff berth.
"A lot of these teams have been playing together since they were 6," Harwood coach Mike Vasseur said. "It's gonna be fun. I think it will be one of the most exciting developmental and team-oriented seasons. You hear a lot of good things and a lot of negative things when schools combine. I want to have that 'Everything is positive' experience — that's what I'm shooting for."
Defense could be the team's biggest asset with D-II Player of the Year Lilianna Ziedins returning for her senior season. Last year, Ziedins recorded 34 goals and six assists as a defender, so her presence will be felt on both ends of the ice. Vasseur will have second-year goalie Kaylee Cameron and talented Randolph addition Kaylee Thayer to protect the net.
"I think we are going to have good goaltending," Vasseur said. "We have three or four solid players on D, and we're probably going to be able to put out two pretty competitive lines. I would like to do well enough that we can compete in D-I, and I want the kids to have a great season."
Vasseur has a lot of work left to do while getting to know half of the squad that came from the combined Northfield program. But he is excited to have the challenge.
"I think the kids that are coming are motivated," Vasseur said. "If you're driving from Randolph or Northfield to Waterbury for practice four nights a week, that's pretty devoted. And above all I've just been impressed with how friendly and fun they have been. So I think they are devoted and they come off and they tell me they are excited for the season. They just want to have a good season and enjoy playing hockey."