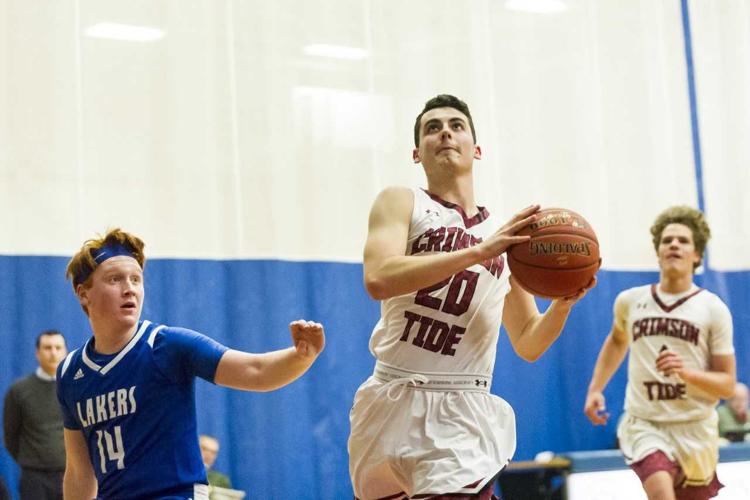 It's the dead of winter but the Granite City will be full of life this week.
Spaulding is set to host varsity events on five consecutive days, beginning with girls basketball at 7 p.m. Tuesday. At this time of year, each result can shake up the rankings, and every Crimson Tide squad is hyper-aware of that right now. The boys and girls hockey teams have been underdogs in most games, and it's been the same story for both basketball squads. Wrestling has produced the best results among the Barre bunch, with the Crimson Tede emerging as strong contenders for a podium finish at state championships.
Regardless of the sport, all of Spaulding's athletes will have something to prove during the upcoming days as teams hit the midway point of the season. The high school gym and the B.O.R ice rink are sure to be hot spots this week, so here's a quick glance at the matchups:
TUESDAY
GIRLS BASKETBALL
BFA-St. Albans at Spaulding, 7 p.m.
At the start of the winter, the big question for Tide coach James Carpenter was if his team could end its multi-year losing skid. After nine games, Spaulding (0-9) is still searching for its first victory since the 2015-16 season, but the squad has come close to winning a number of times.
The Tide opened the season with a 36-35 defeat against Mount Anthony and then lost by four points twice against U-32, including an overtime thriller in East Montpelier. During the past three games, Spaulding lost to Mt. Mansfield by four points and fell short against Burlington and Essex by five.
Samantha Owen and Cheyenne Hathaway are the only seniors on a roster that features four juniors, two sophomores and two freshmen. Some of the youngest players have stood out the most, including freshman Emily Poulin and sophomores Natalie Folland and Raven Premont. When junior Aliza Lindley returns from injury, Spaulding could be a dark horse in Division I. BFA-St. Albans is 9-1 and the Comets clobbered U-32, 43-18.
WEDNESDAY
BOYS HOCKEY
Rice at Spaulding, 5:30 p.m.
The Crimson Tide have a legitimate claim as the most dangerous 2-6 team in Vermont after testing many of the top programs in Division I. A pair of three-game losing skids have been uncharacteristic for Spaulding, a six-time champ fresh off back-to-back appearances in the finals.
The Tide finally got untracked Saturday with a 3-1 victory over Rutland, thanks to 27 saves by Kyle May and goals from Evan Parent, Cam Gosselin and Travis Roy. Jesse King, Jamison Mast, Myles Aja, Mason Otis and Owen Kresco have been additional scoring threats for coach Chad Burke's team. The Tide endured one-goal losses against BFA-St. Albans (7-1-1) and Middlebury (7-3), and they were deadlocked late against Stowe (5-2-2) before crumbling at the end. The Green Knights (4-4-2) are attempting to snap a four-game winless streak.
THURSDAY
WRESTLING
CVU-MMU at Spaulding, 6 p.m.
Mount Anthony owns 30 straight championships and it's no secret in Vermont wrestling circles that every year is essentially a race to finish second. This winter, Spaulding is right in the thick of that battle.
The Crimson Tide placed sixth overall and were the No. 2 in-state team last weekend during the Michael J. Baker Classic in Essex. Essex won the event on its home turf and the Hornets are front-runners in the fight for runner-up honors at states. Close behind are Spaulding, Mount Abraham, CVU, Mt. Mansfield, Vergennes and St. Johnsbury.
Juniors Hunter Chase (138 pounds) and Carter Dickinson (113 pounds) are two of the Tide's best grapplers, along with senior Hunter Quero (152 pounds) and freshman Nick Pierce (106 pounds). Elijah Laramore (120 pounds) is another junior who can score points, while Mattew Durgin (182 pounds) leads a strong crew of eight sophomores. The Tide have 14 freshmen, many of whom have joined Pierce with breakout seasons. The first-year standouts include Hunter Roya (113 pounds), Cameron Govea (132 pounds), Ryan Glassford (132 pounds), Levi Hilton VanOsdall (152 pounds), Landon Farnham (160 pounds), Colton Perkins (220 pounds) and Alex Pouliot (220 pounds). Spaulding was fifth at states last year, led by Quero (second), Dickinson (third) and Chase (sixth).
FRIDAY
BOYS BASKETBALL
Mt. Mansfield at
Spaulding, 7 p.m.
The Cougars will make their third trip to Barre this winter after defeating U-32 and Lyndon at Spaulding's Fran Pinard Holiday Tournament. Both MMU and Spaulding players had plenty of opportunities to scout each other, and it's clear that the Cougars (7-1) are confident after seven straight victories. Mt. Mansfield's Harrison Leombruno-Nicholson and Asa Carlson are double-digit scoring weapons every game, while Beckett Hill, Connor Philbrick, Riley Smith and Taylor Bowen are also dangerous.
Spaulding (3-5) has been solid in most games, defeating Mount Anthony, BFA-St. Albans and Colchester. The Tide kept things close versus Rice (7-0) during a 67-59 defeat, and they led most of the way against Middlebury (8-1) before suffering a 54-47 loss. Guards Sam Bigglestone, Taylor D'Agostino and Seth Poirier have been three of the Tide's top scorers, along with forwards Matt Tacey, Aidan Gilwee and Alex Coyle. Role players like Dylan Estivill, Camden Boucher, Steven Corbett and Brandon Brunner have also stepped up lately for Spaulding, which has not won a playoff game since 2015.
SATURDAY
GIRLS HOCKEY
Hartford at Spaulding, 3:30 p.m.
Something has to give in this meeting between the Crimson Tide (2-9) and Hurricanes (1-8). Hartford will be hungry for payback after suffering losses of 2-1 and 4-2 against Spaulding earlier in the winter. The Tide will attempt to cap a regular-season sweep and are also aiming to end a four-game losing skid.
Even though the Crimson Tide have struggled against many opponents, they've put up a scrappy fight in the past two weeks against Brattleboro, U-32 and North Country-Lyndon. Seniors Amanda Gerrish and Riley McFaun have been two of the most dependable scoring threats for coach Dave Lawrence, with junior Morgan Mast adding consistent offensive pressure as well. Goalie Amber McGinley has single-handedly kept many contests close for the Tide, who rely on three seniors, four juniors, six sophomores and five freshmen.