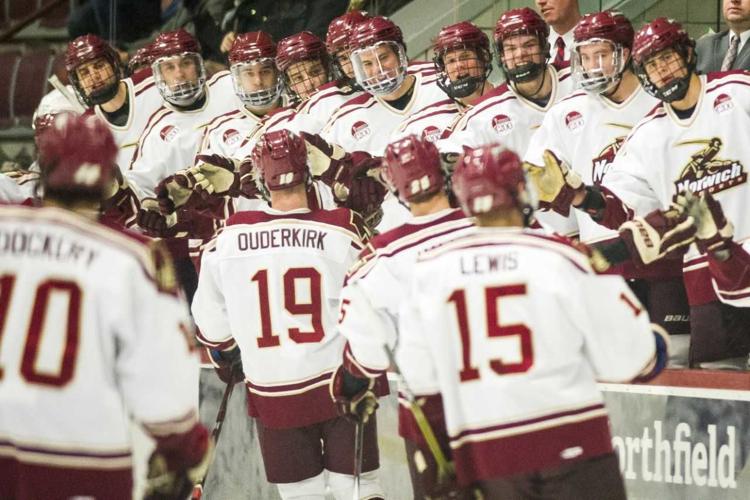 MINNEAPOLIS, Minn. — Senior defenseman Cam Beecy, of the Norwich University men's ice hockey team, is one of 17 collegiate hockey players nominated for the prestigious Hockey Humanitarian Award.
The 24-year-old annual award recognizes college hockey's finest players at the Division I, II or III level who give back to their community.
Beecy, who grew up in Stowe, is Norwich University's third nominee in the award's history and the first since Shawn Baker was a finalist in 2012. Jason Wilson was the first NU hockey player nominated for the award in 2006.
Beecy is one of just three Division III student-athletes to be nominated for the 2019 award.
Beecy has been a three-year letter winner for the Norwich University men's ice hockey team.
"Cam is a senior leader on and off the ice for our team," said NU head men's hockey coach Cam Ellsworth. "Cam has played in eight of our team's first 13 games and contributes both even strength and on the penalty kill. What is more impressive is that when he isn't in the lineup, he is the first guy to work for his teammates. He will take off his suit jacket and sharpen skates or fix equipment without being asked. He genuinely focused on the best way to help our team be successful every day."
He carries a 3.75 GPA as a nursing major and is a two-time New England Hockey Conference (NEHC) All-Academic team honoree. He has also earned American Hockey Coaches Association (AHCA) Scholar All-American honors the past two seasons.
Beecy is a four-year Air Force ROTC Scholarship recipient and will be commissioning as a 2nd Lieutenant in the United States Air Force upon graduating in May. He will serve a minimum of four years active duty after graduating and then another two in the reserves.
Beecy was a sophomore on Norwich's 2017 NCAA Division III National Championship team, helping guide the Cadets to the program's fourth national title in program history. Beecy has played in 34 games, registering two goals and three assists for five points as a shutdown defenseman.
Beecy is also a member of the Norwich University Corps of Cadets and was part of the cadre leadership group as a junior in 2017-18, responsible for training and ranking 16 "rooks" into the Corps.
He has captained the Positive Trackers youth team for several years at the prestigious Travis Roy Foundation Wiffle Ball Tournament held annually in Vermont. The event raises over a half-million dollars annually for those with spinal cord injuries.
This past summer, Beecy organized and hosted an outdoor-circuit workout competition in Stowe that raised $8,000 for the American Foundation for Suicide Prevention.
Beecy was motivated by his friend and teammate Kacy Pavlik, who died by suicide in 2009.
"Losing Kacy replaced my joy with pain and a heavy heart. He's the reason I'm acting to provide insight and support for those affected by or considering suicide," Beecy said.
Beecy's goals are to let young people know that they can make a difference in other peoples' lives because often they are the first to see warning signs in their friends and peers; and to raise awareness and funds for the American Foundation for Suicide Prevention.
Beecy has also served as youth hockey summer camp coach for the Vermont Flames for the past five years. Last year, he was the head coach of a 12-year-old youth hockey team in Central/Northern Vermont.
Beecy was one of five finalists the Courageous Use of Sport Award presented by Beyond Sport through his work with Positive Tracks.
Positive Tracks is a national nonprofit organization that empowers youth of all backgrounds and abilities to use sport as a catalyst for change. Through a mixed-methods approach of leadership development, service learning and hands-on mentorship, Positive Tracks aims to teach young people how to take action by sweating for good.
Beecy has served as Youth Ambassador Board member with Positive Tracks for the last three years, but he has been involved with the organization since his prep school days at Kimball Union Academy in Meriden, New Hampshire. In his role as a youth ambassador, he helps serve as a mentor to other youth in addition to providing Positive Tracks with critical guidance related to program development and strategic growth.
Beecy has led and mentored peers and organized many communities around multiple causes. He first partnered with Positive Tracks while in high school when he organized a 3-versus-3 soccer tournament at Kimball Union Academy on behalf of Grassroot Soccer. His goal was to mobilize peers in helping to eradicate AIDS and better understand stigma around getting tested for HIV.
Finalists for the 2019 Hockey Humanitarian Award will be announced in February. The 2019 recipient will be honored in a ceremony April 12 as part of the NCAA Men's Frozen Four weekend in Buffalo, New York.
The group of nominees includes 15 seniors and two juniors, along with 13 male (nine Division I) and four female candidates. The list includes nine forwards, six defensemen and two goaltenders.