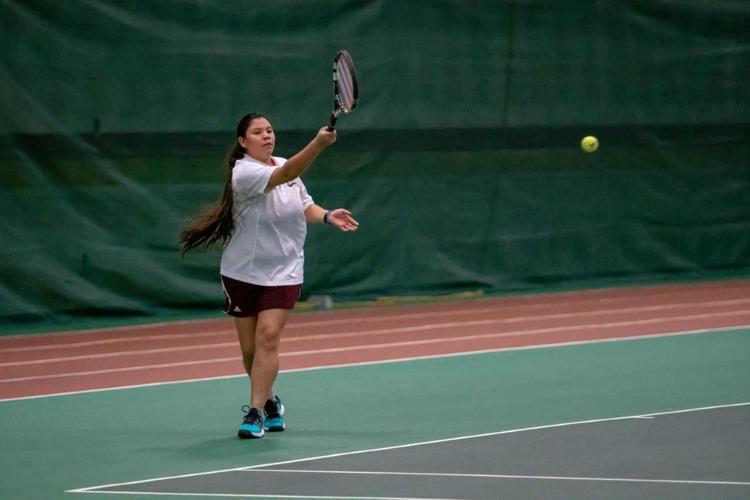 NORTHFIELD — The Norwich University tennis team picked up its first victory of the season with a 6-3 win over Castleton at Shapiro Field House.
Sophomore Noah Stillman and freshman Timothy Santy each went 2-0 to help lead Norwich past its rival. Stillman won the No. 4 singles match, 6-1, 6-3. He also teamed with Dylan Ackerman to prevail at No. 2 doubles, 8-2. Santy picked up his first two collegiate victories, cruising to a 6-2, 6-0 win at No. 5 singles. He teamed with sophomore Abbie Barker at No. 3 doubles and it was a winning combination, resulting in an 8-1 victory. Barker is a Warren product and high school standout for Harwood.
Norwich led 2-1 in the team standings after doubles, with a point at the No. 1 spot keeping the Spartans close. Norwich's Sam Beiter and Alexi Gilmore battled hard again at No. 1 doubles, but Castleton's Igor Almeida and Jared Wheeler walked away with an 8-6 victory.
Gilmore responded at No. 2 singles with a 6-1, 6-1 victory over Wheeler. Norwich junior Timothy Birnbaum closed out the day at No. 6 singles with a 6-0, 6-3 victory.
The final result gave first-year Norwich coach Matt Roche his first victory. He took the reins of the program this past fall from Jo Lynn Ostler, who served as coach for two separate stints totaling five seasons. Roche played collegiate tennis at Notre Dame (Ohio), ending his career as the No. 1 singles player. He later served as coach for Thomas More and Lynn University.
The Cadets improve to 1-2, while Castleton falls to 0-2. Norwich will travel to Bennington to face MCLA at 3 p.m. Saturday. The match will kick off a string of six matches in six days during the team's spring break schedule.
"I played college tennis and I think one of the biggest draws is to be able to go on a spring break trip," Roche said. "We're not going to a traditional place like Hilton Head, but we're going to be able to travel through the Midwest a little bit and see some new places in Pittsburgh, Columbus and Cleveland. Building a program takes advertising. And getting ourselves out there to play teams we haven't traditionally played is important."
Norwich returned seven players from last year's 6-5 squad. The Cadets also welcomed six newcomers.
Ackerman and sophomore Gilmore are two of the most proven veterans after playing in the top two spots last season. Ackerman went 5-6 at No. 1 singles. Two years ago, he earned GNAC Rookie of the Year honors. Gilmore went 9-2 last season at No. 2 singles.
"We have an interesting makeup this year," Roche said. "Alexi and Dylan are on top right now and after that we have a large bunch of players that are very similar and on any given day could beat each other. Alexi and Dylan should hold their own. They both had good seasons last year and I expect they can do the same this year."
Beiter went 7-3 last year, primarily at No. 3 singles. He was a GNAC Second Team All-Conference selection. Gilmore joined Beiter on the Second Team.
Stillman and Birnbaum return after seeing significant singles action in 2018. Stillman went 5-3, while Birnbaum was 5-4 in solo action. Barker is expected to factor heavily into doubles action. She went 1-0 in her lone doubles match last season.
Roche pointed to freshman Timothy Santy as a newcomer who could excel for the team.
"I think where we are going to win matches this year is with our depth," Roche said. "I would say from No. 4-9, we're very close skill-wise. I've been preaching that we need to be very competitive at the bottom of the lineup."
Norwich was picked to finish sixth in the North division in the GNAC Preseason Coaches' Poll.
"I hope we're competitive and compete until the end of every match this year," Roche said. "We're not going to be judging this season solely on wins and losses. We'd obviously like some wins but we're trying to build a culture and identity. We've got to be tough mentally and envision that we can win. The goal is to try and get at least once conference win to show improvement. The team has all been very receptive to coaching and mid-match adjustments so far."