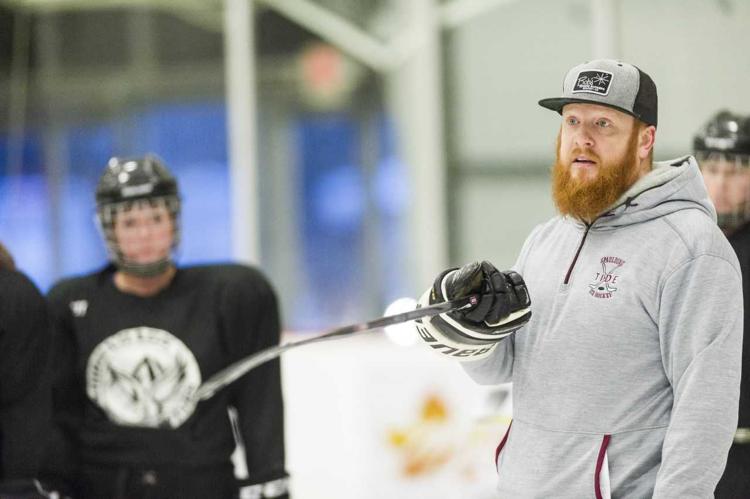 BARRE — Spaulding hockey coach Dave Lawrence has got one thing correct: Hockey is all about effort.
The Brattleboro Colonels left the B.O.R. Saturday with a 5-2 victory, and Burke's message echoed through the minds of his players.
"I think we put in our all through the first and third periods," Spaulding senior captain Amanda Gerrish said after the loss. "But we let ourselves down between the first and second. At that point it was a 1-1 game and we were sort of OK with that. But it seemed like we gave up after that. Everybody was in a good mood while getting ready for the game but the locker room was quieter than usual. There wasn't a lot of talking and I don't think everyone was ready for game day."
On the other side of the ice, Brattleboro freshman Julianna Miskovich was more than ready for the task at hand. She put on a clinic against older upperclassmen from Barre by recording a hat trick, with Tobin Lonergan notching three assists.
With Miskovich's breakout this year, the Colonels are no laughing matter. The freshman has already become her team's most potent offensive weapon and a leader both on and off the ice. It's a heavy burden for any player, and even more so for a freshman. But Miskovich realizes that an individual talent is only great when it serves to make everyone else on the ice better.
"We skated hard today after a little slump in the beginning of the season," Miskovich said. "But I think we've been working hard in practice to overcome it and that really showed tonight. I'm really proud to be able to help my team and of what I did tonight. But the truth is, they're my teammates and both I and the team only go as far as we can if we work and do this together. Things are really positive right now and all focused on hockey. Our first few games were incredibly tough, but something happened in our last game and it started to come together. One thing is for sure, we really work hard every day and now it really shows."
Jenna Murrow and Lila Alexander also scored for the Colonels, with Juniper DiMatteo-LePape picking up a pair of assists and Eliya Petrie stopped 10 shots in goal.
Gerrish tallied one goal and one assist for Spaulding. Teammate Riley McFaun added one goal and Morgan Mast notched an assist for the Tide. Spaulding goalie Amber McGinley stopped 29 shots.
Lawrence didn't make any excuses after the defeat. He was quick to point out what his Crimson Tide players need to do in order to turn their season around and play to their potential.
"We're a team that has to work hard to make our breaks," Lawrence said. "We're young and a bit inexperienced and we have to fight our way through everything. If we're not willing to work hard, we get in trouble. We try to pump the team up but they have to take ownership of the effort. We're coming off two straight games where we put our best foot forward. And tonight we took a step in the other direction. We've seen flashes of it here and there, but we need it to be sustained through all three periods."
Brattleboro (5-1) will return to action against U-32.
Spaulding (2-6) will face Burr and Burton Academy at 5:30 p.m. Wednesday.