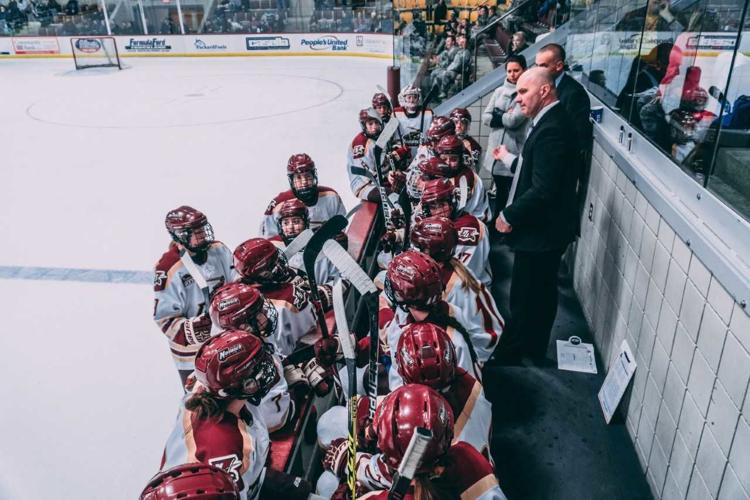 NORTHFIELD — Twelve-year veteran Norwich women's hockey coach Mark Bolding announced Tuesday night that he has stepped down to take on the same role at Yale University.
Bolding has been a driving force behind the Cadets' rise to the top of Division III. The 1995 Norwich graduate has been the women's program's only head coach after the Cadets started varsity play in 2007.
Bolding guided the Cadets to a 266-68-22 record in 12 seasons, including winning two NCAA Division III National Championships in 2011 and 2018. His .778 winning percentage ranks second among active Division III women's coaches and fifth overall.
Norwich won its first national championship with a 5-2 win over RIT in only its fourth season. The Cadets won their second national championship in 2018 with a 2-1 victory over Elmira College at home in Kreitzberg Arena.
"I would like to thank President (Richard) Schneider, Tony Mariano and the entire Norwich and Northfield community for truly giving me a foundation, family setting and strong set of guiding values to allow me to find success while at Norwich," Bolding said in a news release. "... My best times here have been watching these wonderful ladies fight adversity, build trust in each other and pull together to be champions on and off the ice. I am amazed at how many true leaders and hardworking women's hockey players I have been lucky enough to coach here."
Bolding was named the American Hockey Coaches' Association National Coach of the Year in 2010, 2011 and 2012. He won again in 2018 after guiding Norwich to its seventh NCAA Division III Frozen Four appearance in 11 years. He won his 200th career game on Nov. 18 in an 8-0 win over Saint Michael's, becoming the seventh coach in Division III women's hockey history to accomplish the feat.
The Norwich women's hockey program quickly asserted itself as one the premier programs in the country under Bolding, missing the NCAA Tournament twice in 12 seasons. He coached 60 New England Hockey Conference All-Conference players and 29 All-New England Hockey Writers All-Stars. He also coached All-Americans Amanda Wilks (2009, 2012), Sophie Leclerc (2011), Jillayne DeBus (2012, 2013), Sarianne Lynn (2012), Julie Fortier (2012), Kayla Parsons (2013), Tori Charron (2013, 2014), Marie-Philip Guay (2014), Kaycie Anderson (2015), Taylor Cross (2015), Kim Tiberi (2017, 2018) and Sarah Schwenzfeier (2017), Robyn Foley (2018), Amanda Conway (2018, 2019) and Samantha Benoit (2019).
"Mark Bolding has made Norwich women's hockey a nationally recognized program and his success can be attributed to his ability to coach and relate to his student-athletes," said Norwich University Director of Athletics Tony Mariano. "He has done an exceptional job as our head coach and has been a terrific member of our athletic staff. I sincerely appreciate all that he has done for Norwich Athletics and I wish him great success as the new head women's hockey coach at Yale."
Bolding guided Norwich to 10 NCAA Tournament appearances, nine NEHC Tournament titles and six straight NEHC regular season championships from 2011 to 2016. Five years ago, NU became the first team in NEHC history to finish with a perfect record of 16-0. The Cadets accomplished that feat again two seasons ago with a 14-0 mark. Over the last nine seasons, Norwich has gone 141-5-5 against NEHC league opponents.
Prior to taking over the women's program, Bolding served two stints as an assistant coach for the Norwich men's team under mentor Mike McShane.
Bolding was the men's top assistant coach during the 1995-96 season, leading to one of the finest recruiting classes in Norwich hockey history. That class included Marc Bellemare, Curt Healey, Mike Ludwar, Bryce Herperger and Jason Lumsden.
After a few years away from Norwich working in the engineering consulting industry, Bolding returned to Norwich in 1998 to become an assistant coach to the men's team. In addition to his coaching position, Bolding also served as the marketing director and manager for Kreitzberg Arena, selling over 650 season tickets during the team's first year in the building. During the 1999-2000 season, Bolding helped the Norwich men win its first national championship with a dramatic 2-1 win over Wisconsin-Superior.
A native of Red Deer, Alberta, Bolding was a standout defenseman during his collegiate days at Norwich, serving as the team captain for three of his four seasons. Bolding finished his NU career with 94 points. His 73 assists put him alongside the all-time career assist leaders at the school. In 2005, Bolding was inducted into the Norwich Athletic Hall of Fame.
"Norwich and Northfield is, and will always be, our family's true home," Bolding said. "I will miss the many folks I've met in the NU community and here in Vermont, especially at Kreitzberg Arena throughout the many winter days and successful seasons we've shared. It's been an awesome ride. I wish the team and future new coach continued success. Norwich forever."
Yale is coming off an 8-18-3 campaign. Bolding replaces Joakim Flygh, who served as the Bulldogs' coach for the last nine seasons. Bolding is now the third NU women's hockey coach to move to the Division I ranks after Keith Maurice spent time at Ohio State before becoming the head coach at Trinity (Connecticut). Norwich grad Sophie Leclerc recently concluded her fourth season as an assistant coach at Colgate University.
Norwich will begin a national coaching search immediately.