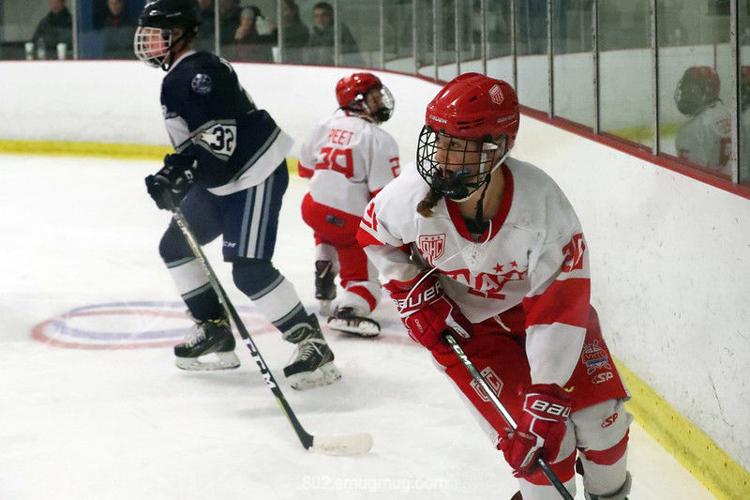 Last Friday, 14-year-old Montpelier skater Georgia Schiff verbally committed to play for the Cornell University women's hockey team in 2022.
Schiff's announcement follows two other high-profile commitments by Central Vermont hockey stars. Last October, 14-year-old Fayston product Isabella Vasseur committed to play for the University of Wisconsin in 2023. The following month, 15-year-old Middlesex skater Jack Kurrle formally declared his intentions to play for the University of Vermont in 2022.
"The last few years, things got more competitive, and you see it with the commitments happening at a younger age," Dynamo HC coach and owner Brett Leonard said. "The majority of kids still don't commit until 18 or 19. But you'll see it sometimes when a kid shows promise at a young age."
Schiff is a MHS freshman who competed for the North American Hockey Academy Prospects this past winter, joining forces with East Montpelier's Brooke George. They won their league's 14-and-under division and captured the 2019 Challenge Cup. The pair also played a 40-game schedule with the Dynamo Hockey Club boys elite team, beginning their season in August before wrapping up last month. Schiff tallied 20 goals and 25 assists for the Dynamo.
Last fall, Schiff was a Second Team selection for the Times Argus Soccer All-Stars, while her older sister Chloe was named Player of the Year. In addition to holding down the starting goalie position, Georgia Schiff also made the trek to and from Cairns Arena in South Burlington to compete with the Dynamo all fall.
"A lot of my kids will play fall sports, so we're flexible and we understand their schedule," Leonard said. "That's how AAA hockey is around most areas where we start earlier."
Each year, the Dynamo kick off their season with a late-August training camp in Jay Peak. The five-month game schedule begins in September, but players take a week off for Thanksgiving and enjoy a two-week break for the holidays. Schiff and George missed a couple Dynamo games due to conflicts with their NAHA squad, but their full-season commitment to Leonard's team was never in doubt.
"We build in breaks, but our program is known for player development," Leonard said. "We practice more than anyone, with off-ice training. We focus on skill development and power skating to set these kids up for success later on."
In 2011, Leonard became the first Vermont native to be named a UVM captain. After graduating, he pursued his dream of starting a training facility with on-ice skill programs. When Leonard met Schiff three years ago, he encouraged her to try out for the boys team. Following two strong seasons, the Capital City star became a sought-after player on the regional stage and beyond.
"This year, she started drawing a lot of attention from colleges and I probably talked to 8-10 schools on her behalf," Leonard said. "And instantly there was something about Cornell. The family talked to their coach and it seemed like the right fit academically and athletically.
"She saw them play in the Frozen Four and she liked their style of play — it matched how Georgia plays. And it happened pretty quickly. I talked to their coach Thursday night and Georgia called me Friday telling me she committed."
Schiff has developed a reputation as a complete player who excels at the 200-foot game, patrolling every inch of the ice. Her advanced skating ability and stick skills complement an aggressive, up-tempo approach.
"She plays with an edge, she's tough and she does all the little things," Leonard said. "She's very reliable on the penalty kill, she's great at blocking shots and she plays well in her defensive zone. She's very focused and she's one of the hardest workers I've ever had since Day 1.
"She's a taller girl and it takes a little more time to develop that first-step quickness, but she's working on that. And the college coaches have told her to drive the net a little bit more."
Leonard was the skills coach this year for the Rice Prep girls team. Although checking is not permitted in girls hockey, the physicality of the sport can't be denied.
"They're not allowed to full-out check like the boys, but there is still a lot of body contact and the girls are using it to gain possession," Leonard said. "If anything, I think it helps them to play with the boys."
Schiff plans to return to the Dynamo program next season in addition to playing tournaments with the Pittsburgh Penguins 16-and-under elite girls team. She and George both tried out for the under-15 national camp for USA Hockey, and they'll find out if they made it next month. Schiff also intends to continue playing soccer for Montpelier.
It's a busy schedule for anyone — let alone a teenager — but Schiff is always up for a challenge. And despite being so athletically gifted, she understands what the preparations for D-I hockey entail.
"Georgia knows, and we know as her parents, that she has a lot of work to do over the next few years on the ice, in the gym and in the classroom to follow through on this commitment," her mother Elise Annes said. "Georgia loves the game and she is a curious, hard-working student. So as long as she stays passionate about the game, and continues to work hard at school, she can make this happen."
It's a six-hour trip to Lynah Rink in Ithaca, New York, but local fans would only have to travel an hour to watch Schiff play at ECAC rival Dartmouth. Cornell is a 14-time Ivy League champ, facing off each season against Brown, Clarkson, Colgate, Harvard, Princeton, Quinnipiac, RPI, St. Lawrence, Union and Yale. The Big Red punched a ticket to the NCAA tournament seven times in the past decade, making four Frozen Four appearances.
Schiff could also continue Montpelier's recent trend of producing D-I student-athletes. This year, Cricket Basa (Holy Cross Soccer), Thunder Keck (Stanford Football), Joe Parento (UVM soccer), Matt Hynes (UVM cross country) and Theresa Noonan (UVM cross country) were on D-I teams. Next year, MHS grad Ada Rohan will compete for the University of Georgia equestrian program.
"We take a lot of pride that so many kids are representing Montpelier in a positive light," Montpelier Athletic Director Matt Link said. "... Those kids are very driven and passionate — you have to be to get to that level. It's an indication of the city's success developing talent at the youth level — and the time and effort that parents and coaches have helped them to improve along the way."
Link's sister was a D-I hockey player and he's familiar with the recruiting process. Although he knew Schiff might eventually play at the D-I level, he was surprised to hear the news so soon. At the same time, he's learned not be surprised by any of Schiff's accomplishments.
"She's a super competitive person, but she doesn't let anything ruin her day," he said. "You have some people who are really competitive who are not fun to be around if things don't go their way. She doesn't have that to her. She will do whatever she needs to in order to win, and she'll do whatever the team needs of her. She's a model citizen and she's someone you want 20 of on a team. Being a soccer goalie is probably the most vocal position out on the field, and she was able to do that as a freshman. She's very confident in herself, which is natural for someone with so much talent. It was a great soccer season, and for her to carry it over into the hockey season was great. For her to be on Cornell's radar is pretty insane."