MONTPELIER — Three Republicans are trying to break into the statewide political scene by running for the Vermont Senate in Washington County.
This year's Republican candidates, all running for state office for the first time, are Chris Bradley, Dwayne Tucker and Ken Alger. They are facing off against Democrats Ann Cummings, Anthony Pollina and Andrew Perchlik in November's election.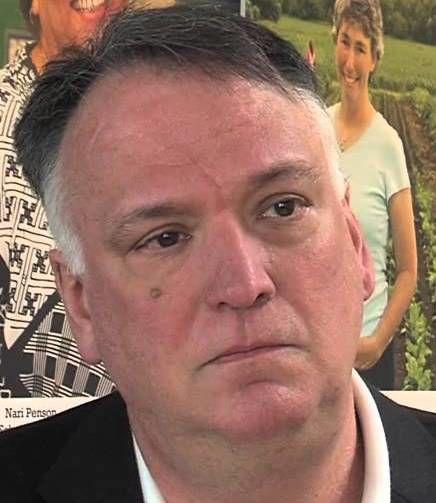 Bradley, a 59-year-old from Northfield, is a computer systems engineer and owns the software development company NatWorks as well as the computer repair and consulting company ACK Computing.
He has served as a Select Board member, a grand juror, a sewer department commissioner and electric department commissioner in Northfield.
Bradley said he's running because he wants to make a difference in the affordability of the state. He's fearful of some legislation that has been discussed such as a carbon tax and a payroll tax. Bradley said Vermont has the fourth-highest tax burden in the country.
"And people are actually looking to consider a carbon tax which could add 25 to 30 cents a gallon on gas, diesel and home heating oil? I'm concerned about the climate, but I'm also concerned about affordability. I think there are people in the state, right now, mostly elderly, that have to make decisions daily as to a choice between medication and food. And to consider an additional burden of hellacious costs to keep warm goes beyond the pail. I'm aghast," he said.
Bradley said most residents might recognize him as a vocal supporter of guns and gun owners. He's a registered lobbyist with the Vermont State Rifle and Pistol Association and the Vermont Federation of Sportsmen's Clubs.
He said according to most of the polls he's seen, guns are not seen as a major problem in the state. He said what is a problem is the state's increasing debt due to state employee pensions which needs to be addressed.
Bradley took exception with the law recently passed that will pay those from out of state $10,000 to move here and work remotely, which he called a bribe. He said he recently saw an article in Forbes Magazine discussing where people are moving to in the U.S. He believed Vermont would be at the bottom of the list.
"Vermont's No. 1. Why are we paying any money for an out-of-stater to come here and maybe settle?" he said.
He said that money should be going to small businesses in the form of a grant to help keep them going.
Alger, a 51-year-old from Barre Town, has been in the construction industry for 30 years. He currently serves on Barre Town's Bike Path Committee and has been a board member for the Caledonia Forest and Stream Club. He is also a lifetime National Rifle Association member and an NRA-certified pistol and rifle instructor.
Alger said he's running because he wants to restore citizens' constitutional rights and to see more business opportunities in the state.
He took aim at the gun laws passed this year. Alger said the laws banning certain ammunition magazines and bump stocks violated the fourth amendment by not compensating those that purchased said items before the law went into effect.
"They invested money in those things and when you ban them they devalued them and made them illegal. There's no way they can get compensation for them. They can't sell them legally, (legislators) want you to turn them in to police," he said.
Alger said he also doesn't like that police can now seize without a warrant firearms from a home where a domestic assault has been reported.
"They don't even have to be evidence or anything. That's taking their property and then you have to go in and try and get it back. … (Police) should not be able to take your property without due process," he said.
Alger said he hopes to bring common sense and fiscal responsibility to the state Senate. He said he doesn't like how the state budget works where departments are incentivized to spend all their money by the end of the year so they can get the same amount in the next budget.
Tucker, a 42-year-old from Barre Town, describes himself as a "true conservationist and cares greatly about the environment." Tucker has degrees in civil and environmental engineering. He's coached football for Barre Youth Sports Association as well as little league in Barre.
Tucker said he's running because he isn't happy with the current state of Vermont. He pointed to the opiate epidemic facing the state as well as the financial crisis some Vermonters are facing, stating economic growth is at an all-time low. Tucker said he wants to see an audit done of the entire state in an effort to cut down on frivolous spending by state officials.
To address the opiate epidemic, Tucker said he wants to see more treatment and rehabilitation facilities and fewer methadone clinics.
Tucker also wants to reform welfare.
"We have mandatory drug testing for our truck drivers in the state and we don't have any mandatory drug testing for people that are on welfare for 12 years," he said.
Tucker while he doesn't have a background in politics, he's been following politics closely for the past seven years. He said he has first-hand knowledge of the crisis facing blue-collar workers in the state.
"I've been trying to build a construction business for several years now and I see everybody that's in the construction industry has some sort of chemical dependency," he said.
He also isn't a fan of a carbon tax. He called it a perfect example of mismanagement of taxpayer funds.
"When I asked why they wanted to impose a carbon tax, (legislators) said it was because they wanted to put forward a better effort on trying to get people to reduce their carbon footprint in Vermont. Everybody I know has reduced their carbon footprint as much as humanely possible because they don't have the money to spend $3 or $4 a gallon on heating fuel," he said.
eric.blaisdell @timesargus.com