Anyone can visit Burnt Mountain, but they have to meet this place on its own terms. This conserved forestland, in the Northeast Kingdom of Vermont, is being dubbed "forever wild."
"Burnt Mountain will thrive in perpetuity and do it on its own terms," said Jon Leibowitz, executive director of the Northeast Wilderness Trust. The nonprofit organization is currently negotiating a "forever wild" conservation easement for the forestland, which is owned by the Nature Conservancy.
"In the most simple terms, the land will remain unmanaged and wild," said Leibowitz. The language for the conservation easement for this property will specify a light hand when it comes to management of the forest. The forestland will essentially be set aside and allowed to "go on at its own pace," he explained.
Burnt Mountain is located near state parks, privately owned conserved lands, and the Long Trail State Forest, creating an 11,000-acre block of unfragmented forest managed for multiple uses. While non-motorized or -mechanized recreation will be allowed, timber harvesting will not be permitted. The forest will be left to cycle carbon and water and provide habitat for birds and wildlife.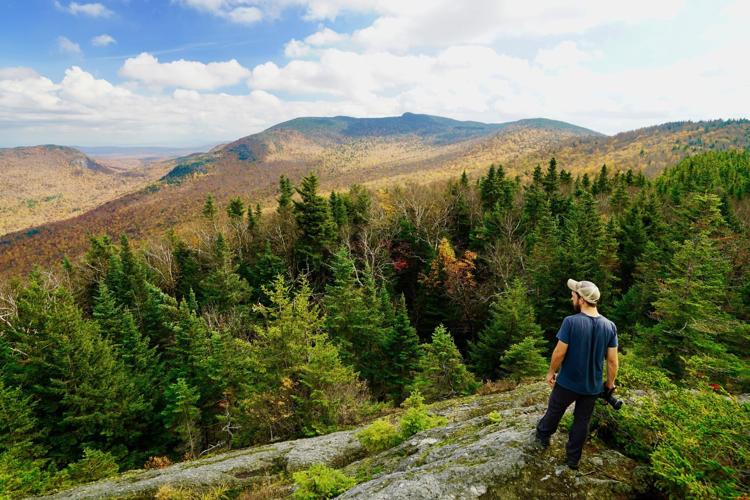 Intact and healthy forests like Burnt Mountain clean our air, remove pollutants, release oxygen, improve water quality, moderate the local climate, are more immune to invasive species and slow the impact of climate change by storing carbon. Conserving forestland in Bridgewater Corners is another example, where 359 acres will be protected as "forever wild" in late 2019 by the Wilderness Trust, while maintaining access for fishing, hunting, swimming, and hiking.
"Forests are the big ecosystems here in Vermont," said Jim Shallow, director of conservation with the Nature Conservancy. But, he added, forestland cover is on the decline in Vermont due to land-use change and fragmentation, which occurs when forests are divided into smaller parcels and developed into homes and commercial areas.
"The trends are going in the wrong direction," he said. "Anything we can do to protect forests is important." Wild forestland, like Burnt Mountain, makes up just 3.2 percent of Vermont's forestland, and even less than that in the Northeast Kingdom.
Burnt Mountain, which is a 5,487-acre forested expanse that spans the towns of Montgomery, Eden, Westfield, Lowell and Belvidere, was originally part of a larger forestland tract, known as the Atlas Partnership. The original 26,000-acre land was previously owned by a timber company, and now the remaining land is being sold privately as 13 individual parcels. The private land will come with conservation easements that allow for some timber harvesting and maple syrup production, but overall the easements will be skewed towards conservation.
Selling the land privately allows the Nature Conservancy to generate income, which nonprofits regularly do to fund operations and their mission. The difference between for-profits and non-profits is how income is used: At the conservancy, the income generated from the sale of this private land will be used to fund other conservation projects.
"Our mission is to protect land and water, on which we all depend," said Shallow. Land conservation, as a whole, is in a declining revenue environment, and many are looking for innovative ways to fund future projects.
In addition to providing habitat and clean air and water, large, intact forests like Burnt Mountain also play a critical role in mitigating the effects of climate change. Preserving areas like this one give wildlife space to move and adapt to changes in weather patterns or food availability caused by climate change. And trees and plants take up excess carbon out of the atmosphere.
That excess carbon is what Shallow refers to as a blanket, as it forms a layer around our planet and causes warming temperatures. With projects like Burnt Mountain, Shallow says, "We're making that blanket a little thinner."
The Nature Conservancy intends to enroll Burnt Mountain into the regulatory carbon market. Burnt Mountain will become Vermont's largest carbon storage project and the first to be eligible for California's regulatory compliance market.
The compliance program caps carbon emissions and requires companies to reduce their emissions by 92 percent, while allowing offsets of up to 8 percent of their emissions through the purchase of stored carbon (also known as credits). This provides a new and emerging source of revenue for forestland owners that own upwards of 5,000-acres. Markets are also emerging for carbon that is stored through improved forest management on working lands.
Burnt Mountain's enrollment in the carbon market will be determined by a forest inventory of the property to take place later this year. Early estimates suggest the parcel will yield over 236,772 credits, at an approximate value of $2 million over a 10-year span, making this project one that the Nature Conservancy believes can be a model of what is possible in the carbon market for Vermont forests.
A recent report on climate change from the International Panel on Climate Change, an international group of scientists, calls for cutting carbon emissions as quickly as possible. The wording is uncharacteristically strong for the science community, underscoring the dire results of this report's findings.
The report, authored and edited by 91 people from 40 countries and including more than 6,000 scientific references, calls for drastic cuts in greenhouse-gas emissions from sources like industry and transportation. When these reductions fall short, emissions like carbon dioxide will need to be removed from the air, which is one service trees can provide.
This is why Eve Frankel, also with the Nature Conservancy, calls land protection a climate strategy. "It's one way to mitigate the effects of climate change," she said. To this end, the "forever wild" management of Burnt Mountain is also a long-term climate-change management strategy.
"People say we'll develop a technology to remove carbon," added Shallow. "Well, we've got that technology, it's called a tree."