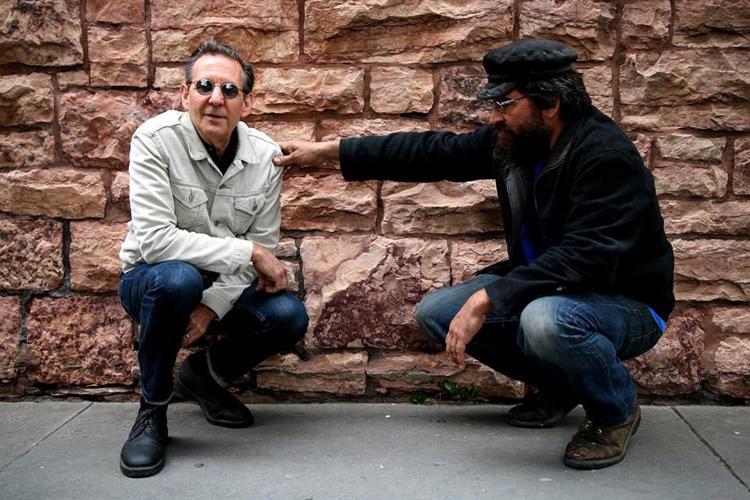 As many of my readers know, I love making new discoveries around my adopted hometown of Montpelier. I made one this past weekend as I strolled down Elm Street on a sunny Sunday afternoon.
The little spot that was formerly Philamena's and for a brief period a Korean restaurant that I unfortunately never got to try is now the Hippie Chickpea. Despite the hokey name (it could be worse; imagine Hippie Garbanzo Bean), the place has a lot of promise.
They offered friendly service and a menu of tasty, healthy, authentic Middle Eastern food. I had the beef gyro (the proprietor promised that lamb was coming) and it was excellent. The small location in the middle of Elm Street has been a hard spot to make it in for many. Let's hope this welcome addition of a food option not readily found in the capital can stick around.
And speaking of new discoveries, there is lots to discover on the live music scene, as it is chock-full of options this weekend to close out September. We'll start far-afield at the high end of things as three-time Grammy nominee Neko Case makes a rare appearance in her adopted home of the Northeast Kingdom. She'll perform tonight at St. Johnsbury Academy's Fuller Hall at 8 p.m. The iconic singer-songwriter is currently on an extensive U.S. and European tour, which will keep her on the road through part of December. Thau, of the band Get Down Stay Down, opens the show. I had a hard time with the tickets link, but you can get those if there are any left for tonight's show at www.songkick.com.
Working our way back toward the capital region, the little hamlet of Cabot has become somewhat of a hotspot of late, with Cabot Arts leading the way. They've been utilizing the old Cabot Town Hall for concerts, a tradition that seems to be finding new life recently. On Sunday, the duo Martin Grosswent & Susanne Salem-Schatz will perform American roots, early blues and old-time honky tonk starting at 4 p.m.
On Tuesday, Oct. 2, Danza Del Fuego, which plays fiery, passionate music in the Romani tradition, performs at 7 p.m. The Burlington-based act leans toward the flamenco style of gypsy music, a wide diaspora that includes many traditions. This one should be fun and great for dancing — well worth a weeknight out considering the show starts early. Both shows are for donations at the door, with all proceeds going to the artists.
Heading back to the capital proper, the weekend is full of options at a number of venues around town. Charlie O's gets the weekend started early, tonight, when it hosts surf-rock band Head Henchman for bartender Beckie Sheloske's birthday party. The Montreal act plays authentic '60s instrumental surf rock that would make Dick Dale proud. In addition, to help celebrate Beckie's big day, there will be a 39-person Sangrita train at 9 p.m. A Sangrita is a shot of tequila chased by a lime-infused spicy tomato juice that is better than the sum of its parts, and drinking them train style (one person after another in succession around the bar) is too much fun. Happy Birthday Bex!
On Friday night, it's jazz in the early slot at 6 p.m. with Z-jazz. They'll be followed by funky blues with The Medicine Tribe at 9 p.m. Saturday brings my pick of the week when two of our best local acts make a rare appearance for a great double-bill. Kufui, the post-punk prog instrumental duo comprised of Jesse Gile and Andy Suits is coming out after a long hiatus. It'll be great to see these guys playing their unique, energetic tunes once again. Screwtape Letters fills the other half of the evening. These guys don't play out much, but my feeling is that's because they want to be better every time they make an appearance. It probably doesn't hurt that you can hear the influence of one of my favorite bands, Ween, in their original material. Highly recommended, starting at 9 p.m.
Around the corner at Positive Pie II on State Street, it's been relatively quiet on the live music front as of late, but that's about to change. On Friday night, reggae fans can rejoice when Vermont Dub School hosts a star-studded evening featuring the Grammy-nominated Jahdan Blakkamoore and son of the legendary Bunny Wailer, Asadenaki Wailer, plus other special guests and local dub outfit Satta Sound. The show starts at 10 p.m. for $10 at the door.
I heard through the grapevine that Sweet Melissa's scheduled act for Saturday night had a booking "oops" and had to cancel. No word on if Mel's will fill the slot at this late date, but they have a way of pulling live music out of where the sun don't shine in such circumstances. Tonight you can catch Not Quite Dead at 8 p.m. My hunch is their name is a nod to The Grateful Dead, so you can probably expect something in that direction (it's a tough one to Google). Dave Langevin plays the early slot at 6 p.m.
On Friday night, it's Sweet M's Hot Mess, the venue's monthly "anything goes" variety show. Show up early to sign up before the 9:30 p.m. start time if you wish to perform. On Sunday of course, it's the ever popular live band karaoke with The Butcher Blocks starting at 8:30 p.m.
Danny Coane, one of our area's hardest working musicians, is very diligent in keeping me informed about his gigs, this week being no exception. You can catch him and his vintage country act Them Boys at The Whammy Bar in Calais on Friday night starting at 7:30 p.m.
Another great show happens Friday night at ZenBarn on Guptil Road in Waterbury Center. Soule Monde, the avant-funk project comprised of Russ Lawton on drums and Ray Paczkowski on keys. If you want deep grooves with instrumental fireworks, this is a show for you as these dudes are beyond talented. Entry is $8 in advance and $10 at the door for the 9:30 p.m. show. For more information, visit www.zenbarnvt.com.
That wraps up this week. Make new discoveries and go see live music.
Ed DuFresne has produced concerts and events (which he prefers to call shows) in and around central and northeastern Vermont since the late '90s. He is grateful to live in Montpelier with an exemplary renaissance man as a housemate.