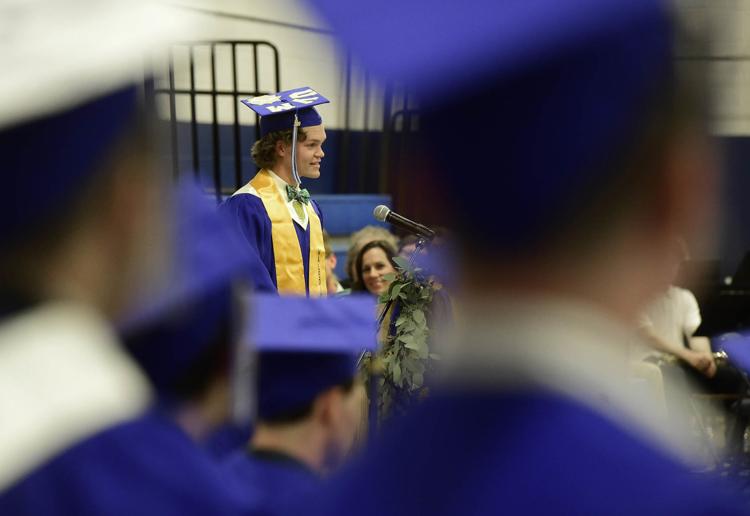 WILLIAMSTOWN — It felt very much like a family affair during commencement at Williamstown Middle/High School on Friday.
There was the pomp and circumstance of a traditional graduation but the real message to students from staff, faculty, friends and family was that they belonged and were loved, and hope poured out for their future success and happiness.
"These students wouldn't be here ready to embark on their post-secondary pursuits, if it wasn't for their parents, guardians, grandparents, siblings, aunts and uncles' efforts in ensuring that they were supported throughout their educational journey thus far," said Co-Principal Jamie Kinnarney. "Therefore, I want to thank you all, on behalf of our graduates, for your support and sometimes-required gentle nudge.
"In addition, I want to thank the educators that have served not only as teachers but mentors and surrogates to these soon-to-be graduates. I'm confident that due to your instruction, compassion, guidance and empathy, all the students sitting in front of us tonight are destined to reach their greatest potential," he added.
Kinnarney noted that 67% of graduates plan to attend college in the fall. Other students planned to become certified in trades and one student was joining the military with a special focus on technical intelligence.
"Tonight marks the end to a chapter but also brings the excitement of the unknown road ahead," Kinnarney said. "Be open-minded, pursue your dreams and as Dr. Seuss greatly expressed, 'Why fit in when you were all born to stand out.'"
Valedictorian Evan Choquette and Salutatorian Devin O'Neill were next up, with Choquette delivering the address they both wrote.
Choquette joked that the day marked "the end of a very long and often unpleasant period of time that seems to have gone by in a flash but has given way to something greater, something which everyone will undoubtedly enjoy much more. In case you haven't guessed, I'm talking about the summer solstice."
They also noted that, at times, the past years had seemed interminable, through lessons and exams, and at other times, had flashed by, on field trips and other shared experiences.
Choquette thanked teachers, staff, family and friends for their support through school, adding the line, "Life moves pretty fast; if you don't stop and look around once in a while, you could miss it," from the movie, "Ferris Bueller's Day Off."
"Congratulations Class of 2019, thank you all and have a fantastic summer," he added.
Brooke Nadzam, the school's librarian, was selected by students as the guest speaker at commencement. But she wasn't sure why and wondered what pearls of wisdom she should share with them.
She said that when she asked "a bunch" of students why she was chosen, she was told that the second-most popular answer was because she was most like their mother.
As a mother figure, she said she could be helpful in many ways and give good advice, such as being nice and telling students to keep their room clean and to wear sunscreen.
"It's easier to keep things up than it is to catch things up," she said.
She also noted that mothers love unconditionally.
"And I do, I care very deeply about all of you. We all do. We don't do this for the glory. So, if you ever need anything, we're here," she said.
The first most-popular answer why students chose her was because "I was your second choice," she said, to much laughter.
She said she was second choice often.
"Frankly, it's not about being No. 1," she said. "It's about always showing up. It's about never giving up and it's about always doing the right thing and putting in 100%.
"We're proud of you, and in closing, as many of you know, I don't want to wish you good luck, because you don't need good luck — because you got skills," she added.
The senior message and class gift were presented by Lexis Coates and Shylah King.
Class gifts were $200 to 6th grade students (Class of 2026) and a gift card to the Cornerstone Pub and Kitchen in Barre to buy dinner for faculty and staff.
In a surprise announcement, Coates and King also presented a framed certificate in memory of longtime physical education teacher and athletic director Jenny Earls, who died unexpectedly of cancer in June 2017. Receiving the certificate were Earls' husband Garrett and her son, Kyle.
The certificate announced that the lower sports field at the school would forever be named after her.
The school band played "Pomp and Circumstance" during the procession, the national anthem was sung by Savannah Covey, diplomas were presented by Co-Principal Renee Badeau and the declaration of graduates was by Mike Bailey. The Recessional was "Should I Stay or Should I go" by The Clash.
stephen.mills @timesargus.com