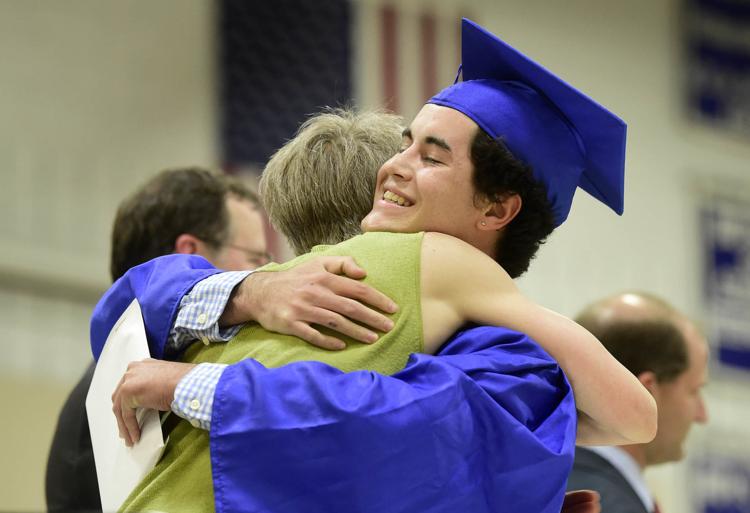 EAST MONTPELIER — Jim Willis has been teaching math for 53 years, and on Friday evening, the man who is suddenly between jobs showed he has a way with words. Not big ones, but good ones.
Chosen to speak at the 47th commencement of U-32 Middle and High School, Willis delivered for the seniors who selected him and who he joined heading for the exit after the ceremony was over and he was satisfied they'd done what he'd instructed.
"As soon as this gig is over I want you to run to the people that raised you … and give them a hug because without them you wouldn't be here," he said. "You hear me? That's an order. Tell them how much you love and appreciate them. They loved you as best as they possibly could. Guaranteed."
It was simple advice from a plainspoken man with an infectious smile and a love of life and it was delivered long after the teacher who confided he'd just lost the best job he ever had turned his back on the audience.
It wasn't to be disrespectful, Willis came to speak to the students, many of whom tried without success to prevent his job from being cut during a recent round of budget deliberations.
That, Willis said, was a flesh wound compared to Travis Roy, the Boston University hockey player who lost the use of his arms and legs 11 seconds into his first collegiate game. Though it happened before they were born, Willis told graduates Roy wasn't much older than they were when his life changed in two seconds time.
Willis half-apologized for the sharing the sobering story.
"I didn't come here to make you feel crappy," he said.
Willis, who arrived with his speech and roll of toilet paper he lovingly hurled at Assistant Principal Jody Emerson right in the middle of it, came to make them think.
He succeeded, bouncing between jokes and a listen-to-what-I'm-saying-to-you demeanor.
Willis, who has already landed a job at Spaulding High School, has been at it for awhile.
"I had Abraham Lincoln in the third grade," he joked before suddenly shifting gears.
"Life is tough … It ain't easy," he said. "I guarantee each one of you you will suffer many setbacks … but how you deal with those setbacks will define who you are as a person.
"You're going to get kicked in the butt. Get up and move on with it," he added.
Willis warned against drinking and driving, he urged respect for veterans and offered some health tips.
"Wear sunscreen when you go outdoors. Cancer sucks," he said. "If you don't smoke or vape don't start. Don't do it. If you do smoke or vape, get help and stop, cancer still sucks.
Willis vouched for the value of a smile and urged graduates not to waste one minute of their young lives.
"Live in the moment guys," he said. "Enjoy life, it's a blast. Live in the moment!"
Then he brought down the house when ordered them to run and hug the people who raised them as soon as the ceremony was over.
"That's a hard one to follow," Principal Steven Dellinger-Pate said after Willis walked off the stage.
It was, but there were other memorable moments in a graduation that was forced indoors due to weather.
Some were part of the script.
Selected by fellow graduates to speak, Lucy Wood and Max Sabo offered both parting thoughts and congratulations to their classmates.
Wood went first, noting the graduates didn't remotely resemble the students who arrived at U-32.
"We've evolved into stronger versions of ourselves ready to face the world," she said, noting school was an important part of that evolution, but there was a whole lot more to it.
"The deepest learning we experienced came from fights with our parents, conflicts with friends, breakups, summer jobs and many late nights trying to finish our assignments," she said. "Through these experiences we learned what it means to be people and we learned about who we are."
Sabo said he is ready for what comes next.
"I'm excited to see what the future holds," he said, suggesting U-32 had provided a "foundational" education and noting graduates had learned to answer other questions along the way.
"How do you manage the work? How do you balance responsibility and free time? With jobs? With sports?," he asked. "How do you communicate with adults? Schedule appointments? … To me these are the important questions that prepare us for life after high school."
Sabo said U-32's Class of 2019 was ready in more ways than one.
"We've learned … how to pick ourselves back up, how to fend for ourselves, listen, empathize, problem solve," he said, suggesting as they ready to scatter in different directions the graduates were poised to be successful.
Graduates heard briefly from outgoing Superintendent Bill Kimball.
Kimball, who spoke first told graduates they were "ready to go."
"Today starts a new part of your life," he said. "So as you go out on your own adventures, have fun, go exploring, try new things and remember the great times, good friends and all you've gained here at U-32."
Dellinger-Pate expressed a similar sentiment, advising parents their children were ready.
"They are prepared to contribute to their local and global community," he said, adding: "They are ready to engage with the world in and out of central Vermont."
Not, Willis later advised, before hugging the people who raised them and loved them the best way they knew how.
david.delcore @timesargus.com