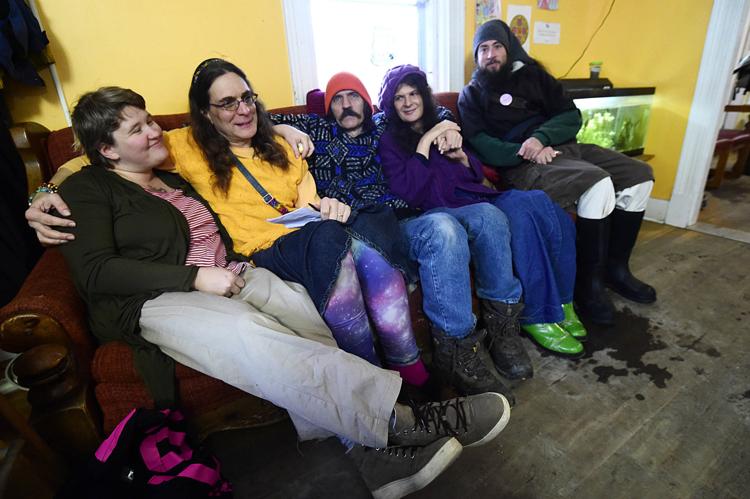 BARRE — Advocates for the homeless in central Vermont report they have been able to improve and increase services for people seeking shelter, food and support services.
Officials report that the early start to winter, two snow storms and cold temperatures created an increase in demand for services.
Once again, churches in the region have responded by providing additional meal services in Montpelier and Barre, while churches in the Lamoille Valley, are being asked to shelter the homeless until a new shelter opens in Hyde Park.
Patrick Donegan is the new interim executive director at the Good Samaritan Haven in Barre, which has 30 beds. He is also responsible for overseeing overflow shelter services at the Hedding United Methodist Church in Barre with 14 beds and the Bethany Church in Montpelier with 20 beds.
"We haven't yet reached capacity, but things are going well," Donegan said.
He said pop-up warming stations run by three churches in Montpelier Christ Church on Mondays, Trinity Church on Tuesdays and the Unitarian Church on Thursdays provide evening meals, in addition to the rotating interfaith community lunches provided during the week.
In Barre, different churches also offer pop-up warming stations or the Good Samaritan Haven will bring food to the overflow shelter at the Hedding United Methodist Church for dinner. Barre churches also offer a breakfast service for the homeless.
During the day, the homeless have to leave the shelters and most head to Another Way at 125 Barre St., which is open seven days a week.
Another Way works with people who are homeless, unemployed or suffering with addiction, mental health issues and other life crises. The peer-led nonprofit helps people transition, recover and move toward a better place in their lives. The organization helps people find housing, employment, counseling and other services.
"We have made a huge effort to have somewhere for people to be at all hours so they don't have to be out in the cold," Donegan said. "They leave the shelter in the morning and can go to Another Way, seven days a week. Lunches are provided at community churches in Montpelier and in Barre, and then we provide lunch at Another Way on Saturday and Sunday."
Earlier this year, the Legislature appropriated $330,000 to fund services at the Good Samaritan and the two overflow shelters in Barre and Montpelier.
Advocates of the funding said shelters are better able to connect the homeless with employment and training programs, affordable housing and mental health and disability services that could lead to more permanent housing.
An additional $100,000 from the Legislature this year will be used to open a new 12-bed facility in Lamoille County. The new Lamoille Community House shelter is situated in a 3,000-square-foot property donated by the Lamoille County Sheriff's Department behind the Hyde Park Opera House.
However, Lamoille County Sheriff Roger Marcoux said the project has been delayed, despite submitting a zoning application for the change of use for the building in September. He said the Development Review Board only met Nov. 15, and after closing the public hearing, has 45 days to issue a written decision, followed by a 30-day appeal period.
"We only met with the DRB on November 15, which is the day we would have liked to open," Marcoux said. "In the meantime, we contracted with a company to renovate the inside of it.
"The only things we have to do is to put in the new windows; everything else is done, so we're ready to go," he added.
Marcoux said there were 39 adults and 24 children that met the criteria for being homeless in Lamoille County.
The Hyde Park shelter began as an interfaith alliance of churches that have worked together in past years to meet the needs of the homeless in the Lamoille Valley area during winter, providing space in church basements in Johnson, Hyde Park and Stowe. Congregations in Wolcott, Morrisville and other neighboring towns were also involved in community outreach to the homeless.
Marcoux said the interfaith alliance would be asked to continue to provide services until the Hyde Park shelter can open.
stephen.mills
@timesargus.com
stephen.mills
@timesargus.com