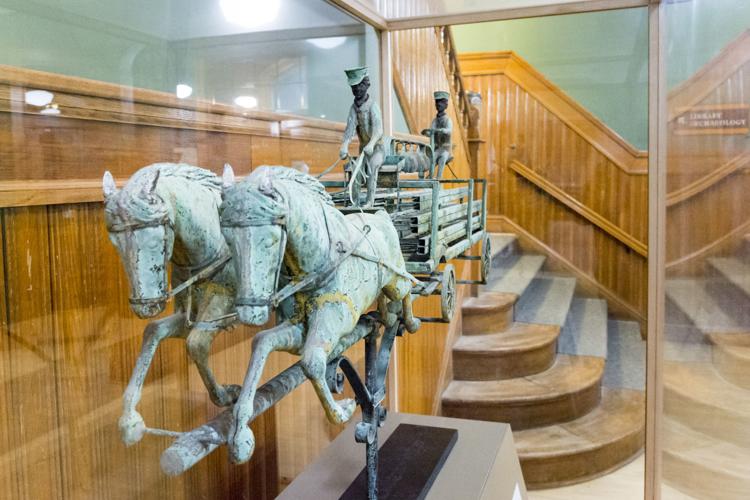 BARRE — As the Weather Vane Turns?
The cast of characters has changed with the exception of two — both now in new roles — but a once-popular City Council soap opera could be making a comeback thanks to fresh questions about the value of the antique weather vane that once graced the "drying tower" of the city's former fire station.
Forged for $75 in 1903 the weather vane, which depicts a "flying" horse-drawn hook-and-ladder truck, was the subject of a couple of unsolicited offers more than a dozen years ago and has since been insured for $1.2 million.
In 2007 – months after a photograph of the handsome, hammered copper weather vane made the cover of the city's annual report – a council, which then included City Manager Steve Mackenzie and City Clerk Carol Dawes, rejected a Connecticut auctioneer's jaw-dropping offer to buy it for $950,000.
Mackenzie, who was absent due to illness Tuesday night, made the 12-year-old motion that was unanimously approved and Dawes was instrumental in helping craft the agreement that led to the valuable relic being placed on public display at the Vermont History Center later that year.
End of story?
It was until Tuesday night when councilors tabled action on what some viewed as a head-scratching proposal to engage an appraiser to assess the value of the weather vane they were told costs the city nearly $2,300 a year to insure.
In Mackenzie's absence, Mayor Lucas Herring suggested there were two potential justifications to invest what councilors were told would be roughly $1,550 in an appraisal.
One, Herring said, would be to determine whether the weather vane is appropriately insured. The city, he said, could save money by insuring it for less.
That explanation didn't fly far with Councilor John Steinman.
"Why are we doing this?" Steinman asked. "Couldn't we just decide to insure it for a lesser amount and pay less annually? Why do we have to spend thousands of dollars to do that?"
Herring said there was another consideration.
"The second part of the question is do we sell it, do we donate it, do we keep it?" he said, ticking down the list of options an earlier council considered when an unsolicited offer of $500,000 received late in 2006 ballooned to $950,000 the following summer.
Steinman still wasn't convinced.
"To do any of those things why do we have to pay (for an appraisal)," he said, before making the motion to do just that.
That motion was tabled, but not before councilors indicated they aren't interested in selling the weather vane though some would entertain donating it to the Vermont Historical Society if only to shed the cost of insuring it.
Councilors Michael Boutin and Rich Morey are on that list and Councilor Jeffrey Tuper-Giles said he could be persuaded to join them.
"I am torn because it is city property and it does have some value," Tuper-Giles said of the weather vane. "But, at the same time I know the Vermont History Center would be the best, safest place for this thing in perpetuity."
Councilor Teddy Waszazak said he isn't interested in selling the weather vane and doesn't want to donate to the historical society either.
"If it ain't broke, don't fix it and this isn't broken to me," Waszazak said, expressing his support for the current arrangement to have the weather vane on display at the Vermont History Center.
Waszazak said he wouldn't be opposed to investing in appraisal, but first wanted to ascertain whether one had already been done.
At least one was, though city officials haven't yet been able to locate it.
In 2007 Ronald Bourgeault of Northeast Auctions in Portsmouth, New Hampshire, pegged the value of the then-century-old weather vane at somewhere between $700,000 and $1.2 million.
Despite some minor "rusting" and "pitting" on the weather vane's copper surface, Bourgeault indicated the unique antique was worth far more than the $500,000 the city had been offered when he conducted his cost-free appraisal at the time.
"… Based on the recent enthusiastic market for collecting rare American weather vanes, coupled with the recent price record set by Northeast Auctions for a steam locomotive tender weather vane sold in the August 2006 sale for $1,216,000, the fair market value range for this copper full-round detailed scale model hook-and-ladder weather vane is $700,000 to $1,200,000," Bourgeault wrote in an appraisal then-mayor Thomas Lauzon shared with the council between unsolicited offers in 2007 and referenced in his update to the community that was published in that year's annual report.
"… Last year the city received an offer to sell the weather vane for $500,000, which necessitated moving the weather vane to a secure location, out of hams way," he wrote, adding: "A recent appraisal has placed the value as high as $1,200,000."
At the time the council agreed to solicit a second opinion, but Lauzon said Wednesday that never happened. Instead, the city consulted with the historical society, reached an agreement to publicly display the weather vane at the Vermont History Center and insured it for $1.2 million.
The weather vane hasn't traveled far since it was produced by Boston-based W.A. Snow & Co. for the former South Main Street fire station that was built for $24,000 in 1904.
It remained atop the fire station's hose "drying tower" until 1983, when an unsolicited offer to buy it for $35,000 coupled with the theft of a similar weather vane in South Burlington prompted the council to order it be removed and stored at the Aldrich Public Library.
It remained at the library – sitting atop a book shelf for more than two decades and was restored with the $3,000 grant obtained by the library in 1993.
However, the 2006 offer prompted a decision to place the weather vane in a bank vault, though Lauzon recalled Wednesday it ended up at the Vermont History Center instead.
Lauzon said he was surprised to see the weather vane back on the council's agenda, and remained opposed to selling what he views as a small, but important piece of Barre's history.
"I don't care if it's worth $2 million, you don't sell it," he said.
That appears to be the view of the current council, though, Boutin said he would entertain donating it to the historical society with the stipulation that it remain on public display in Barre.
Morey agreed the council could explore that possibility and Dawes suggested members might want to review the current agreement the city has with the historical society, which has served as the custodian of the weather vane for the last 12 years.
david.delcore
@timesargus.com