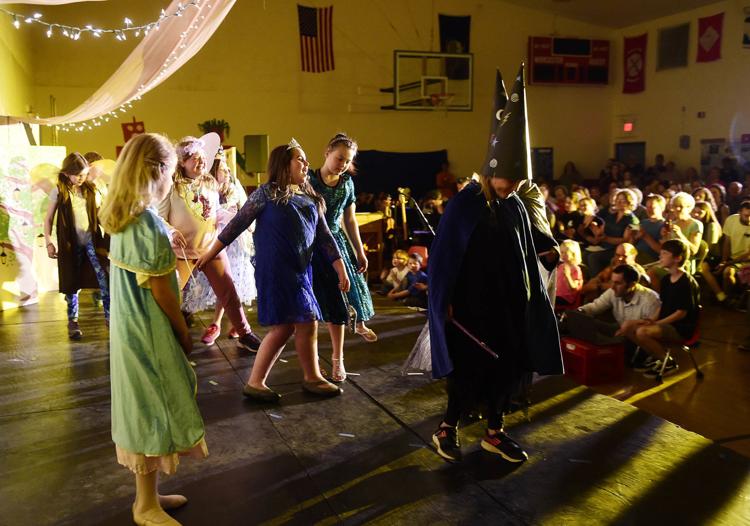 WORCESTER — When it comes to school plays it's literally "no child left behind" in Worcester where "opening night" is "only night" and every student at Doty Memorial School has a role.
All 70 of them.
Preschoolers aren't included, in part because Doty's "All School Play" predates its preschool program and in part because it's probably a reach to ask three- and four-year-olds to take the stage and perform before standing room only crowds, like the one that assembled for Thursday night's performance.
Kindergartners don't get that pass at Doty, where what started as a theater-for-everyone experiment has evolved into a tradition that dates back longer than most folks can remember.
Martha Fitch isn't one of them.
Fitch had to do some mental math following what by her count was Doty's 23rd annual All School Play, but the school's retiring art teacher said she's pretty certain 1996 was the year she and Sharon Newcomb came up with the idea.
Newcomb, a Worcester resident who taught physical education at Doty for 24 years before graduating to U-32 Middle and High School and since retiring, said that sounded about right her.
"It's been a long time," said Newcomb, who has remained part of a small but committed cadre of community members that help with what has increasingly become a student-driven performance.
It didn't start out that way.
Newcomb said the thinking in the beginning was that all students at the then-K-6 school should know what its like to be on stage performing for the community.
"We really felt that it was important for kids to have a theater experience," she said.
In a school the size of Doty, Newcomb said staging a school-wide play was daunting, but doable.
"Why leave anyone out?" she said in the frenzied few moments before the latest show – "Words. On. Paper!" – went on.
It didn't come together overnight.
Principal Matt Young said planning for this year's production started last September as part of a process that was already pretty well-developed when he arrived at Doty four years ago.
"It's just this beautiful community-based learning experience that we do here," said Young, who is leaving at the end of the school year and expects his recently hired replacement, Gillian Fucqua, will be as impressed by the school-community collaboration as he was when he arrived.
"It's awesome!" he said.
Credit a shifting cast of community members – including several veteran volunteers, like Newcomb and Dell Waterhouse – who co-directed this year's play.
Waterhouse taught at Doty for 25 years before retiring in 2011 and remains active in a play with a cast that now includes her granddaughter, Orla.
"I just really feel it's important for kids to have the experience of being on stage," she said, noting she supported the play as a teacher and continues to as a community member.
"It's exhilarating and exhausting, but it is so worth it," she said.
From Young's perspective that is true in a growing number of ways.
In addition to providing a feel-good ending to the school year, Young said the play engages the community, taps the talents of several of its residents and increasingly incorporates student learning outcomes developed in the five-town, six-school Washington Central Supervisory Union.
"We strive for it to be student-driven," he said.
Young said students have long written the original songs that are incorporated into the plays with the help of local musicians Chad Hollister, Ryan LeClerc and Kris Gruen – parents all. This year, he said, they were asked, in "Mad Lib" fashion, to suggest nouns and adjectives that were converted into the quirky characters writers Kate Juliano-Wible and Fitch had to work into the script they delivered before Thanksgiving.
Juliano-Wible said coming up with a cohesive story that includes a strange conglomeration of characters – like "loud-talking tacos," "neon ninjas" and "fairy princesses" – was an added degree of difficulty.
"It's already sort of a tricky thing to have 70 speaking parts in one play," she said.
With Fitch's help, Juliano-Wible made it work and enjoyed watching her daughters – Juniper was one of those talking tacos and the her big sister Tallulah played a neon Ninja – perform with their classmates as part of the broader play.
"'Mad Libs' is a magical device," she said, noting it allowed her to weave a cast of incongruous characters – think talking tacos and break-dancing mermaids – into the script by continuously cutting back to scenes of the school's fifth and sixth graders filling in the blanks while playing "Mad Libs."
"It wasn't easy, but it worked," she said, of a play that underscored the power of words.
That message surfaced – sometimes more subtly than others – throughout the play throughout the play and was hammered home in the refrain of one of the original songs written and sung by students:
"Words can hurt.
Words can heal.
Words can tell a story
when I can't explain how I feel."
Though he is leaving, Young said the hope is next year students will be even more involved in writing the play – as the they are in writing the songs. Set design and publicity are also areas students could work on with the help of community volunteers and a supportive staff that already finds ways to make the play a part of their day-to-day instruction.
"They're just super flexible and eager to incorporate the play as a learning experience and not as an extracurricular activity," he said.
One thing Young said won't change about the play will be the fact that all students participate – even the handful that perform off-stage responsibilities from stage crew members to handling the sound.
"We find a way for everyone to contribute," Young said, explaining students get their first peek at the script before Christmas vacation and are assigned parts before spring break.
"When they come back from spring break we hit it hard," he added. "It's really amazing to see it all come together."
That's one word for it.
Waterhouse suggested another.
"This is by far the craziest play we've every done," she said. "No question."
She meant it in a good way and seemed satisfied with a one-and-done performance that ended with every student in the school – preschoolers excluded – standing together on stage and taking a bow.
There was room to spare on the smallish stage, but no empty seats in the crowded gymnasium.
"I'm really going to miss this," Young said. "It's special."
david.delcore @timesargus.com