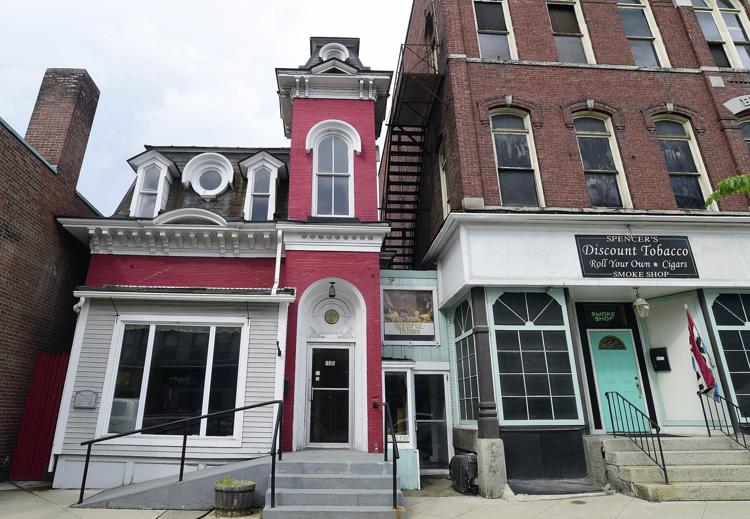 BARRE — City councilors have reversed course with respect to the Wheelock House, opting not to solicit proposals from those interested in possibly buying the iconic downtown building.
Nearly five months after voting to sell the vacant city-owned structure, a council that has since added two new members — John Steinman and Teddy Waszazak — effectively rescinded that decision.
Councilors Michael Boutin and Jeffrey Tuper-Giles never wanted to sell the historic Wheelock House and never delivered the request for proposal they were asked to develop earlier this year.
Enter Waszazak and Councilor Rich Morey, who were subsequently given that task before concluding the property should not be sold.
Morey delivered that recommendation to a generally receptive council Tuesday night.
Though Morey was among those who voted to sell the property, he said he changed his mind after touring it with Waszazak, Steinman and Jeff Bergeron, the city's director of buildings and community services.
"We didn't feel it was going to be an affordable viable option," he said, suggesting it would be a waste of time to solicit proposals given restrictions the city would want placed on the property and the investment associated with its renovation.
According to Morey, the city retaining ownership of the Wheelock House would be the most prudent move and he said he could get behind a plan that was floated by Mayor Lucas Herring and subsequently ditched by the council in January.
That plan envisioned converting the rear portion of a building that once served as the decades-long home of the Barre Senior Center into a teen center and allowing the Barre Partnership to occupy the rest.
Morey said councilors had no interest in trying to find a market-rate tenant for the building — an idea floated by then-councilor Sue Higby in the run-up to the vote to sell the property. Higby, who lost her seat to Steinman in March, repeatedly questioned the viability and advisability of Herring's teen center proposal and remains convinced the council is squandering a potential source of revenue.
Higby indicated as much in a recent email to council members, urging them to pursue an "open and competitive process to occupy the Wheelock House."
In her email, Higby suggested that could involve finding a market-rate tenant as part of a pilot project like the one she suggested in January, or it could involve selling the property.
The current council isn't interested in either option.
After meeting with Bergeron, Morey said he and others felt strongly the city should not rent the building — in part because it is ill-suited to be a property manager. They also agreed selling it would be a poor substitute for putting it to good use.
On Tuesday night, Morey described in detail his recommendation to co-locate the proposed teen center with a "welcoming center" and space occupied by the Barre Partnership.
Waszazak said he wasn't prepared to endorse the teen center and while he was personally supportive of creating a downtown presence for the city's downtown organization, even that aspect of the proposal was premature.
"This is a public building and if we are going to move forward with it there has to be public input," he said.
Councilors agreed to solicit that input during a public forum that will be held at the Wheelock House on July 9 at 6 p.m.
The floor plan floated by Morey contemplated a storefront "welcoming center" for tourists that would be separated from the teen center by a conference room for the Barre Partnership, which would move its offices from the Office Block to the second-floor of the Wheelock House.
Waszazak said that aspect of the plan made sense to him.
"I want the Partnership in the Wheelock House," he said. "I think it makes perfect sense."
Herring said he remained supportive of a teen center at that location and, if the community and the council agree, locking down the location would be the first step to securing funding.
Though renovations needed to accommodate the Partnership could be completed both quickly and inexpensively, Herring said a teen center would take significantly more planning.
david.delcore @timesargus.com