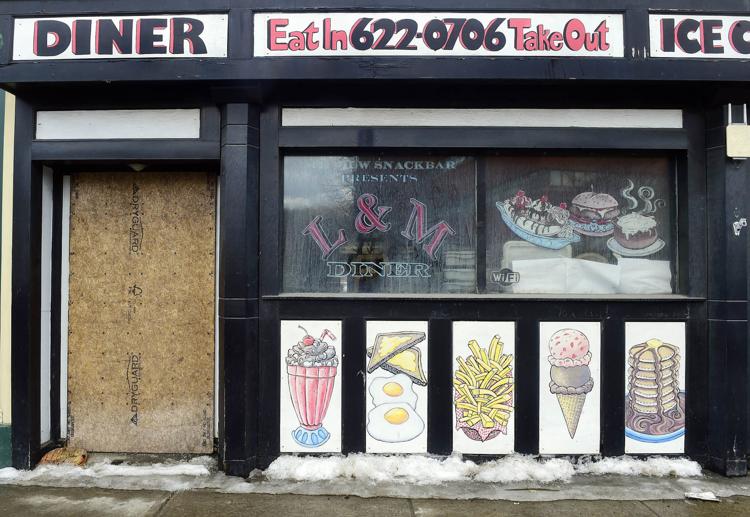 BARRE — A local developer's renewed bid to raze the Depression-era diner he purchased at auction last summer has again been denied by the Development Review Board.
Following a brief deliberative session Thursday night, the board voted, 6-2, to deny Mark Nicholson's latest request to demolish the fire-damaged diner. He bought the diner at auction for $25,000 in July and sought permission to tear it down 3 months later.
The board rejected Nicholson's earlier request, 5-3, concluding last October it met neither of the criteria for razing a structure in the city's downtown historic district.
Nicholson recently submitted an essentially identical request — one that contemplated the demolition of a diner that was closed for good following a mid-March fire replacing it with a narrow crushed stone lot that would be fenced on both ends.
Confronted with the same plan, board members arrived at the same conclusion.
Though the decision hasn't yet been reduced to writing, the board was unable to conclude that the structure that last housed the L&M Diner was "a deterrent to a major improvement that will be a clear and substantial benefit" to the city.
Nicholson has no plan to reopen the restaurant or re-purpose the structure, which has been a fixture in downtown Barre since the Green Mountain Diner opened in the converted rail car in 1932. Board member Katrina Pelkey wondered whether the vacant building was preferable to a vacant lot.
"You're establishing a void there, and nature and humans don't like voids," Pelkey said, expressing concern the fenced-in lot would become an "attractive nuisance."
Nicholson argued the fire-damaged diner already is.
"If you like what's there now, vote 'no' on this project," he replied.
Nicholson, who owns buildings on both sides of the diner, described its demolition as an interim step to stabilize the property while he evaluates his options.
"We're trying to clean this up and make it more presentable," he said. "I'm sorry if it's too straightforward, but I don't know how to glorify a burned out building."
Nicholson said it is possible the proposed lot could be used as outdoor seating space by one of his current tenants — Espresso Bueno — or some future tenant. It is also possible the lot could accommodate the expansion of one of the buildings on either side of it, or a major redevelopment project.
However, Nicholson said none of those options are imminent.
"I wish I was here saying I was going to build a 3-story building with high-end residential on the upper floors," he said.
In a downtown with an abundance of vacant space — including well over 10,000 square feet in buildings he owns — Nicholson said a vacant diner, which changed hands and names several times since 2001, wouldn't be missed.
"If you think it's easy to own property and rent it in Barre, I've got news for you," he said.
The board was unable to find demolition of the diner as needed to pave the way for a project that would benefit the city, and concluded Nicholson failed to demonstrate retaining the structure he knowingly purchased in its current condition would cause him an "undue financial hardship."
Nicholson provided the board with estimates that suggested renovating the structure would cost more than $47,000, not including the cost of replacing kitchen equipment if it were once again going to be used as a diner.
The board struggled with the same issue with respect to the demolition of the North Main Street building that was once the decades-long home of Dunkin' Donuts. Members rejected an initial proposal to raze that building and only relented after being presented with a refined plan to convert the property into a landscaped parking lot for the neighboring Northfield Savings Bank. That building has since been demolished and the parking lot project is expected to be completed this year.
Though Thursday's decision wasn't unanimous, it reflected the board's reluctance to permit the demolition of downtown structures absent a clear plan with some discernible upside for the city. Replacing vacant buildings with vacant lots doesn't pass that test in the board's view and some members worry approving an application that essentially does that would set a dangerous precedent.
The board's longest serving member — Richard Deep — and one of its newest additions — Jessica Egerton — cast the two dissenting votes.
david.delcore @timesargus.com