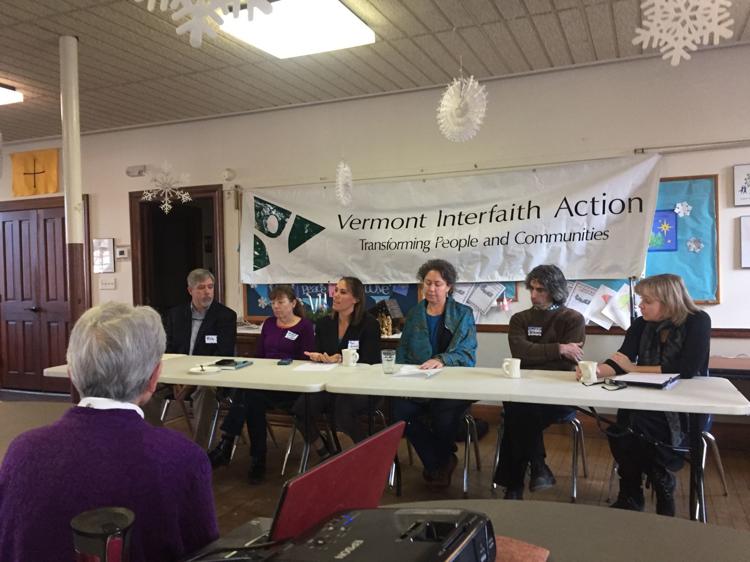 MONTPELIER — An appeal has been made to legislators to fund programs to end homelessness in central Vermont by 2020.
At a public forum Tuesday, nearly half a dozen legislators attended the forum at Christ Episcopal Church, where they heard from representatives from a number of local agencies that deal with the homeless on a number of levels, including housing, employment, nutrition, social services and mental health care.
Hosted by Vermont Interfaith Action in Washington County, membership includes churches in the area, Good Samaritan Haven homeless shelter, Capstone Community Action, Washington County Mental Health, Downstreet Housing and Development, Pathways Vermont and the Vermont Housing and Conservation Board. The alliance is dedicated to working together to support the area's most vulnerable individuals and families by providing shelter, food, clothing, housing, heating assistance, mental health and other social services — a combination of which can help avoid pitfalls that lead to greater crises such as homelessness, the separation of families, drug and alcohol addiction, crime and prison time, and associated costs for the state and communities.
The VIA presented a report on its work over the last 2½ years, and representatives of member organizations urged legislators to continue to fund homeless shelter programs to help individuals and families connect to agencies that could provide access to other services.
This year, the Legislature appropriated $300,000 to fund the Good Samaritan Haven in Barre with 30 beds and overflow shelters at the Hedding United Methodist Church in Barre with 14 beds and the Bethany Church in Montpelier with 20 beds. An additional $100,000 from the Legislature this year will be used to open a new 12-bed shelter in Hyde Park. Advocates for the funding versus hotel vouchers said it was a more cost-effective way to connect the homeless with other services.
"As a result, we can celebrate that the number of state-funded hotel nights dropped by 38 percent for the last year in Washington County," the report said.
The VIA report said the first spot-count of the homeless on a winter night in 2015 found there were 123 individuals in 90 households who were homeless. A recent count this winter showed an increase, with 136 individuals in 108 households who were homeless.
While acknowledging progress in recent years to more effectively shelter the homeless, the report said there were fundamental problems with efforts to do better.
Specific problems included:
— A shortage of clean, safe and affordable housing. The report noted that while more than 100 new units of housing will open in the next two years it would not be enough the address the problem;
— A large and widening gap between the average wage earned by renters and the market cost of housing. A person working full-time at the minimum wage of $10.50 an hour would earn $21,840 a year. The "affordable rent" for that income level — at 30 percent of income — is $546 per month. But the market-rate rent for a one-bedroom home in Washington County is $808 a month — to afford that, a person would have to earn $15.54 an hour. The problem is compounded by a rental vacancy rate of just 1 percent in Washington County, the report said.
— Another obstacle to ending homelessness is a lack of human services to prevent people losing their homes in the first place or to support them when they do find housing. Services identified include assisting people with employment searches, vocational training, maintaining alcohol and drug addiction recovery programs, coaching in budgeting and building communication skills. The report said 80 percent of people housed after chronic homelessness remain housed if they receive ongoing human services' support.
The report concluded that steps need to be taken to prevent homelessness in the first place by offering early intervention in problems related to housing, such as grants to pay rent to avoid eviction and human services to deal with problems that lead to homelessness. "An ounce of prevention truly can avoid a pound of cure," the report said.
Legislators were asked what they could do to help end homelessness.
Rep. Mary Hooper, D-Montpelier, who also serves on the Montpelier Housing Task Force said the homeless problem could be solved, based on the numbers of homeless in the report.
"It's a small number in the scheme of things and if we just focus our efforts, we can do it," Hooper said. "You've given me some great ideas I plan on taking back (to the Legislature), and working together, we can do this."
Sen. Anthony Pollina, D-Washington County, said he was interested in developing new models of housing, such as Downstreet Housing's tiny houses program on Brook Street in Barre in combination with an adjacent apartment building.
Rep. Rob LaClair, R-Barre Town, said he was a landlord with rental properties who has had problems with having to evict problem tenants, but said he would be willing to work with other agencies to avoid problems and reduce the financial risks he faces.
Rep. Kimberly Jessop, D-East Montpelier and Middlesex, said she supported calls for a $15 minimum wage, family leave, and efforts to keep families together.
Speaking afterwards, Pollina noted that instead of the Legislature addressing the problem as a housing problem or an economic justice issue, it had fallen to the interfaith community to meet the needs of the homeless.
"They're willing to make the commitment that policy makers aren't willing to make," Pollina added.
stephen.mills @timesargus.com