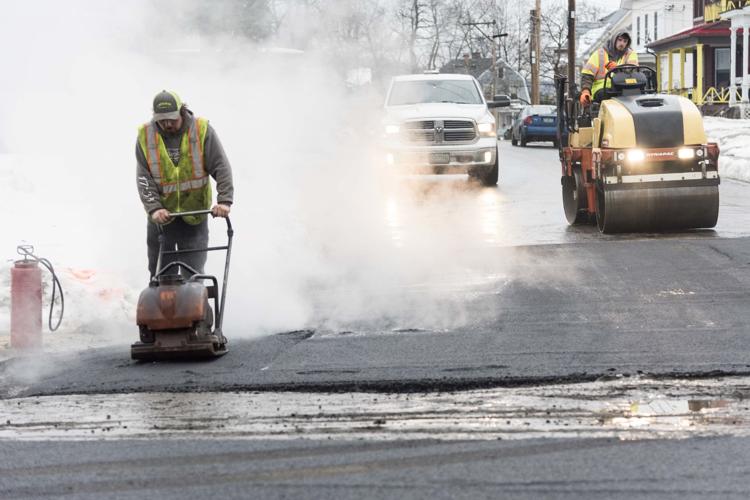 BARRE — The forecast is far from optimal, but it's now or never when it comes to paving portions of several city streets that have been waiting for a fresh coat of blacktop for weeks.
The asphalt plant in neighboring Berlin has already closed for the season and while trucking in hot mix from Burlington is still an option it won't be for much longer. Even if it was, City Manager Steve Mackenzie said Monday there is only one way to describe the time frame for responsibly applying it.
"It's beyond tight," he said.
That might be an understatement, because while some city streets have been paved later than this in recent years, Mackenzie said the conditions were completely different.
"Winter just closed in on us sooner than usual," he said, noting all hopes it would make a brief retreat have run out.
Daytime temperatures won't hit 50 degrees again before it's far too late to matter and 40 degrees isn't in the extended forecast either.
"The reality is we've lost the window for ideal, or even good, paving weather," Mackenzie said.
With portions of seven city streets still exposed, Mackenzie said the time for waiting on the weather is over.
"We've just got to get them paved," he said.
Public Works Director Bill Ahearn said that's the plan for all seven of the streets that still need attention.
According to Ahearn, the city has a little more flexibility with six of the streets because none of the sections that need paving is more than 42 feet long and 15 feet wide. Though this week's temperatures aren't expected to hit 40 degrees, which would be "acceptable" for applying a base coat of asphalt, Ahearn said the paving contractor can compensate for that by increasing the thickness of the base.
Using more asphalt on small sections of street is an affordable strategy, but it is one that would cost prohibitive on Park Street, which needs to be paved curb to curb from Academy Street to Eastern Avenue.
Based on an extended forecast that showed temperatures dropping and a fair amount of precipitation that could further complicate the Park Street project, the road was graded and set to be paved on Monday.
Ahearn said the finished course, which requires warmer temperatures, will be added in the spring, as will the top coat on Cottage Street, where the base coat was put down in August and the final paving was deferred until later in the season.
Initially, Park Street was supposed to be ready to pave in mid-September, but due to delays that date slid well into October and weather has been an issue ever since.
"We've been waiting on the weather for four-and-a-half weeks," Ahearn said, noting waiting was no longer an option, but weather could still be a factor.
Though paving contractors were scheduled to tackle sections of Park and Patterson streets on Monday, Ahearn said an approaching storm threatened to derail plans to pave Cassie Street later in the day.
"We'll get Cassie Street done unless the weather collapses on us," he said.
Barring weather-related complications, Ahearn said sections of East, Smith and Beacon streets, as well as Country Way should be paved in coming days.
Ahearn said that will leave the city with several projects to complete as part of its annual paving program in the spring. Two of them will involve applying the finishing course of asphalt on Cottage and Park streets. Two others involve substantial water system repairs that were initially planned to be completed over the summer, but were deferred instead.
One of those projects is on Lower Merchant Street between Wellington and Summer streets, and the other is on Lower Camp Street between Hill and Washington streets.
The city had hoped to complete those projects this year, but the work will be added to a spring list that also included paving Lower Hall Street from Tremont to Elm streets, all of Midway Street, and a portion of Upper Camp Street between Tremont Street and the Barre Town line.
david.delcore @timesargus.com