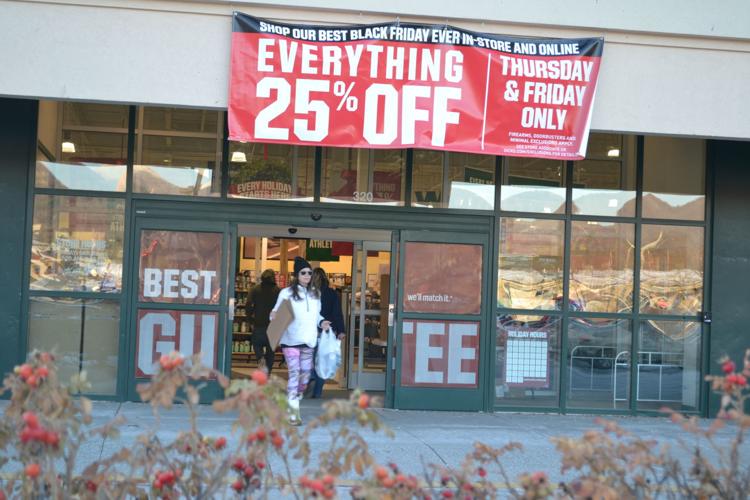 Every car in the Walmart parking lot in Rutland was frosted over, and many had tightly-bound Christmas trees strapped to their roofs on Black Friday when, despite the 20-degree chill, residents poured into stores where sales were waiting.
"We had a lot of people in, and a couple of good deals, too," said Lexi Hedding, sales associate for Fruition Fineries in Rutland. "It was definitely a really good year for us."
Shoppers at the Diamond Run Mall took advantage of 50 percent off final sales, hauling out 5-gallon bags stuffed with clothes and other discounted items.
Parking lots outside Old Navy and LaFlamme's Furniture quickly filled while the rest of the lot remained deserted.
For a group of five friends who traveled from northern Ohio and Nashville, Tennessee, to see the World Cup this weekend in Killington, the race for Black Friday was nothing to write home about, even during "Black Thursday," when the women said they started their shopping at Dick's Sporting Goods and Walmart.
"We normally start at 3 p.m.," said Nashville resident Beth Burden. "We normally wait in long lines."
Black Friday in their home states is a major operation, they said, and the steady current of traffic through Rutland's stores was more manageable than what they are used to.
"Normally, there are no carts available," said Nashville resident Becca Page. "This Black Friday was crazy-easy."
"It's peaceful and fun here," added Nashville resident Kassie Porter.
In Montpelier, stores reported a high customer turnout due to Black Friday sales and to the long-awaited "Flannel Friday" celebration heralded by the Flannel fairies, who gave flannel-wearers gift certificates to local shops and restaurants.
"It's always a big day," said Claire Benedict, owner of Bear Pond Books, while taking a moment from the crowds to breathe and have a cup of tea Friday afternoon. "It's a really big day for us. People enjoy being downtown, and people are out with their families, they have lunch, shop ... I don't think these are people who want to be shopping online today."
Online book sales have plateaued, Benedict said, and Black Fridays continue to keep independent booksellers on their toes.
"We've been very stable in recent years," Benedict said. "It's one of the biggest days of the year, and we do a lot to prepare. We even had (Vermont cartoonist) Ed Koren signing his new book, 'Koren. In the Wild.'"
It's not just Flannel Friday. It's also National Black Friday Record Store Day, and Barre's Exile on Main Street owner Sandy Thurston said she saw sales double compared to a normal day.
"We had limited edition releases that were only available today to small mom-and-pop stores," Thurston said. "Today has been better than last year; I passed last year's number here around 1 o'clock."
The albums of choice for central Vermont, Thurston said, are blues, rock and the Grateful Dead.
"Punk, too," Thurston said. "We have "The Ramones: Live in Glasgow," and the Dead Kennedy's "Iguana Studios Rehearsal Sessions" with Jello Biafra ... Some really neat stuff comes out on National Record Store Day."
For the stores on Merchants Row in Rutland, the crowd was steady and typical, with many store owners saying they're expecting bigger crowds as holidays draw nearer.
"It's nothing like the big chain stores," said Kelsey Woodell, assistant manager of Freeman Marcus Jewelers. "It's just an average day for us. It will build up to Christmas from here."
Woodell said the staff at the jewelers remains hopeful for a strong season due to a strengthening economy — and male procrastination.
"It's mostly men shopping the week before Christmas," Woodell said. "They always wait until the last minute."
Back inside the mall, store managers said they always anticipate some business lost to online sales, but customers recognize the value in trying clothes on in the store before they buy them — one of the reasons Maurice's has an online catalog for Cyber Monday.
"Black Friday is definitely not the same holiday as it was three years ago," said Britney Hutch, store manager for Maurice's in the Diamond Run Mall. "Cyber Monday has outperformed Black Friday for years."
Unlike many stores hoping to jump the gun by opening Thursday evening, Maurice's remained closed so its employees could go to their respective gatherings to celebrate Thanksgiving.
"We're a company that values family and a work-life balance," Hutch said. "We're not worried about online sales (competition)."
Sales associate and stylist Curstin Hemple said the draw of online shopping comes from a need for instant gratification created by a society that values profit over value.
"Customers really do like to see the actual product, try it on and see how it's going to wear over time and whether it will do what they want it to do," Hemple said. "Most people are just impatient."
Hutch credited the rise of online shopping trends to a societal push to work harder and spend less time with family, and said she remembered a time when her parents had the entire week of Thanksgiving off to do their shopping and see their loved ones.
"Now, if they get 'X' amount of days off, they have to balance everything," Hutch said.
Hemple said last year she traveled to New York City with her friend for Black Friday, and the stores were mobbed with people.
Not Vermont.
"There's not much to offer in this area," Hemple said. "It's very different."
katelyn.barcellos
@rutlandherald.com