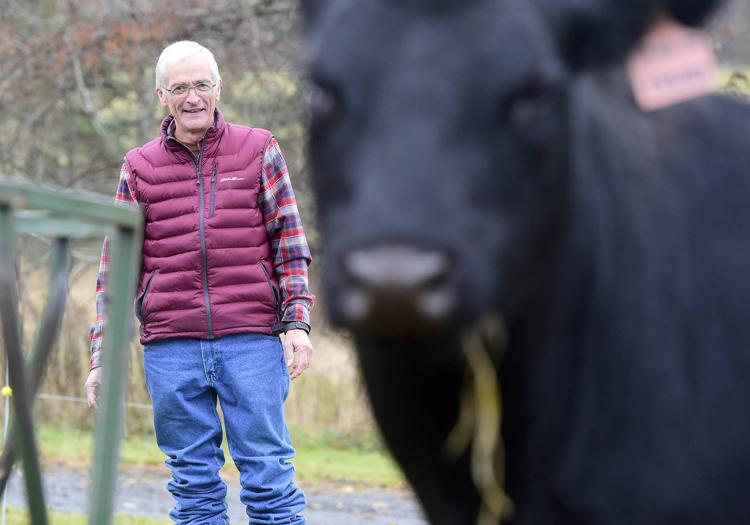 BERLIN — After 25 years of practicing medicine in central Vermont, Dr. Williams Gaidys will finally run out of patients today.
Known for his smiling eyes and colorful ties that feature everything from dogs to frogs, the soft-spoken pediatrician will celebrate his birthday — he's 66 today — by seeing his last few patients at Pediatric Primary Care in Berlin.
Though Gaidys was raised in Randolph and graduated from the University of Vermont, where he did his residency, his medical career started in a small New Mexico town nearly 40 years ago.
In order to repay the National Health Service Scholarship that helped pay for his degree, Gaidys spent a year in Gallup, N.M. and two more in Greenville, Kentucky — both communities where medical professionals were in short supply.
Gaidys then joined a practice in Athens, Pennsylvania, where he and his wife, Loretta, who was also raised in Randolph, lived for a decade before deciding it was probably time to return to Vermont.
Both had parents who weren't getting any younger at the time, Gaidys explained. So when Vera Jones, who was in charge of physician recruitment for what is now Central Vermont Medical Center called to make him an offer, Gaidys said he gladly accepted.
"I can remember her (Jones) telling my wife: 'The doctors around here, die with their boots on,' and I can remember my wife saying: 'I hope that's not the case,'" Gaidys said, recalling the job offer that brought him back to Vermont.
If you'd told Gaidys at the time that his future would involve farming, he'll tell you he would have laughed.
"I didn't see that part coming," he said of the sideline that has given him plenty to talk about with his young patients over the years.
"Kids love cows and tractors," he said.
Gaidys didn't expect "Graze and Gaze Farm" would be part of his retirement plan but he's not the least bit surprised he and his wife are still living on the plot of land he bought in Barre Town — the one where he built a home, raised his family and now raises grass-fed cows, pigs, chickens and turkeys.
"I think since we were coming home we thought this was probably going to be it," he said.
It has been and Gaidys doesn't see that changing.
With two grown sons in Barre, another in Jericho and daughter who lives in Braintree and is a physician at Central Vermont Medical Center, Gaidys has seven grandchildren who live nearby as he readies to step away from practicing medicine on a full-time basis.
Gaidys recently renewed his medical license for another two years and will likely pinch-hit for other pediatricians when he doesn't have other plans.
Gaidys said he won't miss the paperwork, which has increased exponentially over the years.
"Some days you feel like you're spending more time staring at the computer screen than you are interacting with patients," he said.
It is the people he says he'll miss.
"The day to day enjoyment is working with families and taking care of kids," he said.
That goes for the very young girl who candidly advised him he was "getting old" while he was treating her ailing brother 10 years ago, and the young boy who said he saw him at the store during a more recent holiday season.
"I said: 'Toys R Us?' and he said: 'No, the liquor store,'" Gaidys recalled.
"Kids are so honest, uninhibited whatever comes in their mind comes out of their mouth," he added, noting that when you've cared for generations of them the variety is remarkable.
Gaidys has spent the past couple of months saying goodbye to his patients and their parents – an exercise he'll finish today even as he reflects on how the ways pediatric medicine has changed since he graduated from UVM. Though a growing number of parents opt not to have the children vaccinated, Gaidys doesn't believe science is on their side.
When he started practicing Gaidys typically treated between one and three cases of meningitis a year. Some recovered, but others suffered seizures, severe brain injuries, or died as a result of the disease that improved vaccines have all but eliminated.
"I haven't seen a case of meningitis in 15 years," he said, citing similar improvements in vaccines for pneumonia and human papillomavirus.
Thanks to medical advances, Gaidys said the overall health of today's children has improved, but the drop in the number of disease- and illness-related office visits has been replaced by a surge in the number of visits devoted to behavioral, emotional and psychiatric issues.
"That's a big change," he said, noting those issues now account for roughly one-third of all office visits and explains why a social worker is now embedded in the practice.
Dealing with those issues wasn't a big part of Gaidys' training and as he prepares to do a little traveling and a lot of farming, he hopes that has changed even if his advice to parents hasn't.
"Be patient, don't use physical measures and be careful with your words because words can hurt," he said.
Gaidys said he has developed a deep respect for the many challenges associated with parenting and a true appreciation for the wisdom of children.
Like the girl who told him he was "getting old?"
"She was right," said the doctor who decided to put himself out to pasture, where he'll have plenty of company and a beautiful view at Graze and Gaze Farm.
david.delcore
@timesargus.com