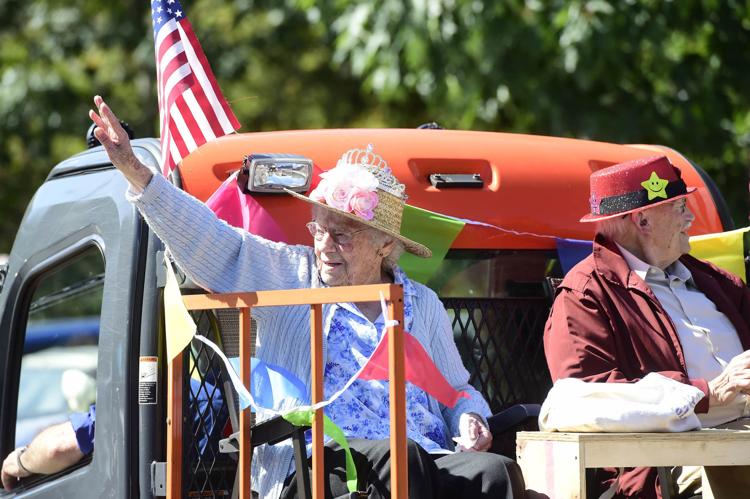 PLAINFIELD — Old Home Days were here again as a summer-ending celebration that is perfectly Plainfield again reminded residents — young and old — what makes their tiny town so special.
"It's the people," said Ben Koenig, who owns the local bookshop and figured prominently in the Friday night variety show that has customarily kicked off a tradition that was started 23 years ago.
Make that "re-started," because longtime residents will tell you the town once held a larger Independence Day celebration that was abandoned in the late 1970s.
Some remember a "riot" that spelled the end of the earlier tradition. Others say volunteers responsible for organizing it were simply "burned out."
Nonetheless, all agree Old Home Days — held on the first weekend after Labor Day — has become a fixture in an eclectic community that is home to an unconventional college, a co-op, its own health center, and the opera house where Koenig performed the song — "Plainfield is not too plain to me" — during Friday's variety show.
The song celebrates a community of "fields, farms and friends" and a boat-load of other attributes Koenig enjoys singing about once a year.
"It's was just fun," he said, of the variety show. "It's local. It's community. You're playing for your neighbors. It doesn't get any better than that."
Koenig's son, Django was among the other local performers that ranged from line dancers to Doug Perkins, who played both Bach and bluegrass on his guitar. This year's emcee — Ryan Gillard — celebrated his 31st birthday while handling those duties.
Friday's variety show set the stage for a Saturday celebration that again featured a donations-only yard sale, the only parade you can see twice and what locals boast is some of the best barbecued chicken in central Vermont.
All were staples of the town's Independence Day celebration and have anchored Old Home Days since its inception.
The latest edition, from the lawn sale to the parade, might have been the biggest yet.
Just ask Joyce Fowler and Theresa Goslant.
Fowler, 85, was one of the many volunteers manning the yard sale that is held each year on the lawn of the Grace Untied Methodist Church.
"This is the most stuff we've ever had," Fowler said, surveying the extensive selection of lightly used items that drew a considerable pre-parade crowd.
Fowler, who volunteers at the Twin Valley Senior Center, was among the participants in a parade Goslant worried might literally run into itself on its signature second trip.
"I'm surprised the front didn't catch up with the back," she said of a procession that was longer than usual, thanks to one of the community's newest members.
Montkush, an organic hemp farm that has become the town's largest employer, was well-represented in the parade, and, before it was over, many residents were sporting "Kush" caps and blue beads that employees tossed from one of its several farm vehicles.
Montkush also sponsored a post-parade dunk tank on the recreation field and a Saturday night street dance that was a new addition this year.
Pat Fair, who, like Goslant, was manning the bake sale sponsored by the Kingsbury Chapter #77 Order of the Easter Star, was among those impressed by the parade.
"I think this is the biggest parade we've had in a long time," she said. "I like the variety."
It was a parade with participants of all ages.
This year's grand marshals — Melvin Chase, 88, and 96-year-old Betty Brown — rode on the back of a Kubota tractor.
Not far behind the two Plainfield natives — he still lives there, she now lives in East Montpelier — was the "Baby Brigade" organized by Hannah Morgan.
Morgan carried an umbrella for shade and wore her 7-month-old son, Seamus, while other new moms pushed their infants in strollers.
Steph Levesque was one of them, though she said her 9-month-old daughter, Elliot Rose, won't remember it.
"She slept through the entire parade," Levesque said of one of Plainfield's youngest residents.
The parade also featured a mix of new and old vehicles. The newest was the new town truck that brought the rear of the parade. The oldest might have been the 1947 McCormick Farmall tractor Will Bennington of Tamarack Hollow Farm drive twice around the village.
"It's still a working tractor," he said.
While the parade was making its round former fire chief Patrick Martin, led a team of firefighters who made cooking 300 halves of chicken look easy.
"We've got it down," said Martin, who said the chicken barbecue has been the fire department's primary fundraiser since for nearly 50 years.
It's Plainfield's version of chicken and mostaccioli, that has long-relied on a sauce of Silvio Cerutti.
A former firefighter with Sicilian roots, Cerutti's sauce is an annual treat that his daughter, 76-year-old Judith Dix, helped prepare Friday night.
"That recipe has stayed in the fire department a long time," Martin said. "The secret recipe is still almost a secret."
While preparing the sauce wasn't an issue, and cooking the chicken went off without a hitch, firefighters Andy Hebert, Lindsey Simanskas, and Simanskas' wife, Jenna, encountered a propane-related emergency when they went to cook the pasta Saturday morning.
"We ran out of gas," Hebert explained, noting the department hadn't refilled the tank it planned to swap out, but the last of it was used to make the sauce.
Alco Energy Products responded to the emergency with no notice – delivering 20 pounds of propane that had several huge pots boiling by late-morning.
"Alco Energy saved the day," Simanskas said, noting the pasta needed to be trucked over to the recreation field by noon.
It was and residents enjoyed an afternoon of family-friendly activities in the run-up to Saturday night's street dance.
Goslant, who spent most of her life in Plainfield, now lives in Alburg, but still returns regularly to play cards with cousins or participate in Eastern Star activities. She said Old Home Days is different because of, well, the people.
"It's rewarding day," she said. "It's definitely worth the trip."
david.delcore @timesargus.com